How to Evaluate a Cloud-based Apache Spark Platform
As the most active open source project in big data, Apache Spark is taking the world by storm. This rise to prominence coupled with the adoption of the cloud is fueling the emergence of many Spark-powered data platforms in the public cloud.
There are different types of solutions built around Apache Spark including:
Hadoop-based platforms that are now providing support for Spark in addition to MapReduce;
Infrastructure management services that help you run and manage your clusters;
General-purpose managed services that provide basic functionality and support for a broad range of technologies;
Fully managed platforms that offer a comprehensive set of functionality for a diverse data organization.
There is no "one size fits all" approach when selecting the right platform to meet your specific requirements. With all the information on the internet from vendors, thought leaders, and so called experts, selecting the right vendor can be a daunting task. Making the wrong choice can have long term cost implications and hamper your ability to achieve your goals.
To help firms navigate this process, ESG Global — a leading IT analyst and business strategy firm — has produced The Definitive Guide to Evaluating Cloud-based Apache Spark Platforms.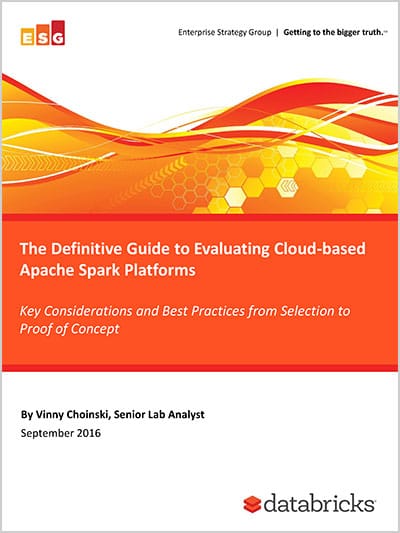 You can download the buyer's guide here.
This buyer's guide provides actionable best practices and tools to evaluate the aforementioned solutions and to understand the differences between them by providing the tools to define buying criteria, understand the differences between the various options available, manage a successful pilot or PoC, estimate potential total cost of ownership (TCO), and assess your return on investment (ROI).
Download the buyer's guide to get started on your evaluation process today!
See all Company Blog posts