Ajali Sen is a passionate and driven data and analytics leader at Accenture with 18+ years of experience in executing complex data and analytics transformation coupled with business process re-mapping and organizational change management for large clients. Her focus in the past 5 years has been around driving data led transformations at public sector clients by establishing cloud native modern data platforms and engraining a data driven mindset into the talent and culture of the organization. Ajali leads the Accenture data quality and analytics team for the California Department of Public Health (CDPH)'s, Vaccine Management program. In partnership with CDPH she has built a comprehensive scalable enterprise data platform that forms the framework for a 21st century public health data system, hosted on a cloud native architecture to enable CDPH to report comprehensively and equitably on all immunization data and provide consumer access through the Digital Vaccine Record and public data portal. In her spare time Ajali enjoys spending time with her family especially her 4 year old son, listening to music and cooking variety of cuisines.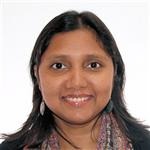 Catch me at these sessions
Public Sector Industry Forum
Looking for past sessions?
Take a look through the session archive to find even more related content from previous Data + AI Summit conferences.
Explore the session archive