Detecting Financial Fraud at Scale with Decision Trees and
MLflow on Databricks
A Databricks guide, including code samples and notebooks.
序章
Detecting fraudulent patterns at scale is a challenge, no matter the use case. The massive amounts of data to sift through, the complexity of the constantly evolving techniques, and the very small number of actual examples of fraudulent behavior are comparable to finding a needle in a haystack while not knowing what the needle looks like. In the world of finance, the added concerns with security and the importance of explaining how fraudulent behavior was identified further increases the complexity of the task.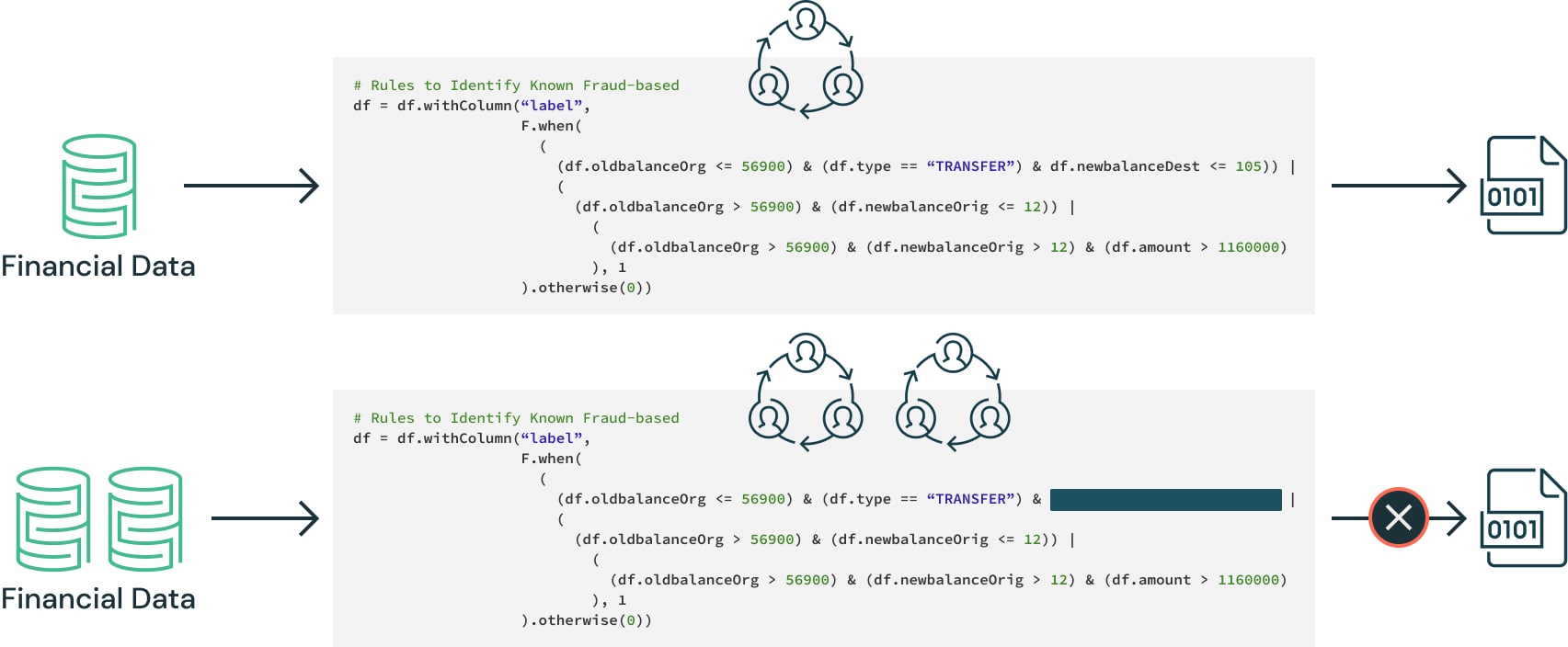 To build these detection patterns, a team of domain experts often comes up with a set of rules that define fraudulent behavior. A typical workflow may include a subject matter expert in the financial fraud detection space putting together a set of requirements for a particular behavior. A data scientist may then take a subsample of the available data and build a model using these requirements and possibly some known fraud cases. To put the pattern in production, a data engineer may convert the resulting model to a set of rules with thresholds, often implemented using SQL.
This approach allows the financial institution to present a clear set of characteristics that led to the identification of fraud that is compliant with the General Data Protection Regulation (GDPR). However, this approach also poses numerous difficulties. The implementation of the detection pattern using a hardcoded set of rules is very brittle. Any changes to the pattern would take a very long time to update. This, in turn, makes it difficult to keep up with and adapt to the shift in fraudulent behaviors that are happening in the current marketplace.

さらに、上記のワークフローのシステムは各々がサイロ化(孤立化)されることが多く、ドメインエキスパート、データサイエンティスト、データエンジニアが全て区分化されています。データエンジニアの重要な役割は、膨大な量のデータを管理し、ドメインエキスパートやデータサイエンティストの作業を本番レベルのコードに変換することです。共通のプラットフォームがない場合、ドメインエキスパートとデータサイエンティストは、分析のために単一のマシンに適合するサンプリングされたダウンデータに頼るしかありません。このようなサイロ化された環境では、お互いのコミュニケーションが難しくなり、コラボレーションの欠如につながります。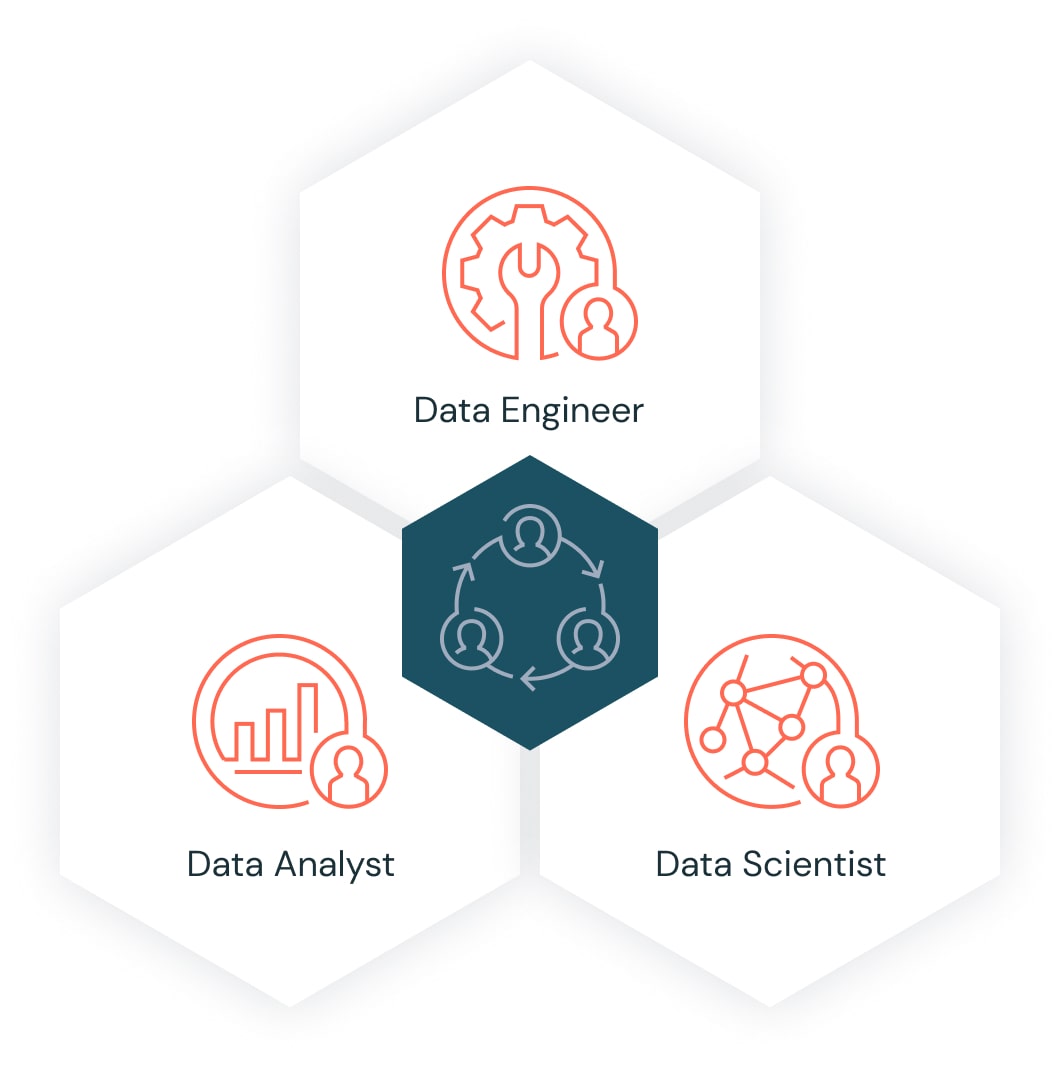 In this eBook, we will showcase how to convert several such rule-based detection use cases to machine learning use cases on the Databricks platform, unifying the key players in fraud detection: domain experts, data scientists, and data engineers. We will learn how to create a fraud detection data pipeline and visualize the data leveraging a framework for building modular features from large data sets. We will also learn how to detect fraud using decision trees and Apache Spark MLlib. We will then use MLflow to iterate and refine the model to improve its accuracy.
Solving financial fraud challenges with machine learning
There is a certain degree of reluctance with regard to machine learning models in the financial world as they are believed to offer a "black box" solution with no way of justifying the identified fraudulent cases. GDPR requirements, as well as financial regulations, make it seemingly impossible to leverage the power of machine learning. However, several successful use cases have shown that applying machine learning to detect fraud at scale can solve a host of the issues mentioned.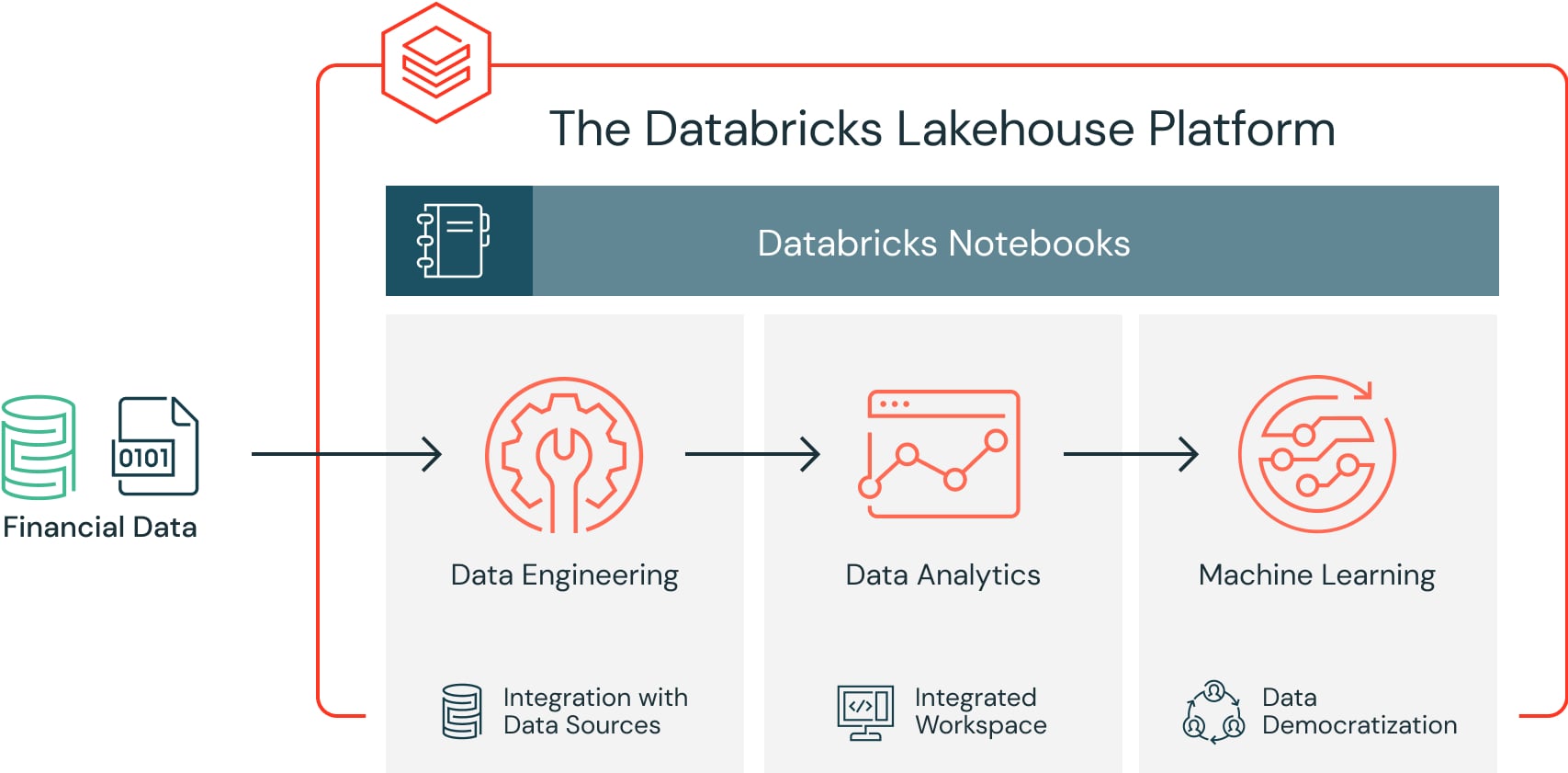 実際に確認された不正行為の事例が少ないため、金融不正を検出する「教師あり機械学習モデル」をトレーニングすることは困難です。しかし、特定の不正行為を識別する既知のルールセットの存在は、合成ラベルセットと特徴量の初期セットを作成するのに役立ちます。また、この分野のドメインエキスパートが開発した検出パターンの出力は、適切な承認プロセスを経て本番環境で運用されているはずです。これは、予想される不正行為フラグを生成するので、機械学習モデルをトレーニングするための出発点として使用することができます。これにより、次の 3 つの懸念が同時に軽減されます。
トレーニングラベルの欠如
The decision of what features to use, and
モデルに適したベンチマークの有無
Training a machine learning model to recognize the rule-based fraudulent behavior flags offers a direct comparison with the expected output via a confusion matrix. Provided that the results closely match the rule-based detection pattern, this approach helps gain confidence in machine learning based fraud detection with the skeptics. The output of this model is very easy to interpret and may serve as a baseline discussion of the expected false negatives and false positives when compared to the original detection pattern.
Furthermore, the concern with machine learning models being difficult to interpret may be further assuaged if a decision tree model is used as the initial machine learning model. Because the model is being trained to a set of rules, the decision tree is likely to outperform any other machine learning model. The additional benefit is, of course, the utmost transparency of the model, which will essentially show the decision making process for fraud, but without human intervention and the need to hard code any rules or thresholds. Of course, it must be understood that the future iterations of the model may utilize a different algorithm altogether to achieve maximum accuracy. The transparency of the model is ultimately achieved by understanding the features that went into the algorithm. Having interpretable features will yield interpretable and defensible model results.
機械学習アプローチを採用する最大のメリットは、初期のモデリング作業の後は、将来の反復がモジュール化され、ラベル、特徴量、あるいはモデルタイプのセットが非常に簡単でシームレスに更新され、運用までの時間が短縮される点です。この作業は、データブリックスの統合分析プラットフォームの採用でさらに促進されます。このプラットフォームでは、ドメインエキスパート、データサイエンティスト、データエンジニアが同じデータセットを大規模に処理し、Notebook環境で直接共同作業を行うことができます。それでは始めましょう。
Ingesting and exploring the data
We will use a synthetic dataset for this example.
PaySimデータは、アフリカのある国で実施されたモバイルマネーサービスの1ヶ月の財務ログから抽出した、実際の取引のサンプルに基づくモバイルマネー取引をシミュレーションしたものです。次の表は、データセットが提供する情報を示しています。
In addition to reducing operational friction, Databricks is a central location to run the latest Machine Learning models. Users can leverage the native Spark MLLib package or download any open source Python or R ML package. With Databricks Runtime for Machine Learning, Databricks clusters are preconfigured with XGBoost, scikit-learn, and numpy as well as popular Deep Learning frameworks such as TensorFlow, Keras, Horovod, and their dependencies.
In this eBook, we will explore how to:
Import our sample data source to create a Databricks table
Explore your data using Databricks Visualizations
Execute ETL code against your data
Execute ML Pipeline including model tuning XGBoost Logistic Regression
Exploring the data
Creating the DataFrames – Now that we have uploaded the data to Databricks File System (DBFS), we can quickly and easily create DataFrames using Spark SQL
# Create df DataFrame which contains our simulated financial
fraud detection dataset
df = spark.sql("select step, type, amount, nameOrig,
oldbalanceOrg, newbalanceOrig, nameDest, oldbalanceDest,
newbalanceDest from sim_fin_fraud_detection")
DataFrame を作成したので、スキーマと最初の1000 行をみてデータを確認します。
# Review the schema of your data
df.printSchema()
root
|-- step: integer (nullable = true)
|-- type: string (nullable = true)
|-- amount: double (nullable = true)
|-- nameOrig: string (nullable = true)
|-- oldbalanceOrg: double (nullable = true)
|-- newbalanceOrig: double (nullable = true)
|-- nameDest: string (nullable = true)
|-- oldbalanceDest: double (nullable = true)
|-- newbalanceDest: double (nullable = true)
Types of transactions
Let's visualize the data to understand the types of transactions the data captures and their contribution to the overall transaction volume.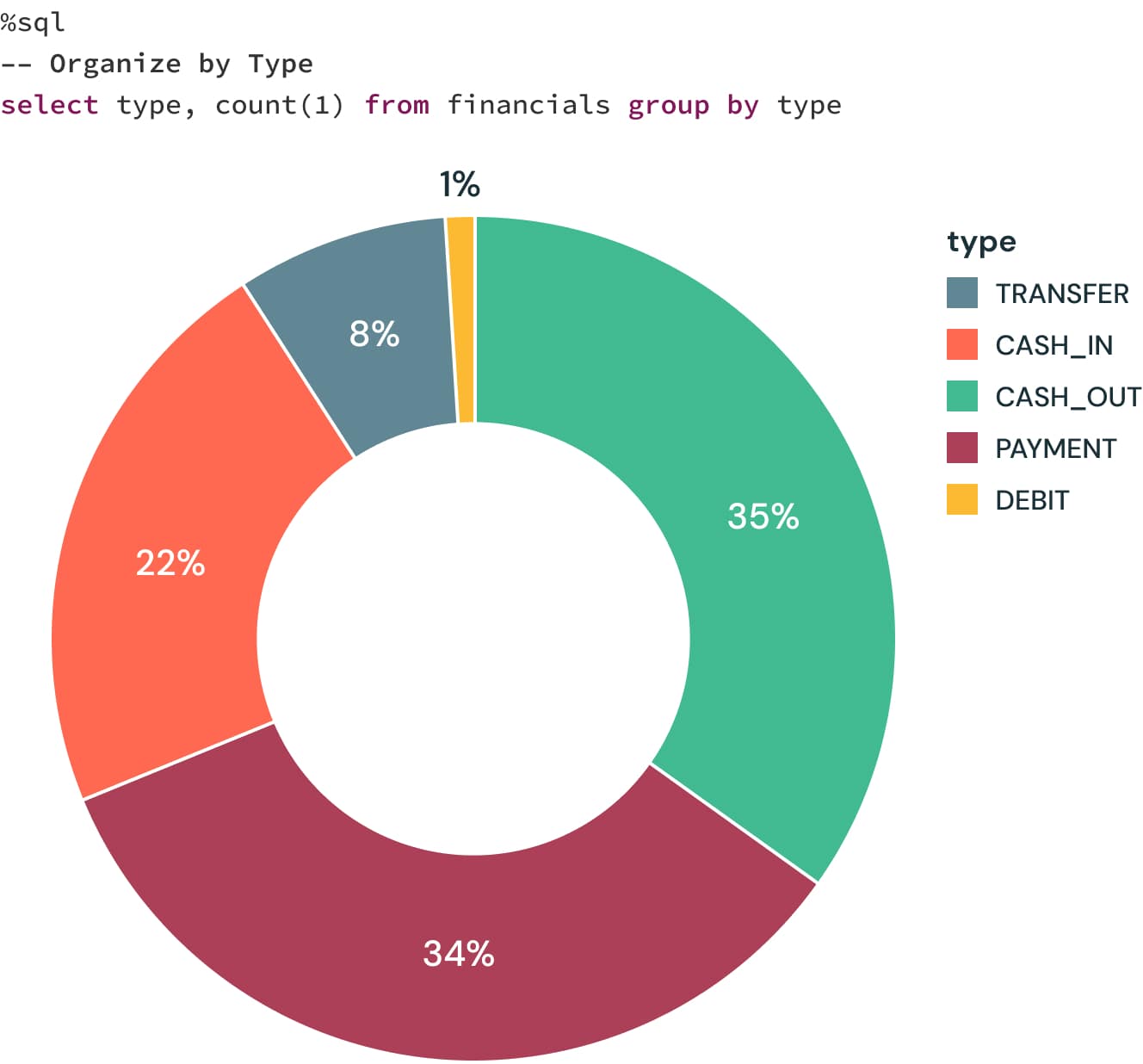 To get an idea of how much money we are talking about, let's also visualize the data based on the types of transactions and on their contribution to the amount of cash transferred (i.e. sum(amount)).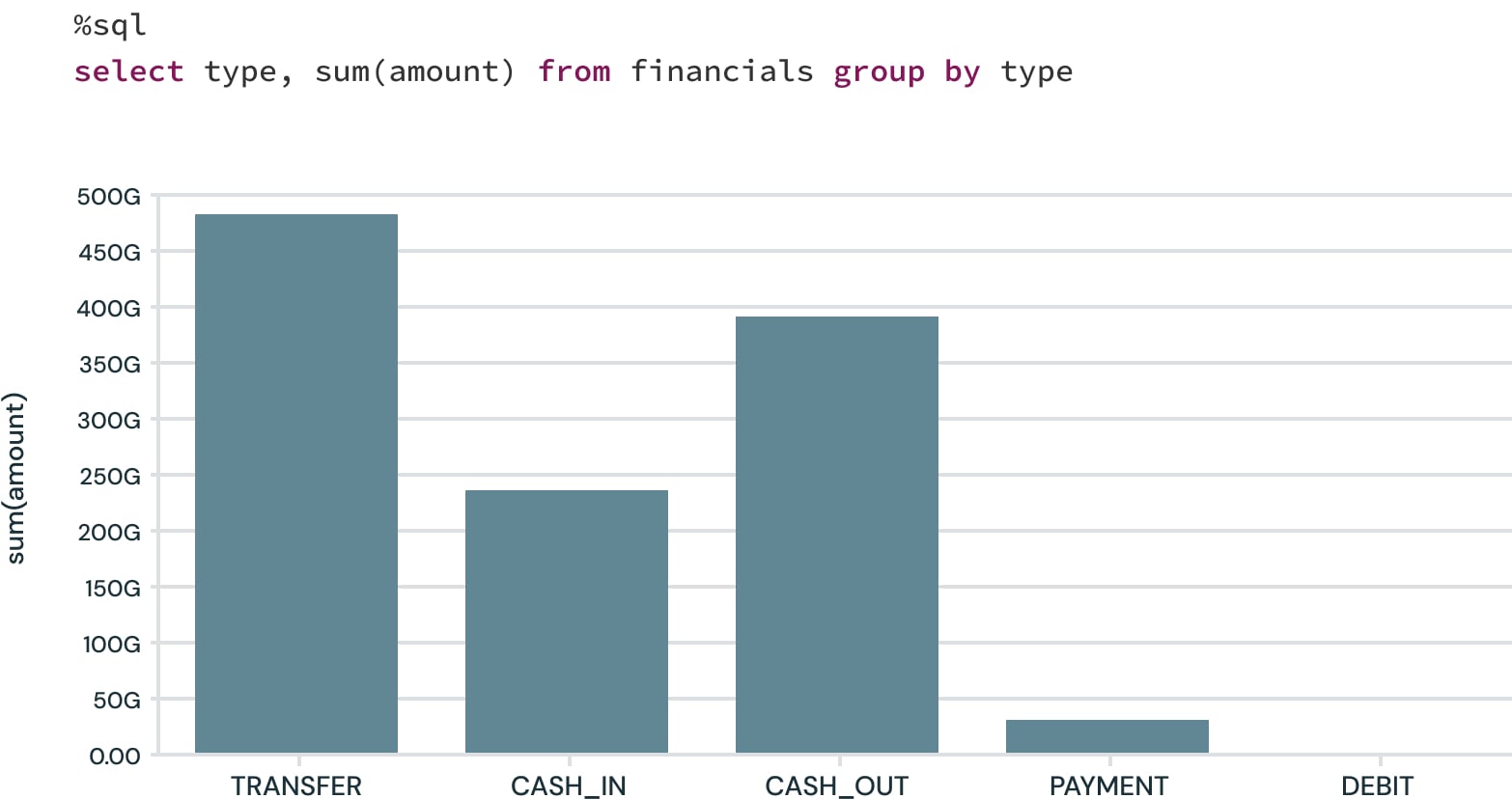 Rules-based-model
We are not likely to start with a large data set of known fraud cases to train our model. In most practical applications, fraudulent detection patterns are identified by a set of rules established by the domain experts. Here, we create a column called label based on these rules.
# Rules to Identify Known Fraud-based
    df = df.withColumn("label",
                        F.when(
                        (
                            (df.oldbalanceOrg  56900) & (df.newbalanceOrig 
    56900) & (df.newbalanceOrig > 12) & (df.amount > 1160000)
                            ), 1
                        ).otherwise(0))
After this ETL process is completed, you can use the display command again to review the cleansed data in a scatterplot.
# View bar graph of our data
display(loan_stats)
Visualizing data flagged by rules
These rules often flag quite a large number of fraudulent cases. Let's visualize the number of flagged transactions. We can see that the rules flag about 4% of the cases and 11% of the total dollar amount as fraudulent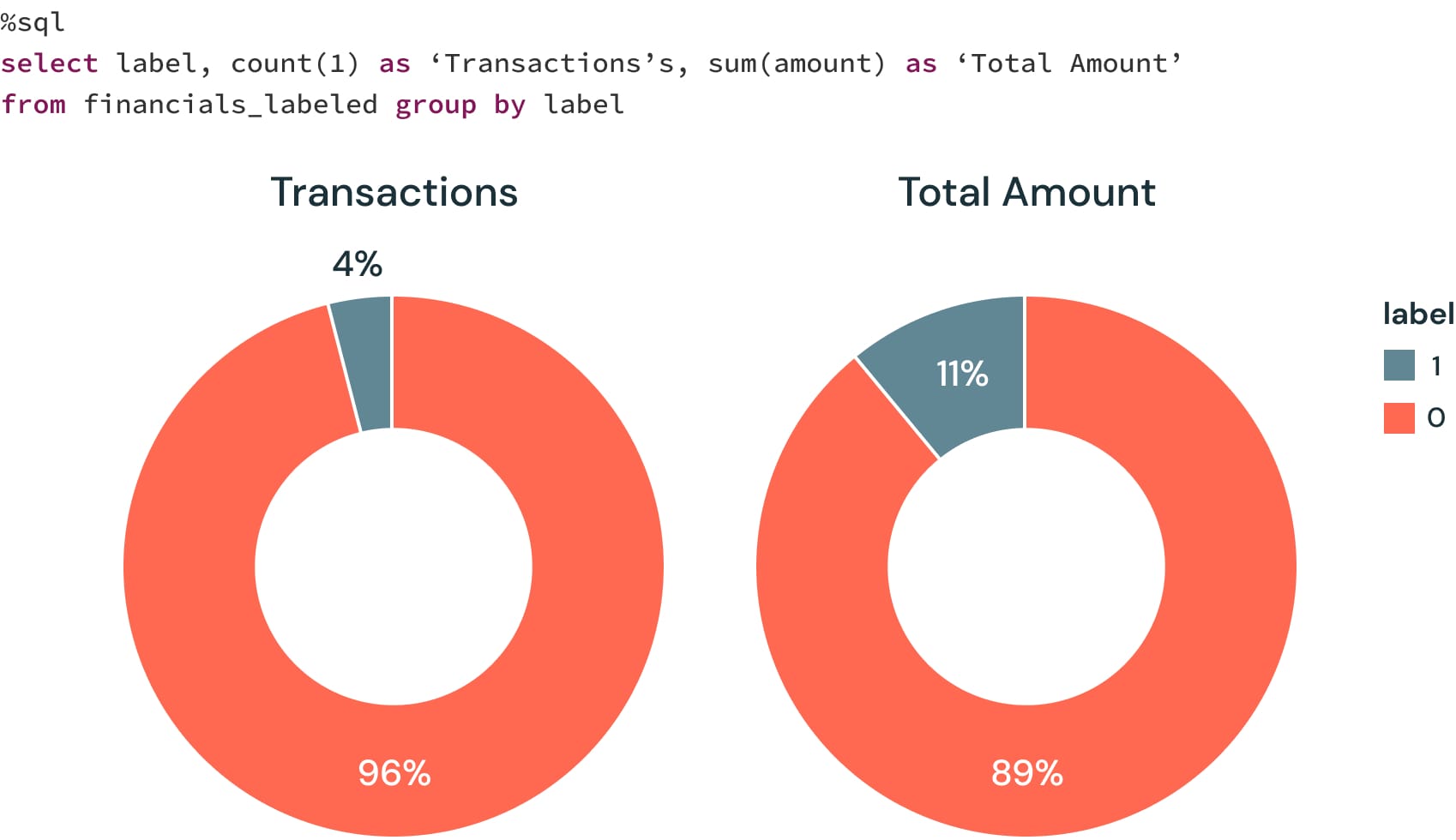 Selecting the appropriate machine learning models
In many cases, a black box approach to fraud detection cannot be used. First, the domain experts need to be able to understand why a transaction was identified as fraudulent. Then, if action is to be taken, the evidence has to be presented in court. The decision tree is an easily interpretable model and is a great starting point for this use case.
Creating the training set
To build and validate our ML model, we will do an 80/20 split using .randomSplit. This will set aside a randomly chosen 80% of the data for training and the remaining 20% to validate the results.
# Split our dataset between training and test datasets
(train, test) = df.randomSplit([0.8,0.2], seed=12345)
Creating the training set
To prepare the data for the model, we must first convert categorical variables to numeric using .StringIndexer. We then must assemble all of the features we would like for the model to use. We create a pipeline to contain these feature preparation steps in addition to the decision tree model so that we may repeat these steps on different data sets. Note that we fit the pipeline to our training data first and will then use it to transform our test data in a later step.
from pyspark.ml import Pipeline
from pyspark.ml.feature import StringIndexer
from pyspark.ml.feature import VectorAssembler
from pyspark.ml.classification import DecisionTreeClassifier
# Encodes a string column of labels to a column of label indices
indexer = StringIndexer(inputCol = "type", outputCol =
"typeIndexed")
# VectorAssembler is a transformer that combines a given list of
columns into a single vector column
va = VectorAssembler(inputCols = ["typeIndexed", "amount",
"oldbalanceOrg", "newbalanceOrig", "oldbalanceDest",
"newbalanceDest", "orgDiff", "destDiff"], outputCol =
"features")
# Using the DecisionTree classifier model
dt = DecisionTreeClassifier(labelCol = "label", featuresCol =
"features", seed = 54321, maxDepth = 5)
# Create our pipeline stages
pipeline = Pipeline(stages=[indexer, va, dt])
# View the Decision Tree model (prior to CrossValidator)
dt_model = pipeline.fit(train)
Visualizing the model
Calling
display()
on the last stage of the pipeline, which is the decision tree model, allows us to view the initial fitted model with the chosen decisions at each node. This helps to understand how the algorithm arrived at the resulting predictions
display(dt_model.stages[-1])

Model tuning
最適ツリーモデルを確保するために、複数のパラメータのバリエーションを用いてモデルをクロス検証します。データが 96% の負のケースと 4% の正のケースで構成されていることを考えると、不均衡な分布を説明するために、適合率・再現率(PR )の評価指標を使用します。
from pyspark.ml.tuning import CrossValidator, ParamGridBuilder
# Build the grid of different parameters
paramGrid = ParamGridBuilder() \
.addGrid(dt.maxDepth, [5, 10, 15]) \
.addGrid(dt.maxBins, [10, 20, 30]) \
.build()
# Build out the cross validation
crossval = CrossValidator(estimator = dt,
    estimatorParamMaps = paramGrid,
    evaluator = evaluatorPR,
    numFolds = 3)
# Build the CV pipeline
pipelineCV = Pipeline(stages=[indexer, va, crossval])
# Train the model using the pipeline, parameter grid, and
preceding BinaryClassificationEvaluator
cvModel_u = pipelineCV.fit(train)
Model performance
モデルを評価するには、トレーニングセットとテストセットの適合率・再現率(PR)と ROC 曲線下の面積(AUC)メトリクスを比較します。PRと AUC は共にかなり高いようです。
# Build the best model (training and test datasets)
train_pred = cvModel_u.transform(train)
test_pred = cvModel_u.transform(test)
# Evaluate the model on training datasets
pr_train = evaluatorPR.evaluate(train_pred)
auc_train = evaluatorAUC.evaluate(train_pred)
# Evaluate the model on test datasets
pr_test = evaluatorPR.evaluate(test_pred)
auc_test = evaluatorAUC.evaluate(test_pred)
# Print out the PR and AUC values
print("PR train:", pr_train)
print("AUC train:", auc_train)
print("PR test:", pr_test)
print("AUC test:", auc_test)
---
# Output:
# PR train: 0.9537894984523128
# AUC train: 0.998647996459481
# PR test: 0.9539170535377599
# AUC test: 0.9984378183482442
モデルが結果を誤って分類した過程を確認するために、matplotlib と pandas を使用して、混同行列を視覚化しましょう。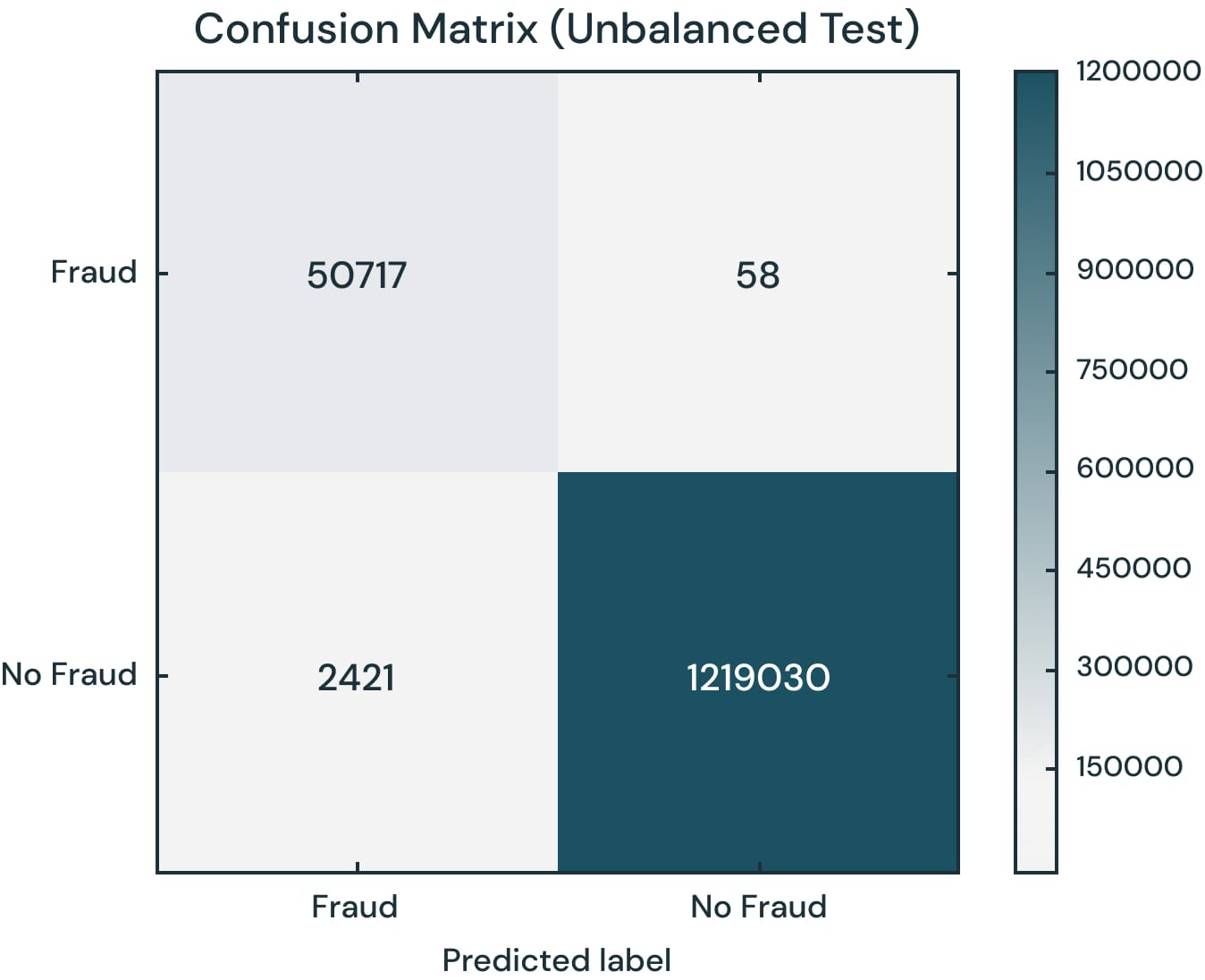 Balancing the classes
We see that the model is identifying 2421 more cases than the original rules identified. This is not as alarming as detecting more potential fraudulent cases could be a good thing. However, there are 58 cases that were not detected by the algorithm but were originally identified. We are going to attempt to improve our prediction further by balancing our classes using undersampling. That is, we will keep all the fraud cases and then downsample the non-fraud cases to match that number to get a balanced data set. When we visualize our new data set, we see that the yes and no cases are 50/50.
# Reset the DataFrames for no fraud (`dfn`) and fraud (`dfy`)
dfn = train.filter(train.label == 0)
dfy = train.filter(train.label == 1)
# Calculate summary metrics
N = train.count()
y = dfy.count()
p = y/N
# Create a more balanced training dataset
train_b = dfn.sample(False, p, seed = 92285).union(dfy)
# Print out metrics
print("Total count: %s, Fraud cases count: %s, Proportion of
fraud cases: %s" % (N, y, p))
print("Balanced training dataset count: %s" % train_b.count())
---
# Output:
# Total count: 5090394, Fraud cases count: 204865, Proportion of
fraud cases: 0.040245411258932016
# Balanced training dataset count: 401898
---
# Display our more balanced training dataset
display(train_b.groupBy("label").count())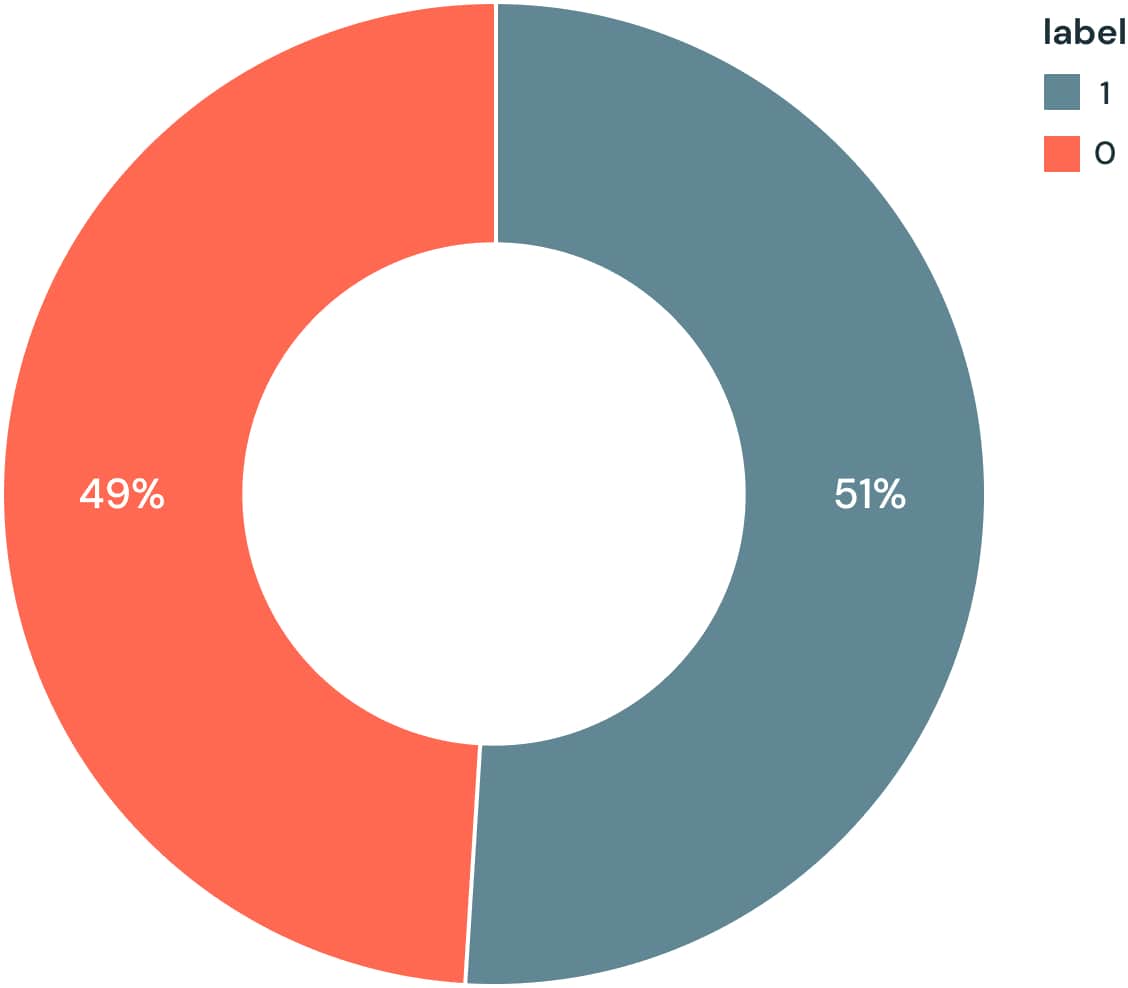 Review the results
それでは、新しい混同行列の結果をみてみましょう。モデルが不正事例を誤認したのは 1 件のみでした。クラスのバランスを取ることで、モデルが改善されたことがわかります。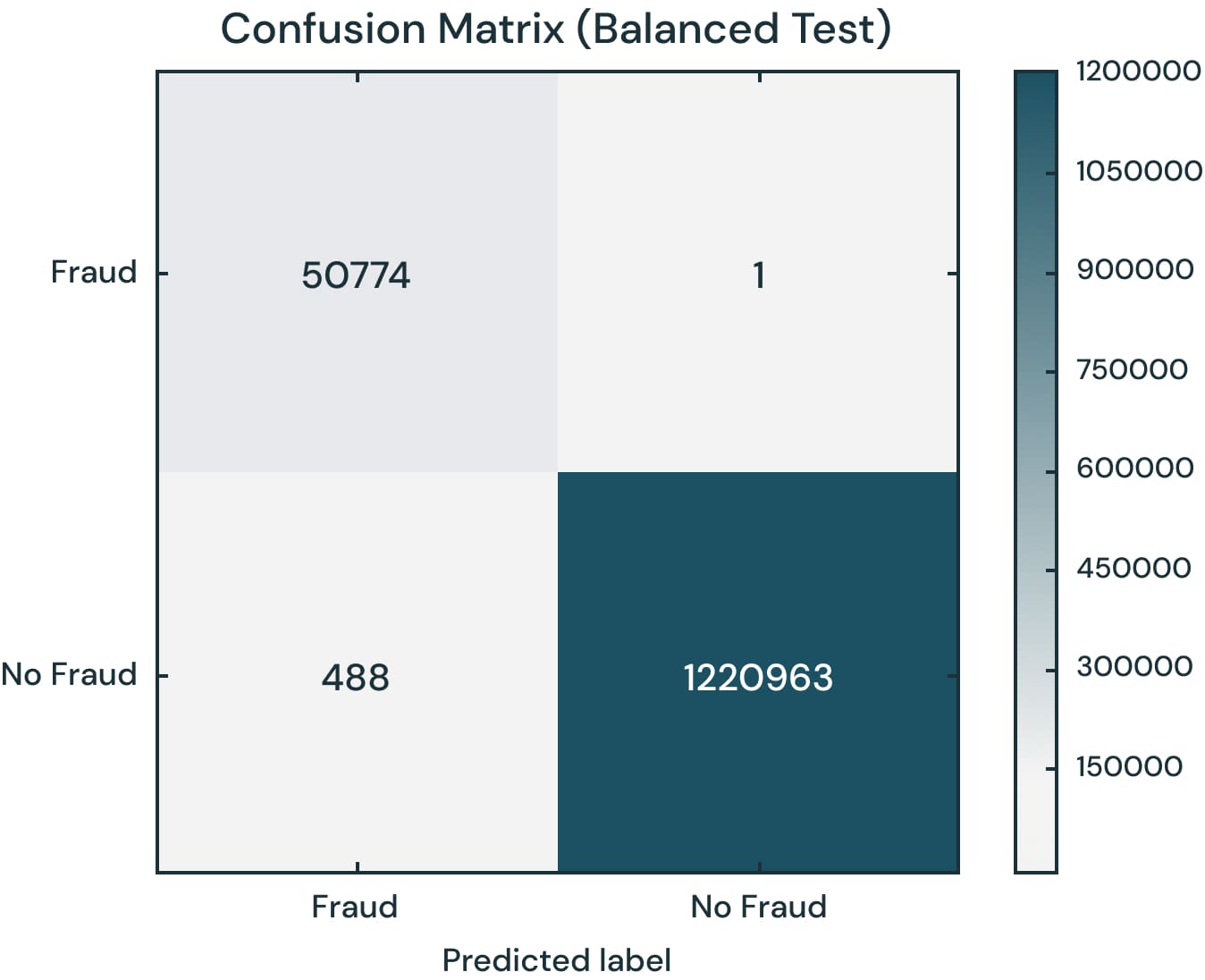 Model feedback and using MLflow
生産のためにモデルを選択したら、継続的にフィードバックを収集して、モデルが目的の動作をさらに特定しているかを確認していきます。私たちは、ルールベースのラベルから始めたので、人間のフィードバックに基づく検証済みの真のラベルを将来のモデルに提供したいと考えます。この段階は、機械学習プロセスにおける信頼性を維持するために極めて重要です。アナリストは全てのケースを確認することができないので、モデルの出力を検証できるように慎重に選択したケースを提示することが大切です。たとえば、モデルの確実性が低い予測は、アナリストによるレビューに適しています。このようなフィードバックを追加することで、モデルは変化する状況に合わせて確実に改善され、進化し続けます。
MLflowは、さまざまなモデルのバージョンをトレーニングする際に、このサイクル全体で役立ちます。MLflow を使用すると、異なるモデル構成とパラメータの結果を比較して、実験の経過を追跡できます。たとえば、ここではMLflow UI を使用して、均衡なデータセットと不均衡なデータセット上でトレーニングされたモデルのPRとAUCを比較することができます、データサイエンティストは、MLflowを使用して、さまざまなモデルメトリックスや追加の視覚化やアーティファクトの経過を追跡し、本番環境で展開するモデルの決定に役立てることができます。そして、データエンジニアは、.jar ファイルとしてトレーニングに使われるライブラリーのバージョンと併せて、選択したモデルを容易に取り込み、本番環境の新しいデータにデプロイすることが可能です。このように、モデルの結果をレビューするドメインエキスパート、モデルを更新するデータサイエンティスト、本番でモデルを展開するデータエンジニアの間の共同作業は、この反復プロセスを通じて強化されます。
まとめ
このブログでは、ルールベースの不正検出ラベルの使い方、MLflowを使用できるデータブリックスで機械学習モデルに変換する方法の例を検証してきました。このアプローチによって、絶えず変化する不正行動パターンに対応できる、スケーラブルなモジュールソリューションを構築できます。不正を特定する機械学習モデルを構築することで、モデルを進化させ、新しい潜在的な不正パターンを特定できるフィードバックループを作成できます。特に、解釈性と優れた精度を持つ決定木モデルが、機械学習を不正検出プログラムに導入する際の出発点として適していることを解説しました。
この取り組みに、データブリックスのプラットフォームを使用する主なメリットは、データサイエンティスト、エンジニア、ビジネスユーザーがプロセス全体でシームレスに連携できることです。データの準備、モデルの構築、結果の共有、本番環境へのモデルの導入は同じプラットフォームで実行され、これまでにないコラボレーションが可能になります。このアプローチにより、これまでサイロ化していたチーム間の信頼関係が築かれ、効果的で動的な不正検出プログラムの確立を実現します。本ブログが、AI(人工知能)の金融へのアプローチ事例、参考になれば幸いです。
無料トライアルにサインアップすると、この Notebook をお試しいただけます。ぜひ独自のモデル作成を開始してください。
次のステップ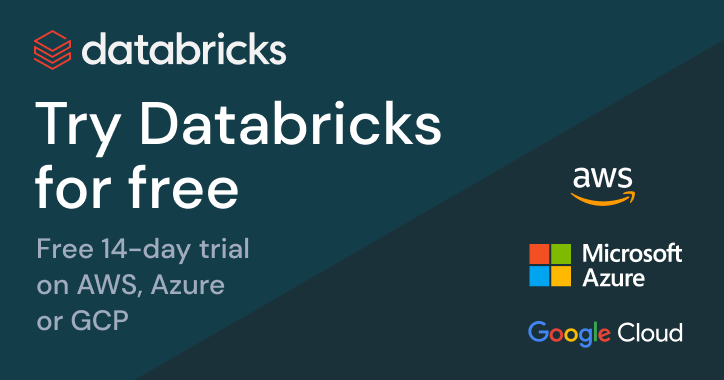 Databricks の無料トライアル
Discover how Databricks' open and unified data analytics platform performs large-scale data processing for batch and streaming workloads, simplifies and accelerates data science on large data sets, and standardizes the entire ML lifecycle.
Get Started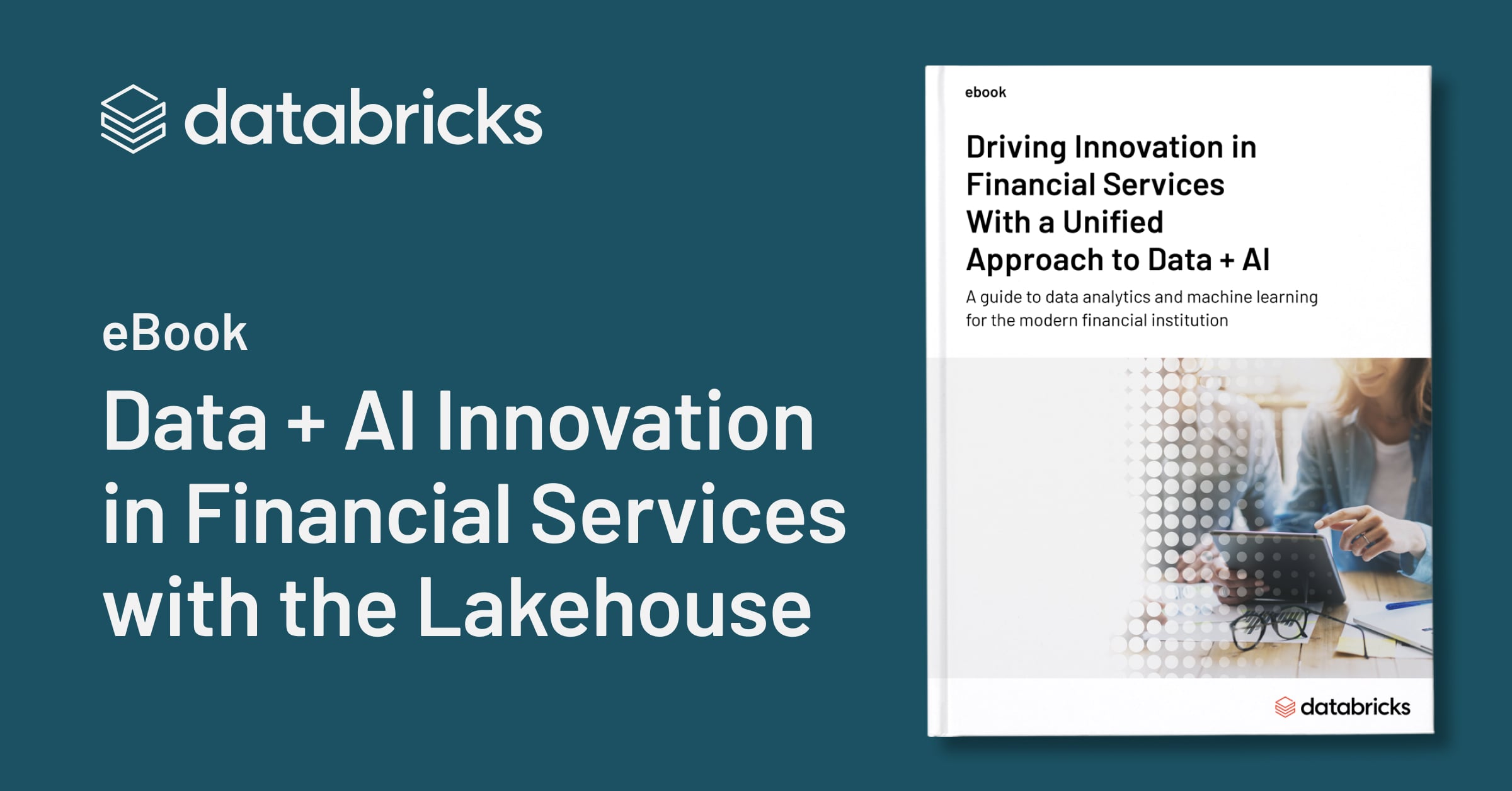 Driving Innovation in Financial Services With a Unified Approach to Data + AI
Read this ebook to learn why financial institutions struggle with Data + AI, how data is transforming financial services and how Databricks enables data-driven innovation.
Download now