Cataloging data for a lakehouse
Providing seamless access across the platform requires a strong catalog server
Using AWS Glue as a catalog for Databricks
To discover data across all your services, you need a strong catalog to be able to find and access data. The AWS Glue service is an Apache-compatible Hive serverless metastore that allows you to easily share table metadata across AWS services, applications or AWS accounts. Databricks and Delta Lake are integrated with AWS Glue to discover data in your organization and to register data in Delta Lake and to discover data between Databricks instances.
メリット
Databricks comes pre-integrated with AWS Glue
シンプル
シンプルな管理: 複数の データブリックスのワークスペースで同一の AWS Glue カタログを共有
安全性
Integrated security by using Identity and Access Management Credential Pass-Through for metadata in AWS Glue. For a detailed explanation, see the Databricks blog introducing Databricks AWS IAM Credential Pass-Through.
コラボレーション
Provides easier access to metadata across the Amazon services and access to data cataloged in AWS Glue.
Databricks Delta Lake integration with AWS core services
This reference implementation illustrates the uniquely positioned Databricks Delta Lake integration with AWS core services to help you solve your most complex data lake challenges. Delta Lake runs on top of S3, and it is integrated with Amazon Kinesis, AWS Glue, Amazon Athena, Amazon Redshift and Amazon QuickSight, just to name a few.
If you are new to Delta Lake, you can learn more here.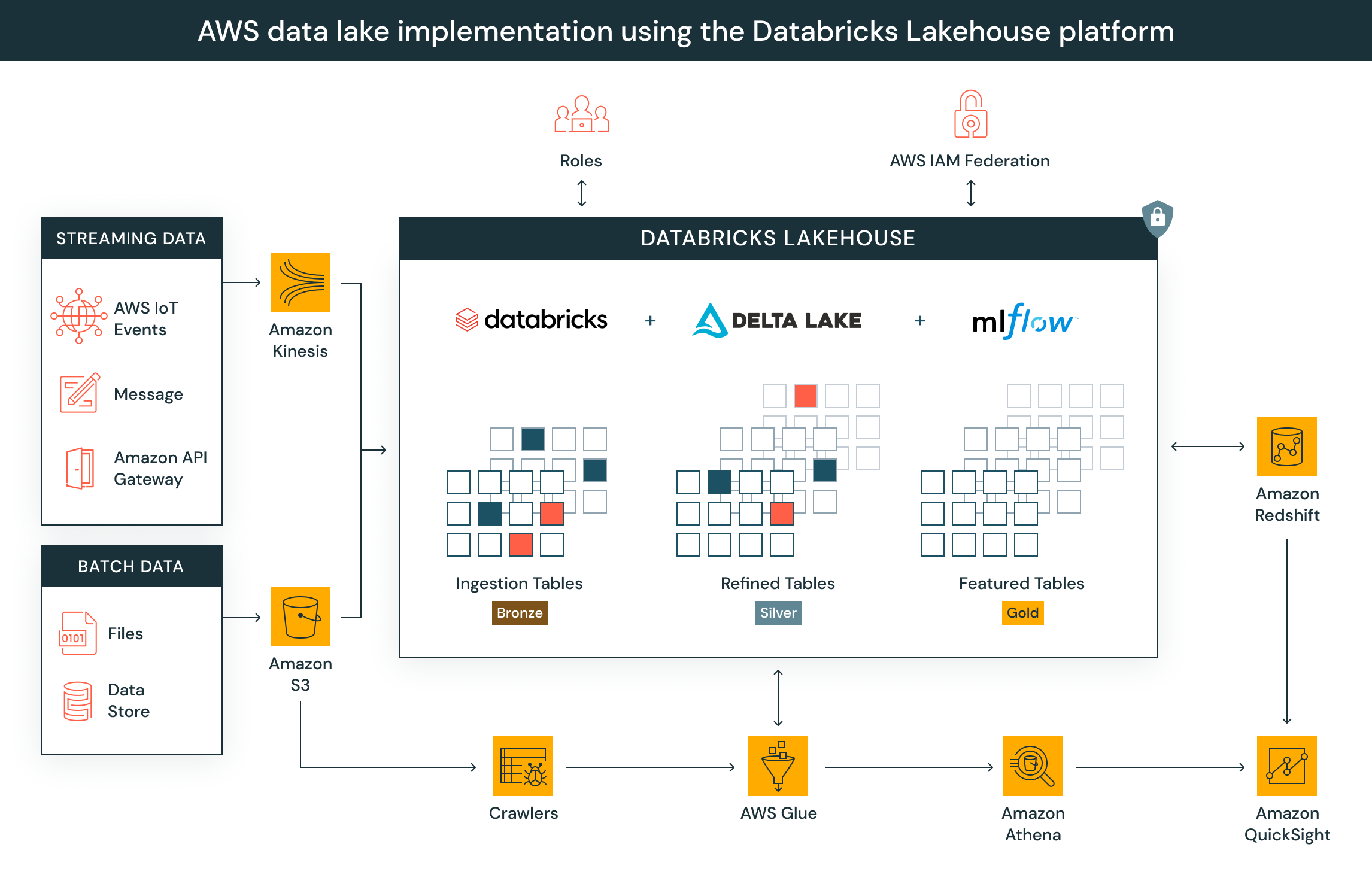 Integrating Databricks with AWS Glue
STEP 1
How to configure a Databricks cluster to access the AWS Glue Catalog
Launch
First launch the Databricks computation cluster with the necessary AWS Glue Catalog IAM role. The IAM role and policy requirements are clearly outlined in a step-by-step manner in the Databricks AWS Glue as Metastore documentation.
In this example, create an AWS IAM role called Field_Glue_Role, which also has delegated access to my S3 bucket. Attach the role to the cluster configuration, as depicted in the demo video.
Update
Next, the Spark Configuration properties of the cluster configuration must be set prior to the cluster startup as shown in the how to update video.
STEP 4
Query the Delta Lake table using Amazon Athena
まとめ
Integrating AWS Glue provides a powerful serverless metastore strategy for all enterprises using the AWS ecosystem. Elevate the reliability of data lakes with Delta Lake and provide seamless, serverless data access by integrating with Amazon Athena. The Databricks Lakehouse Platform powers the data lake strategy on AWS that enables data analysts, data engineers and data scientists to get performant and reliable data access.