A Guide to MLflow Talks at Spark + AI Summit 2019
In less than a year, MLflow has reached almost 500K monthly downloads, and gathered over 80 code contributors and 40 contributing organizations, confirming the need for an open source approach to help standardize the machine learning lifecycle across tools, teams, and processes.
We are thrilled to host some of our key contributors and customers next week at the Spark + AI Summit 2019, in San Francisco. Below is a list of sessions, tutorials, and trainings on MLflow for you to dive in deeper.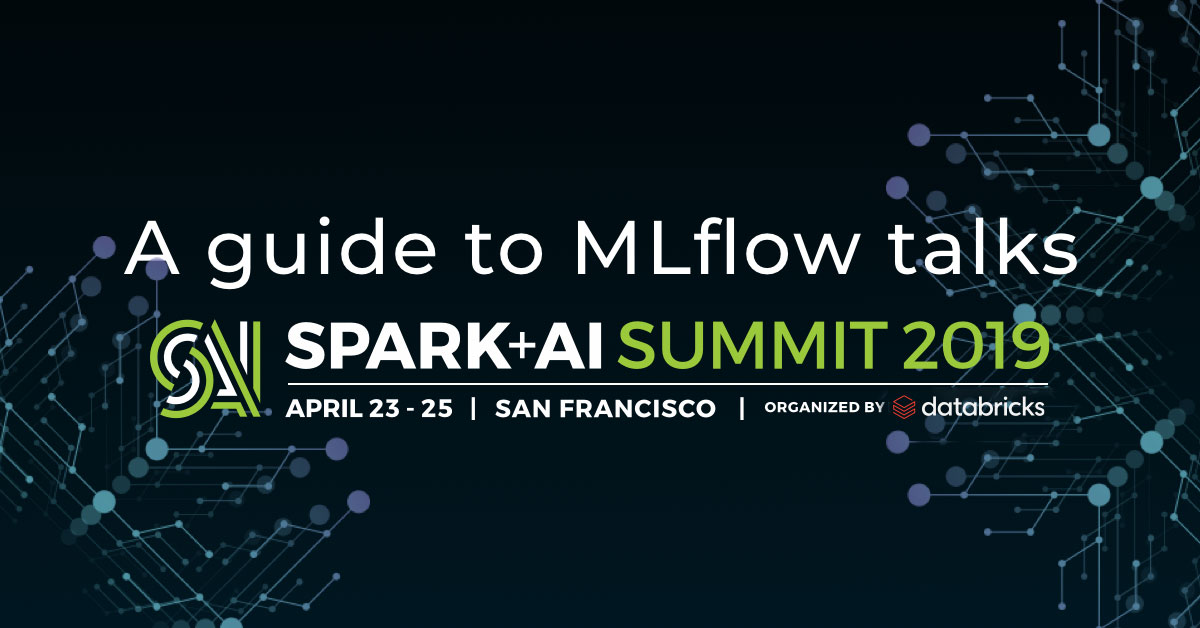 Training
Register to Machine Learning in Production: MLflow and Model Deployment for a full-day course on MLflow, where you will learn best practices for putting machine-learning models into production. It starts with managing experiments, projects, and models using MLflow, then explores various deployment options, including batch predictions, Spark Streaming, and REST APIs. Finally, it covers monitoring machine-learning models once they have been deployed into production.
Keynote
Join Matei Zaharia on Thursday, April 25 for his keynote: Accelerating the Machine Learning Lifecycle with MLflow 1.0 to learn more about our development plans for MLflow 1.0, the next release of MLflow, which will stabilize the MLflow APIs and introduce multiple new features to simplify the ML lifecycle. We'll also discuss additional MLflow components that Databricks and other companies are working on for the rest of 2019, such as improved tools for model management, multi-step pipelines and online monitoring.
Sessions
We have a fantastic lineup of speakers and sessions throughout the conference on MLflow. Join experts from Comcast, Showtime, GOJEK, RStudio, Databricks and more for real-life examples and deep dives on MLflow:
Free Tutorial
Last but not least, you can join Managing the Complete Machine Learning Lifecycle with MLflow for a free 80 minutes hands-on-lab presented by Andre Mesarovic and Ricardo Portilla of Databricks. In this tutorial, we will show you how using MLflow can help you keep track of experiments and results across frameworks, quickly reproduce runs, and productionize models using Databricks production jobs, Docker containers, Azure ML, or Amazon SageMaker.
Next Steps
You can browse through our sessions from the schedule too, and if you have not registered yet, use discount code JulesPicks to get a 15% discount.
To get started with open source MLflow, follow the instructions at mlflow.org or check out the release code on Github.
If you're an existing Databricks user, you can start using Managed MLflow by importing the Quick Start Notebook for Azure Databricks or AWS. If you're not yet a Databricks user, visit databricks.com/product/managed-mlflow to learn more and start a free trial of Databricks and Managed MLflow at https://www.databricks.com/try-databricks.
See all Events posts