Security and Trust Center
Your data security is our priority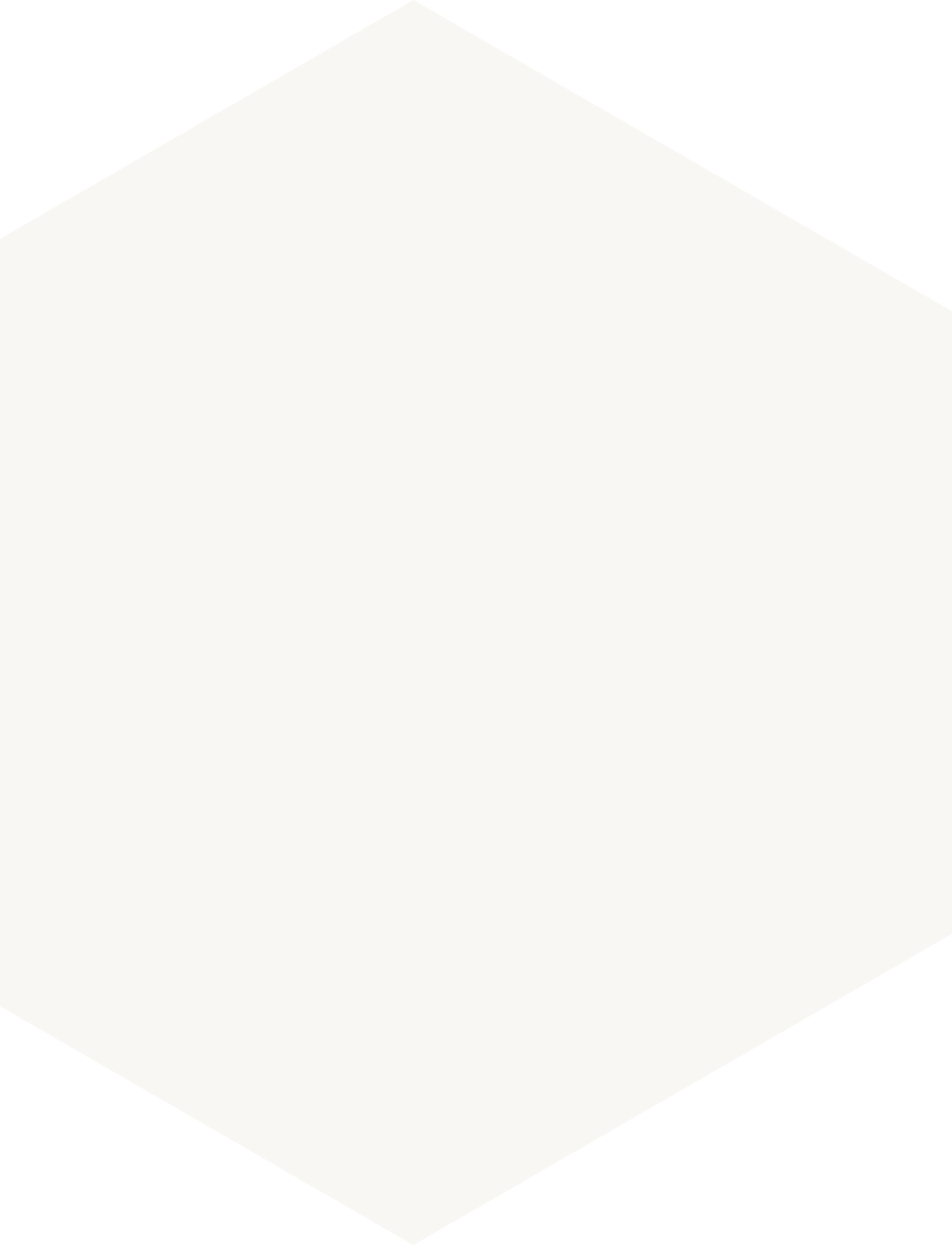 We know that data is one of your most valuable assets and always has to be protected — that's why security is built into every layer of the Databricks Lakehouse Platform. Our transparency enables you to meet your regulatory needs while taking advantage of our platform.
Perform your own self-service security review of Databricks using our due diligence package, which includes documentation and compliance materials.
Accenture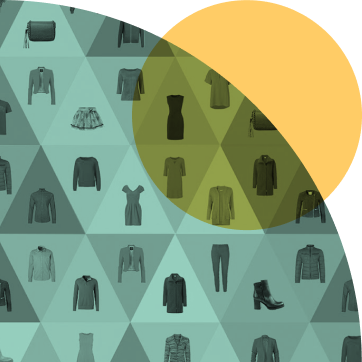 "With simplified administration and governance, the Databricks platform has allowed us to bring data-based decision-making to teams across our organization. The ease of adding users, native security integrations with cloud providers and APIs-for-everything has enabled us to bring the data and tools we need to every employee in Wehkamp."
— Tom Mulder, Lead Data Scientist at Wehkamp
Credit Suisse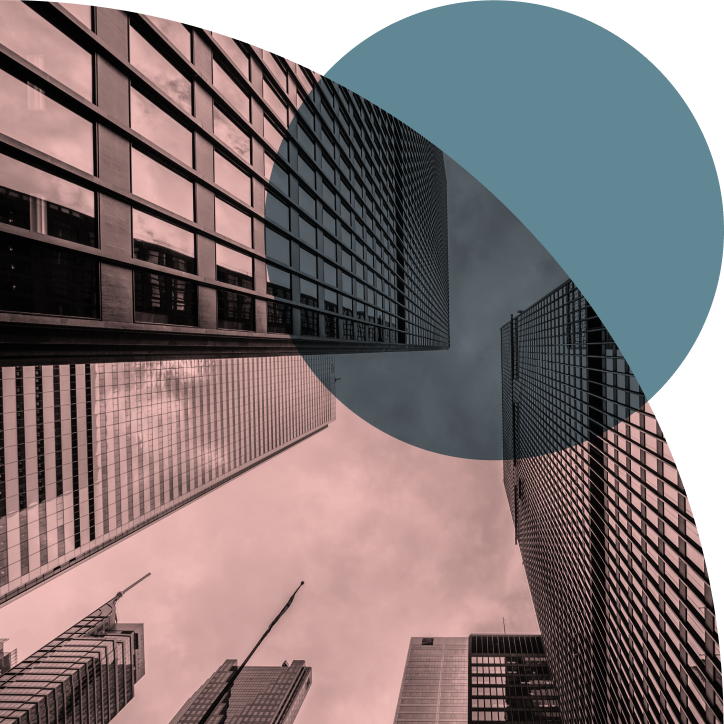 "Despite the increasing embrace of big data and AI, most financial services companies still experience significant challenges around data types, privacy and scale. Credit Suisse is overcoming these obstacles by standardizing on open, cloud-based platforms, including Azure Databricks, to increase the speed and scale of operations and ML across the organization."
— Credit Suise case study Security Features
We provide comprehensive security to protect your data and workloads, such as encryption, network controls, data governance and auditing.
Network access

Cloud

| | |
| --- | --- |
| Option to deploy into a VPC/VNet that you manage and secure. By default there are no inbound network connections to the data plane. | |
| Private access (or private link) from user or clients to the Databricks control plane UI and APIs | |
| Private access (or private link) from the classic data plane to the Databricks control plane | |
| Private access (or private link) from the classic data plane to data on the cloud platform | |
| IP access lists to control access to Databricks control plane UI and APIs over the internet | |
| Automatic host-based firewalls that restrict communication | AWS, Azure, GCP |

User and group administration

Cloud

| | |
| --- | --- |
| Use the cloud service provider identity management for seamless integration with cloud resources | |
| Support for Azure Active Directory Conditional Access Policies | Azure (AWS / GCP not applicable) |
| SCIM provisioning to manage user identities and groups | |
| Single Sign-On with identity provider integration (you can enable MFA via the identity provider) | AWS (Azure / GCP not applicable*) |
| Service principals or service accounts to manage application identities for automation | |
| User account locking to temporarily disable a user's access to Databricks | AWS (Azure / GCP not applicable*) |
| Disable local passwords with password permission | AWS (Azure / GCP not applicable*) |

Access management

Cloud

| | |
| --- | --- |
| Fine-grained permission based access control to all Databricks objects including workspaces, jobs, notebooks, SQL | |
| Secure API access with personal access tokens with permission management | |
| OAuth token support | |
| Segment users, workloads and data with different security profiles in multiple workspaces | |

Data security

Cloud

| | |
| --- | --- |
| Encryption of control plane data at rest | |
| Customer-managed keys encryption available | |
| Encryption in transit of all communications between the control plane and data plane | |
| Intra-cluster Spark encryption in transit or platform-optimized encryption in transit | |
| Fine-grained data security and masking with dynamic views | |
| Admin controls to limit risk of data exfiltration | |

Data governance

Cloud

| | |
| --- | --- |
| Fine-grained data governance with Unity Catalog | |
| Centralized metadata and user management with Unity Catalog | |
| Centralized data access controls with Unity Catalog | |
| Data lineage with Unity Catalog | Preview on AWS and Azure |
| Data access auditing with Unity Catalog | |
| Secure data sharing with Delta Sharing | |

Workload security

Cloud

| | |
| --- | --- |
| Manage code versions effectively with repos | |
| Built-in secret management to avoid hardcoding credentials in code | |
| Managed data plane machine image regularly updated with patches, security scans and basic hardening | AWS, Azure (GCP not applicable) |
| Contain costs, enforce security and validation needs with cluster policies | |
| Immutable short-lived infrastructure to avoid configuration drift | |
| Enhanced hardening with security monitoring and vulnerability reports of managed data plane images | |

Auditing and logging

Cloud

| | |
| --- | --- |
| Comprehensive and configurable audit logging of activities of Databricks users | |
| Databricks SQL command history logging | |
| Databricks cluster logging | |

Security validations (Compliance)

Cloud

| | |
| --- | --- |
| ISO 27001, 27017, 27018 compliance | AWS, Azure, GCP |
| SOC 1 Type II, SOC 2 Type II, SOC 3 | AWS, Azure, GCP |
| GDPR and CCPA compliance | AWS, Azure, GCP |
| PCI DSS-compliant deployments | AWS, Azure |
| FedRAMP Moderate compliance | |
| FedRAMP High compliance | |
| HIPAA-compliant deployments | |
| HITRUST | |
* Azure Databricks is integrated with Azure Active Directory, and Databricks on GCP is integrated with Google Identity. You can't configure these in Databricks itself, but you can configure Azure Active Directory or Google Identity as needed.
Platform Architecture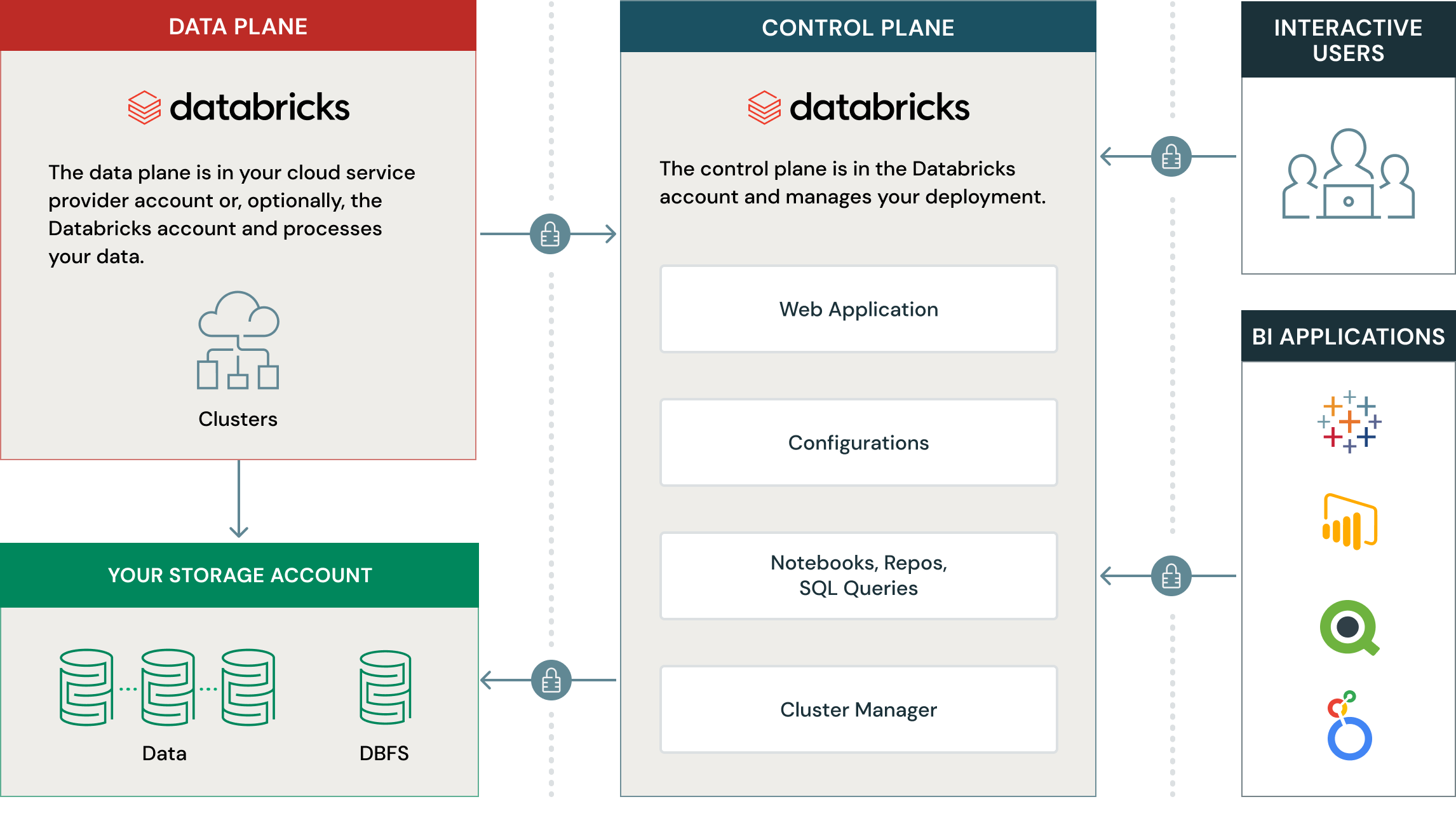 The Databricks Lakehouse architecture is split into two separate planes to simplify your permissions, avoid data duplication and reduce risk. The control plane is the management plane where Databricks runs the workspace application and manages notebooks, configuration and clusters. Unless you choose to use serverless compute, the data plane runs inside your cloud service provider account, processing your data without taking it out of your account. You can embed Databricks in your data exfiltration protection architecture using features like customer-managed VPCs/VNets and admin console options that disable export.
While certain data, such as your notebooks, configurations, logs and user information, is present within the control plane, that information is encrypted at rest within the control plane, and communication to and from the control plane is encrypted in transit. You also have choices for where certain data lives: You can host your own store of metadata about your data tables (Hive metastore), store query results in your cloud service provider account, and decide whether to use the Databricks Secrets API.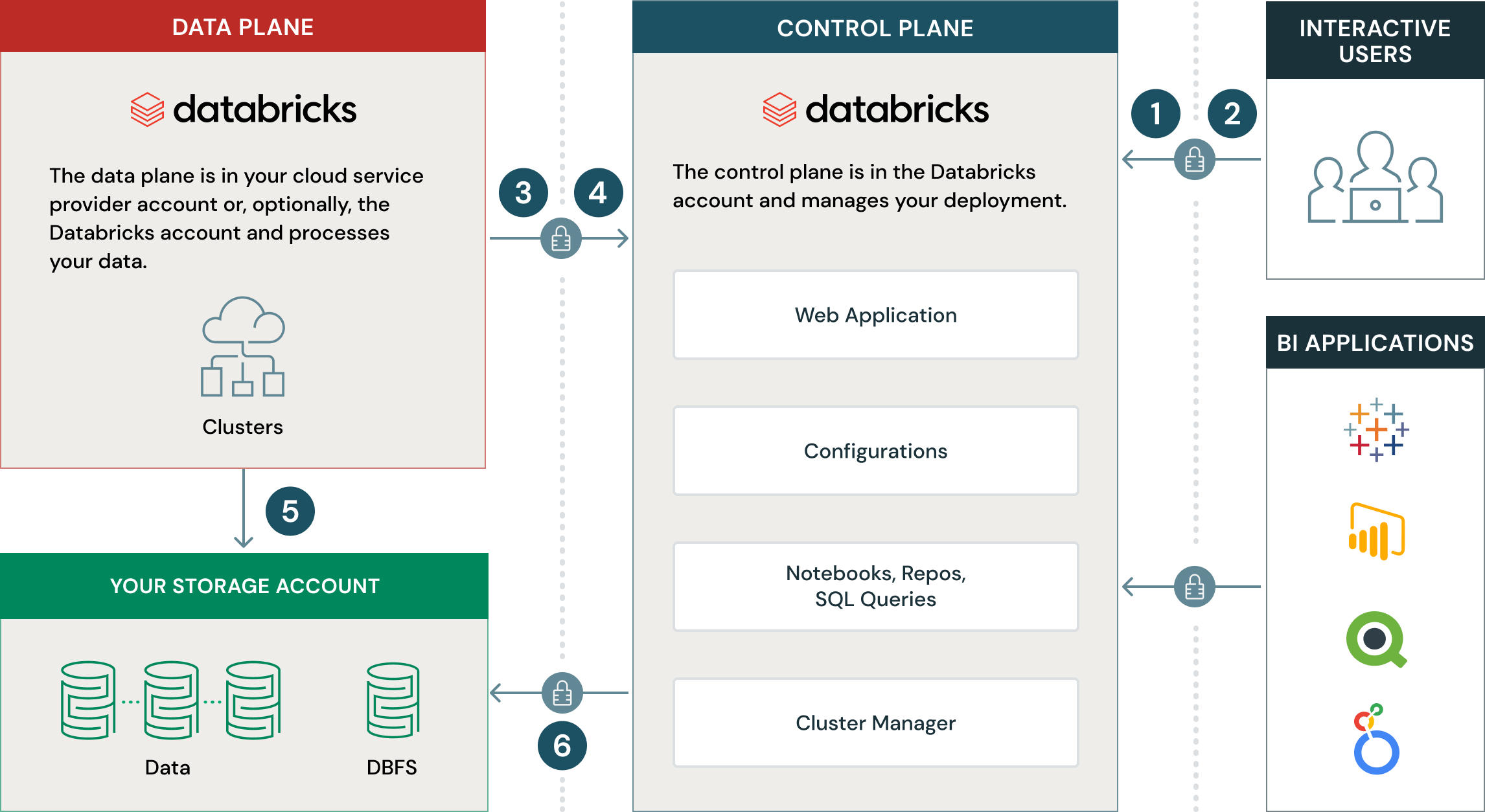 Suppose you have a data engineer that signs in to Databricks and writes a notebook that transforms raw data in Kafka to a normalized data set sent to storage such as Amazon S3 or Azure Data Lake Storage. Six steps make that happen:
The data engineer seamlessly authenticates, via your single sign-on if desired, to the Databricks web UI in the control plane, hosted in the Databricks account.
As the data engineer writes code, their web browser sends it to the control plane. JDBC/ODBC requests also follow the same path, authenticating with a token.
When ready, the control plane uses Cloud Service Provider APIs to create a Databricks cluster, made of new instances in the data plane, in your CSP account. Administrators can apply cluster policies to enforce security profiles.
Once the instances launch, the cluster manager sends the data engineer's code to the cluster.
The cluster pulls from Kafka in your account, transforms the data in your account and writes it to a storage in your account.
The cluster reports status and any outputs back to the cluster manager.
The data engineer doesn't need to worry about many of the details — they simply write the code and Databricks runs it.
Compliance
Customers all over the world trust us with their most sensitive data. Databricks has put in place controls to meet the unique compliance needs of highly regulated industries.
Due diligence package
For self-service security reviews, you can download our due diligence package. It includes common compliance documents such as our ISO certifications and our annual pen test confirmation letter. You can also reach out to your Databricks account team for copies of our Enterprise Security Guide and SOC 2 Type II report.
Download
Certifications and standards Overview
Databricks takes privacy seriously. We understand that the data you analyze using Databricks is important both to your organization and your customers, and may be subject to a variety of privacy laws and regulations.
To help you understand how Databricks fits into regulatory frameworks that may apply to you, we've prepared Privacy FAQs and documents that transparently set forth how Databricks approaches privacy.

Help investigate a security incident in your Databricks workspace
If you suspect your workspace data may have been compromised or you have noticed inconsistencies or inaccuracies in your data, please report it to Databricks ASAP.
Report SPAM or suspicious communications originating from Databricks
If you have received SPAM or any communications that you believe are fraudulent, or that have inappropriate, improper content or malware, please contact Databricks ASAP.
Understand an internal vulnerability scanner report against a Databricks product
For help analyzing a vulnerability scan report, please raise a support request through your Databricks support channel, submitting the product version, any specific configuration, the specific report output and how the scan was conducted.
Understand how a CVE impacts a Databricks workspace or runtime
If you need information on the impact of a third-party CVE, or a Databricks CVE, please raise a support request through your Databricks support channel, and provide the CVE description, severity and references found on the National Vulnerability Database
Report a bug in Databricks products or services
If you have found a reproducible vulnerability in any of our products, we want to know so that we can resolve it. Please join our public bug bounty program facilitated by HackerOne.
HIPAA
HIPAA is a US regulation which includes a variety of protections for protected health information. Databricks has HIPAA-compliant deployment options.
Supported Clouds
Regions
Azure Multi-Tenant — All regions
AWS Single Tenant — All regions
AWS Multi-Tenant — us-east-1, us-east-2, ca-central-1, us-west-2