Have you heard the news? MosaicML has joined the Databricks family!
Together, Databricks and MosaicML will make generative AI accessible for every organization and we're looking for builders to join us on our mission to democratize data and AI.
See our open jobs today!
Careers at Databricks
We're on a mission to help data teams solve the world's toughest problems. Will you join us?

Uplevel your career. Level up the future.
Databricks is leading the data and AI revolution. We created a category called the lakehouse. And now, thousands of companies are using it to solve problems like climate change, fraud, customer churn and so much more. If you're looking for an opportunity that could truly define your career, this is it.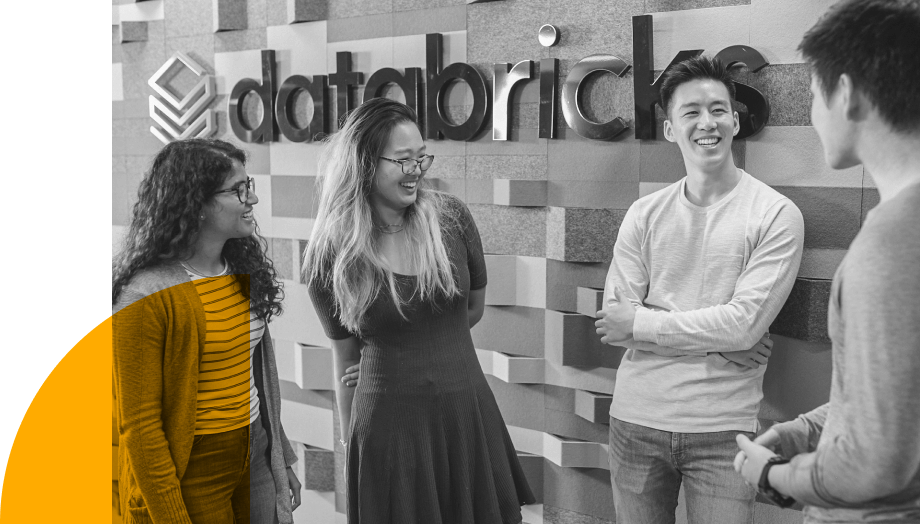 Why Databricks?
We're growing fast and attracting the best talent in the world. Bricksters — as we call ourselves — are a special mix of smart, curious, quick thinkers and doers. If you ask a Brickster what they love about working here, they'll probably tell you about our unique culture. It stems from our founders, our incredible origin story and our people.
Benefits, perks and hybrid work
To do your best work, your health and well-being are key. That's why we offer great benefits and perks — including flexible ways of working. It all depends on what works best for you and your team.
Check out our benefits
Diversity, Equity and Inclusion
We believe different backgrounds, perspectives and skills fuel our success. That's why we work hard at cultivating an inclusive and supportive environment. Find out how we're closing the pay gap, removing unconscious bias from recruitment and more.
See inclusion in action
Locations
Headquartered in San Francisco, California, we now have over 20 offices in 12 countries. With 4,500+ Bricksters worldwide and an ambitious growth strategy, we're one of the fastest growing enterprise software cloud companies.
Opportunities for students and new graduates
We're committed to developing our next generation of Databricks leaders. That's why we're intentional about having our interns and new college grads play an integral role in developing our platform.
Our University Program is designed to help you make the most of your experience — from engineering hackathons and Intern Olympics to board game nights and happy hours.
Explore internships and opportunities