Making the Move to Amsterdam: Miles Yucht
While we are proud of our Berkeley roots, Databricks now calls many cities around the world our home. In addition to offices in London, Singapore, New York and our headquarters in San Francisco, we have one of our major engineering hubs in the fast-growing European Development Center, Amsterdam. Databricks offers the exciting opportunity to relocate to one of our global offices and we are proud to say that we have been able to help our employees navigate through that transition. Learn more about Miles Yucht, a Tech Lead on the Billing Team, and what inspired him to make the move from San Francisco to Amsterdam.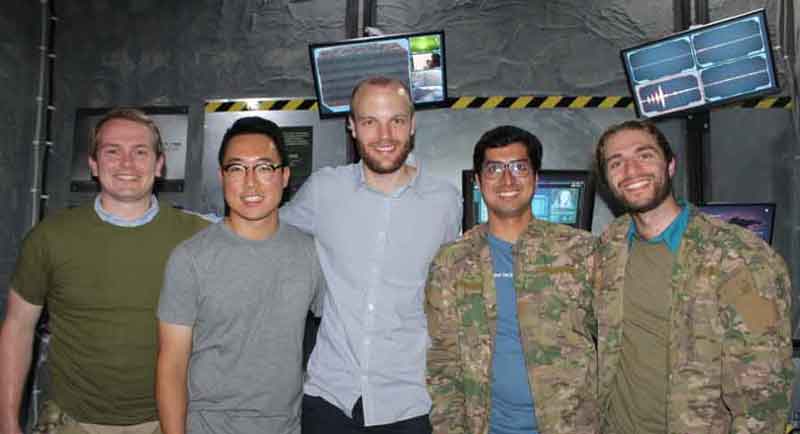 Miles (on the right) with the team at a post-apocalypse themed escape room
Tell us a little about yourself.
I studied computer science and music at Princeton, and moved to California afterwards, where I joined Databricks and helped scale our San Francisco office. A year ago, I got the opportunity to work in Amsterdam for two weeks, where I got to know the local team, explore the city and get a better feel of what it'd be like to live there. In March 2019, I decided to move to Amsterdam, where I lead the Billing Infrastructure and Usage team. Our team develops process and solutions to bill customers appropriately while giving them visibility on how to use the product efficiently.
What were you looking for in your next opportunity?
I really wanted to experience living somewhere completely different. I grew up in the remote countryside in Vermont, and lived in one of the biggest cities in the U.S., but hadn't gotten the opportunity to see other parts of the world that I wanted to, including Europe. I was looking for cultural exchange, and the opportunity to meet other people around the world and understand their perspectives. The opportunity to move and work with Databricks abroad in Amsterdam and be a part of building out the European Development Center was very exciting. It also offered an opportunity to learn about the Dutch viewpoint and lifestyle.
How did you choose to go to Amsterdam and Databricks specifically?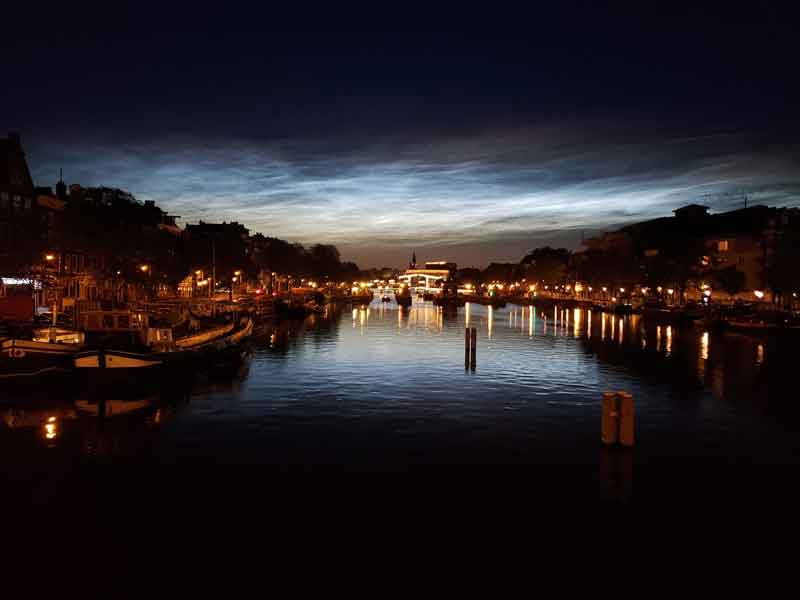 Amsterdam at Dusk
In college, I traveled with my school orchestra for an international tour in Germany and the Netherlands. When I was in Amsterdam, I fell completely in love with the place - seeing the appreciation for biking, how safe it was, the love for classical music and art, and the beautiful scenery, including all of the canals and brick houses. Amsterdam was a major city, but still a little more quaint than the hustle-bustle of usual cities, which really connected with me as someone who came from a more rustic background.
That being said, when I was looking for computer science careers as I was graduating, I was focused more on jobs located in the Bay Area. My roommate had met Patrick Wendell at an alumni event, who convinced him to intern at the company he was founding, Databricks. We both applied and received internships there, however, I decided to intern at a larger company, while he interned at Databricks. I had a lot of fun at my internship (there were a lot of fun events, a big nice office), but I didn't feel that I'd be able to push myself in terms of my own personal growth, versus the opportunity that Databricks offered (and that he had experienced), which at the time was only a 50-person company. When I graduated, I decided to join Databricks full-time. Fast forward to December 2016, Databricks had hired a core group of Database engineers in Amsterdam and opened an office there. This was the moment that I realized that my dream of moving to Amsterdam could actually happen and that I'd potentially be able to transfer in the future. Two years later, it finally happened!
What was the biggest challenge you faced when relocating to Amsterdam, and what lessons did you learn from it?
I didn't realize how many basic things I took for granted that I needed to sort out - like getting a new SIM card, getting my visa, and situating my bank account. Luckily, the Dutch government does a great job of making the transition smooth - they provide a lot of helpful resources on what to do on the first day, month, and even have a SIM card you can use in your first few weeks here. Adjusting to the Dutch environment, learning a new language, and finding a local friend group, was also challenging at times. However, most people here are fluent in English and really nice. I was lucky to meet a group of local students and musicians through joining music groups. It definitely wasn't easy, but it taught me to welcome the opportunity to pursue extracurriculars when moving to a new city. It's a great way to meet people outside of work and to experience the city through multiple perspectives.
What has been the most exciting aspect about living in Amsterdam?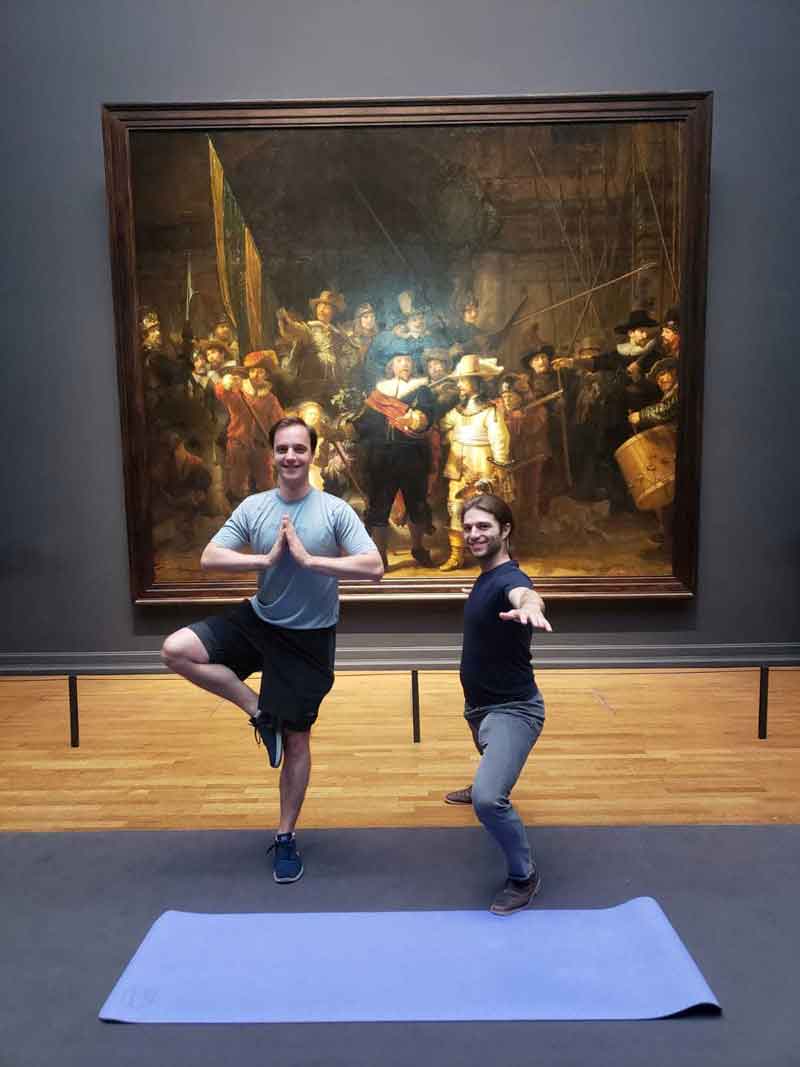 Yoga at the Rijksmuseum with my coworker
It's been very exciting to see the level of pride and passion that Dutch people have for their country - from sports to art! There is also so much culture in Amsterdam. For instance, there are so many museums, music groups, and stunning venues that are easily accessible. You can even utilize a museum pass to visit many museums and do fun events such as yoga at the Rijksmuseum! It's also exciting to be able to travel to other places so easily. I've already been to France and Italy and am planning on visiting Germany and Austria in the next few weeks!
I've also gotten to really know the Amsterdam team, that I previously was only able to meet a couple weeks at a time when I was working in our SF office. For me, it's exciting to be part of the first team from our Platform division to be based in Amsterdam, serve as a vanguard for our department, all while helping develop the cultural building blocks for our rapidly growing office! You don't get that opportunity very often.
Databricks has grown tremendously in the last few years. How do you see the future of Databricks evolving and what are you most excited to see us accomplish?
We've been hiring as quickly and sustainably as we can, so we can provide the highest amount of value to all our customers. I've noticed that even though our headquarters are in San Francisco, our global hiring has skyrocketed - all of our global offices are looking to expand the office space they're staying in. Seeing all that growth makes me think that we'll be a lot more globally distributed in the future. Who knows, maybe there will be a company retreat in Amsterdam one day!
In addition, the direction that we've taken to be the home of Machine Learning and Big Data is a really important decision that our leaders made from day one. The more I see our success, the more I'm convinced it's the right answer. I'm really excited to see Databricks become the dominant player for Machine Learning and Big Data, and for everyone to want to use our unified analytics platform because we have an amazing product!
What advice would you give to people considering relocation?
If you have the opportunity, you should grab the chance to live in a different part of the world! It really broadens your world view around all types of issues, from healthcare to immigration, and gives you perspective on your own life. Being able to see different problems people face in their day-to-day, and how they solve it, teaches you a lot about how to work with different people and expands your perspective. Also, even if you make great friends abroad, don't lose touch with the people you moved away from. It's easy to not message someone for a couple of weeks, especially if you're used to talking to people in-person versus messaging. However, it's worth investing enough time to maintain relationships you had wherever you're coming from.
Interested in joining Miles' team in our Amsterdam office? Check out our Careers Page.
See all Company Blog posts