A Day at the 2019 Women in Product Conference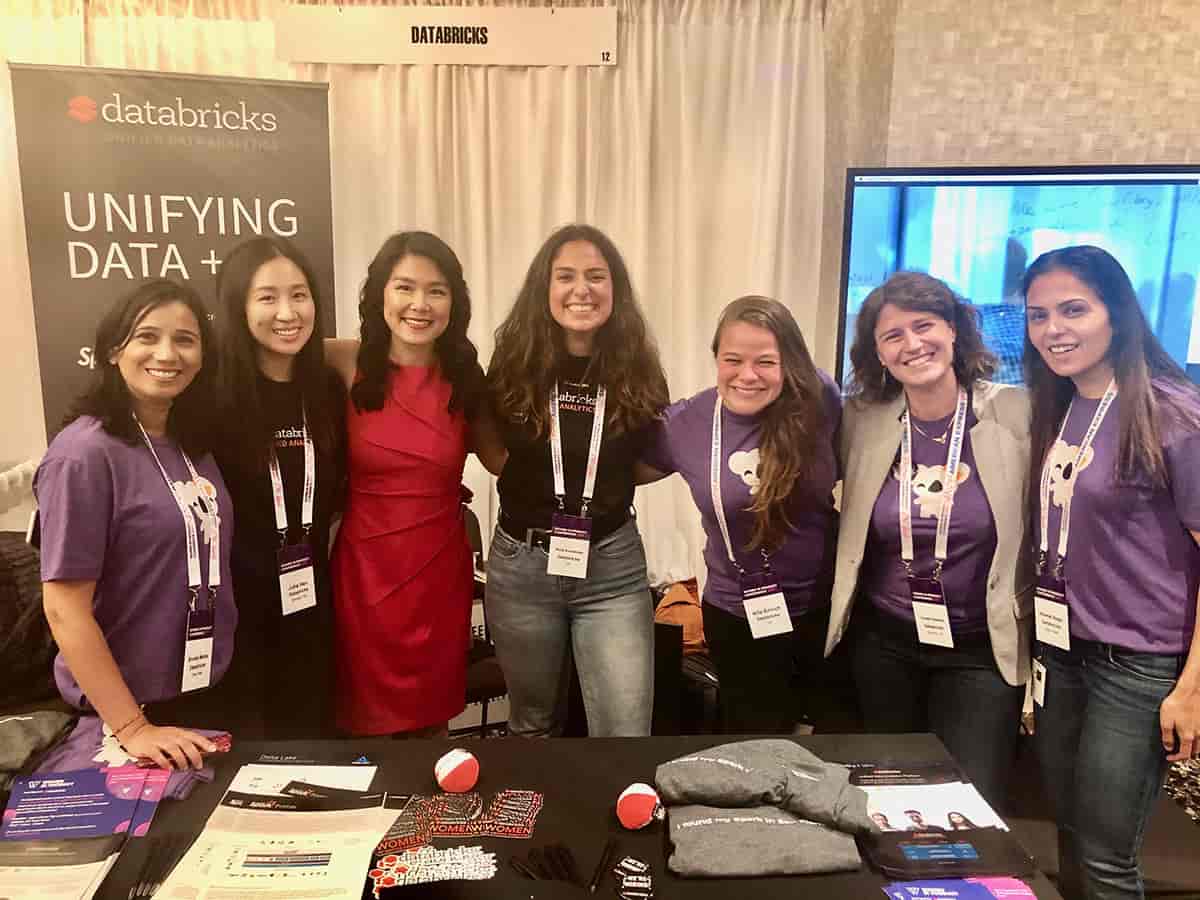 From left to right: Shveta, Julia, Yardley Pohl (a WIP board member and co-founder), Anna, Allie, Cyrielle, and Rani at the Databricks booth
Databricks was a proud sponsor of the 2019 Women In Product conference which focuses on empowering women in product management and advocating for equal representation. We had a booth and happy hour where attendees could network with our product team, and learn more about our open roles. Read more about what this experience meant to the team members that attended below!
What led you to your current position at Databricks?
Anna Shrestinian, Senior Product Manager

I am a product manager on identity and data security at Databricks. I work to solve our customers' challenges with securing data at an enterprise scale.
Rebecca Li, Staff Product Manager, Pricing and Portfolio

I am a product manager on pricing, cost management, and usage visibility. I work to design a packaging & pricing model that drives Databricks' adoption in the market; and optimizes the long-term revenue of the company. At the same time, I work to make sure customers have the right tools to closely monitor their usage and cost.
Allie Emrich, Senior Program Manager, Product

I'm a program manager on the product team who's in charge of coordinating and communicating much of our roadmap and the updates that occur throughout the quarter. Program management is a funny position because it doesn't necessarily have a conventional path. I started out working on the customer success side, and really enjoyed cross-departmental projects focusing on product launches. When I saw the role at Databricks that leveraged my skill set on the CS side, but allowed me to grow operationally on the product side, I knew it was an opportunity I couldn't pass up.
Cyrielle Simeone, Senior Product Marketing Manager, Data Science and Machine Learning

I'm a product marketing manager for data science and machine learning at Databricks. My role primarily consists of developing deep domain and audience understanding, product messaging collateral, as well as go-to-market strategies and campaigns. It's funny, I didn't originally plan on becoming a PMM, but I'm so glad I did. I graduated from a French generalist engineering school in 2006 with a specialization in image and signal processing. While curious and fascinated by math and science, I realized early on in my career that I was more interested in enabling people with technology and learning how they solved problems rather than becoming a specialist myself. The PMM role at Databricks is perfect for me in the sense that it sits at the intersection of product, customers, and sales, and gives me the opportunity to collaborate with extremely talented people across functions to bring to market ML products with a fantastic community fit, like MLflow. It allows me to stay abreast of practitioner needs and challenges, industry trends, and use cases across industries. It is a very diverse and demanding role, that can be very rewarding when executed well.
Julia Han, Engineering Program Manager

I'm an engineering program manager on the technical program management team. The technical program management team works on ensuring that there is alignment between the engineering and product management orgs. I work on reducing engineering overhead for project management and ensuring that proper coordination and communication is in place to facilitate execution for the engineering teams.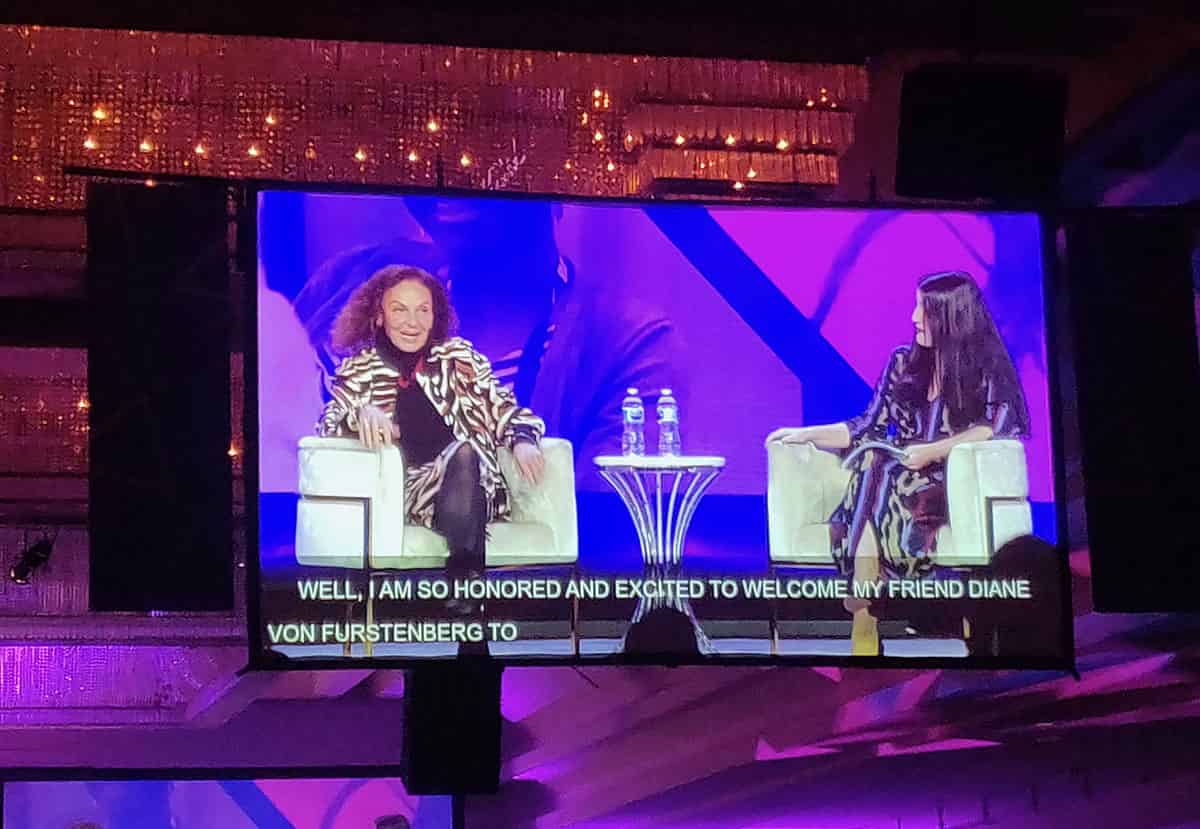 Keynote Session with Diane von Furstenberg at the conference
What did sponsoring the Women in Product conference mean to you?
Anna Shrestinian, Senior Product Manager

The energy at the Women in Product conference was invigorating. It was amazing to be surrounded by leaders in the field and hear their insights on Product skills as well as their inspiring stories. I am proud to see Databricks' name alongside best-in-class organizations as a Gold Sponsor. It shows me our commitment to diversity and inclusion.
Rebecca Li, Staff Product Manager, Pricing and Portfolio

I was pleasantly surprised by the diversity of industries, experiences, and career trajectories of our guest speakers. Each of them shed light on a different area of expertise, and shared their unique story of how they became who they are today. It was very inspiring and encouraging to understand their mindset, their struggles and how they overcome them to build their unique character. The crowd was very energetic and engaging. You can tell the message resonates with the audience deeply, and it is a community of women in product that can help each other grow. It was a great experience and there needs to be more of them!
Allie Emrich, Senior Program Manager, Product

Many companies are focused on increasing gender diversity, but it's great to be part of a company who is visibly taking action to help move the needle. The atmosphere at the conference was vivacious and contagious-full of attendees who were so excited to be there and connect with one another. Getting our name out there, and teaching people about what Databricks is all about was an experience for the books!
Cyrielle Simeone, Senior Product Marketing Manager

It was very exciting and humbling to be part of this initiative, and represent Databricks at the Women in Product conference. It demonstrates real commitment and initiatives towards more diversity and inclusion for us as we continue to scale, which is key. As a woman in tech, it was fantastic to get to meet and connect with the community, hear the experiences and aspirations of many women throughout the day, and introduce them to Databricks. The energy was vibrant and very communicative, I look forward to the next one!
Julia Han, Engineering Program Manager

As a woman in tech myself, it's always eye opening to be able to hear and learn about the experiences of other women who are in tech. As Databricks scales, we want to see gender diversity make progress across the board by learning from other companies on their efforts and vice versa. It's exciting to be part of a company that supports women who are seeking to connect and search for growth opportunities.
We are so excited to be a part of a team that promotes growth and development and fosters us to learn from other subject matter experts in the field. Interested in working with our product teams here at Databricks? Check out our Careers Page!
Learn More about Databricks Involvement with Women in Tech:

https://www.databricks.com/sparkaisummit/north-america/women-in-ua