Check out the killer lineup of keynotes at Spark + AI Summit 2020
The Spark + AI Summit is already the world's largest data and machine learning conference bringing together engineers, scientists, developers, analysts and leaders from around the world.
This year is shaping up to be our biggest conference ever, with over 7,000 attendees expected to attend four days of training sessions, presentations and networking events. We've also expanded our keynote lineup this year to include data and machine learning innovators and visionaries from the media, academia and open source.
Who's Keynoting?

Databricks executives and original creators of popular open source projects including Apache Spark, Delta Lake, MLflow, and Koalas will also hit the keynote stage:
Hundreds of other Data and ML Sessions, Tutorials and Training Classes
This year, we're excited to have Ben Lorica join as the Program Chair. Ben is the former Chief Data Scientist at O'Reilly Media, and the former Program Chair of: the Strata Data Conference, the O'Reilly Artificial Intelligence Conference, and TensorFlow World.
Now with Summit expanded to four days, Ben and the rest of the program team are combing through the vast array of community submissions to build a compelling agenda. Stay tuned to the Databricks Blog for the complete schedule to be announced soon.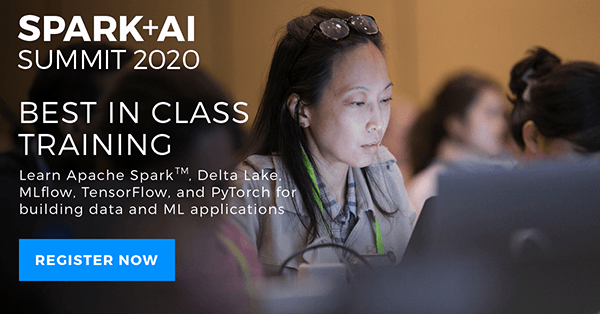 Join Us in San Francisco for Spark + AI Summit 2020
We hope you'll join us at the Spark + AI Summit 2020! Register now to save an extra 20% off the already low early-bird rate — use code RBlogSAI20
See all Company Blog posts