Data Teams Unite! Spark + AI Summit Recap
It's been a few weeks since Spark + AI Summit 2020 and we can still feel the amazing energy from this global virtual event. Judging from the positive feedback across social media posts, press coverage and directly from attendees, it's clear we created an exceptional experience.
Putting together a virtual summit of this scale was uncharted territory, and our initial goals kept expanding as we blew past every target. We launched the online event with registrant goals of 35,000 and attendee goals of 50% attendance. We not only met these goals but exceeded them, ending the conference with nearly 70,000 registrants. Over 52% of those registrants attended the event, which is a 10-20% higher attendance rate than comparable virtual conferences.
A key indicator for a successful program is the net promoter score (NPS), which is the metric used to measure an attendee's willingness to recommend the event to their peers. The NPS for our virtual Spark + AI Summit is 66, nearly double the industry benchmarks for live stream events.
There is no clear-cut formula on how to make a virtual conference work; it will be different for every organization. Rather than shrink the conference to fit the virtual format, we went big, expanding the event to five full days packed with over 200 breakout sessions, 75+ pre-conference training courses, 10+ keynotes, a full  exhibitor hall, a hackathon for social good, 10+ special events and two evening events — all designed to keep people engaged during a pandemic.
So how did we do all this? I want to share the top three things that really set us up for success, especially with such a short runway to make Spark + AI Summit happen virtually.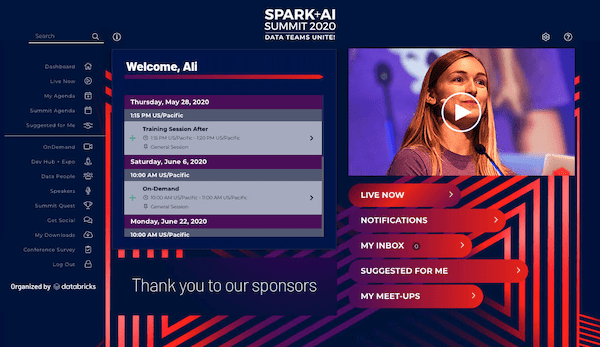 Teamwork makes the dream work
As cliche as it may sound, it really took a village to make this happen. Taking on a real-time virtual event demands you consider every nuance of the experience because you are relying solely on technology. Engaging with our internal teams in infosec, IT and more helped support the standard and protocols needed to deliver a sound virtual environment —  but also put in place a series of contingency plans if anything went wrong across multiple breakage points. Our internal partnerships were foundational in making the right decision and shedding light on anything we could have overlooked from a technology and experiential standpoint.
Partnership with our virtual conference platform vendor, MeetingPlay, two agencies and AV production vendor were integral in staying organized and moving things forward. These partnerships were true extensions of our team, in that they all committed long hours to deliver on our vision. MeetingPlay's customer service and ability to customize the event platform are uncanny. Most importantly, they invested the time and effort to make sure that scalability and stability of our virtual environment was possible. Our two agencies helped divide and conquer by managing the build process with MeetingPlay and kept all of us on track for the entire build, while also managing registration/data integrations, customer service and audio visual production for keynotes and sessions, with additional support from our incredible production team. All of our internal and external partnerships created a formula for a dream team of event experts that helped us pull everything off in less than two months.
Content is king (and so is the way it is delivered)
One of the main goals we set for the virtual event was to maintain the same level of content — if not more — than we would deliver for an in-person event. This was a huge undertaking, with over 200 breakout sessions over 13 tracks, morning and afternoon keynotes for three days, two days of pre-conference training, six industry forums, special events and more — packed into five days of virtual content.
In order for us to feel confident about the delivery, we had to curate each experience and find that balance between pre-recorded sessions, live sessions, or a mix of both. We relied heavily on our production team to help us with the polished production of our keynotes and the recordings of all of the breakout sessions. For training, industry forums, and other live streaming events we worked closely with MeetingPlay to make sure we had the right technology in place to fit all of our needs. For instance, we integrated Zoom when necessary for large group engagement, leveraged specific functionality within MeetingPlay for chat and Q&A. In the end, we made sure that we always limited it to Zoom and/or MeetingPlay for technologies involved, so that it was the most consistent experience across the board.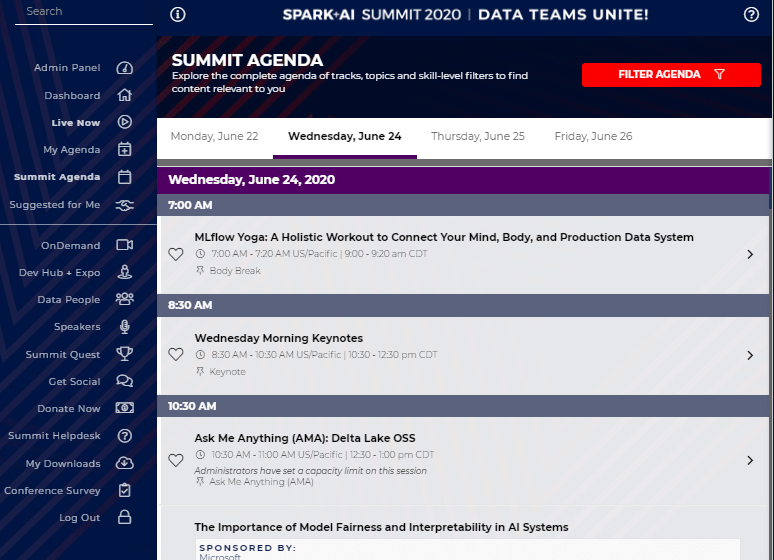 The result was an amazing amount of content for an event of this scale. At heart, Spark + AI Summit is a community event, so we wanted to make sure we offered as much technical and thought leadership content through our sessions, demos, training and more. We also planned ahead to ensure we had all of our content immediately available on demand. Within MeetingPlay, it loaded right into the on-demand library, but we also had our agenda page in the Spark + AI Summit site ready to go with recordings. It was imperative for us to have all of our content consumable immediately and planning ahead for this made it worthwhile.
Always make room for fun
Going virtual doesn't mean that you need to sacrifice the fun of a live conference experience..This is especially important when your event attendees are sitting in front of their laptops, at home, often alone. So it was really important to infuse some fun into all aspects of the conference.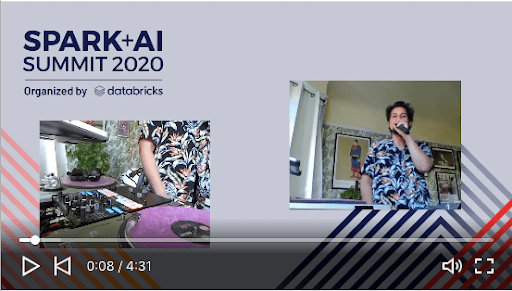 From the well-choreographed keynote transitions to the DJ set at the end of each day, FUN is necessary to keep people engaged and offer that change of pace within a virtual setting. Integrating daily body breaks, conference gamification, a virtual swag store, and virtual photo booth were just a few things we did to weave in some light-hearted attendee engagement. Our evening events were designed with our audience and networking opportunities in mind, encouraging them to "choose their own adventure" by listening to a live DJ set, participate in a gaming tournament, attend an Ask Me Anything (AMA) session or start up a conversation in a birds of a feather room — Reddit-style rooms for a variety of topics/personas.
These little touches went a long way to enhance the overall experience of our attendees and helped us stay true to what Spark + AI Summit is all about —bringing data teams together to learn and connect.
There are probably a million other things to cover when it comes to everything we learned in putting together a successful virtual event. In the end, we will continue to learn from each other, share best practices and adjust in this new landscape of virtual events.
See all Company Blog posts