Databricks Partner Executive Summit at Data + AI Summit 2020 Europe
This week's Partner Executive Summit, held in concert with Data + AI Summit 2020 Europe, is a feature event for our 500+ partners globally, and we love to share how partners are critical to making a positive impact on our joint customers with their solutions and integrations. Databricks success simply would not and could not happen without these partners. A number of Databricks executives were part of the agenda, including Ali Ghodsi, CEO and Michael Hoff, SVP of business development and partners, who hosted the event.
The event served as a great forum to hear directly from Databricks customers about their data and AI journey with Databricks and our partners to deliver business value. These customer stories were great examples of how joint engagements with our partners make a difference in accelerating time to value and consistently implementing best practices.
Databricks announced two new programs at Partner Executive Summit, and our partner awards to recognize the partners who made exceptional contributions to the Databricks ecosystem. We are excited to share those announcements and award winners below.
Partner Badges
The Databricks partner team officially launched a Digital Badging Program for Partners. As partners complete Databricks training paths and accreditations, they can now earn digital badges that enable them to showcase their skills with their peers and customers via LinkedIn and in their email signatures. This program was in a beta release up to this point, with over 6,000 badges awarded!
Why digital badges matter to our partners:
Visible recognition of Databricks expertise and thought leadership
Ability to show proven capabilities to implement their data and AI vision on Databricks
Makes it easier for customers to select partners with recognized expertise
Partners and customers can learn more about this program on the Partner Badges web page.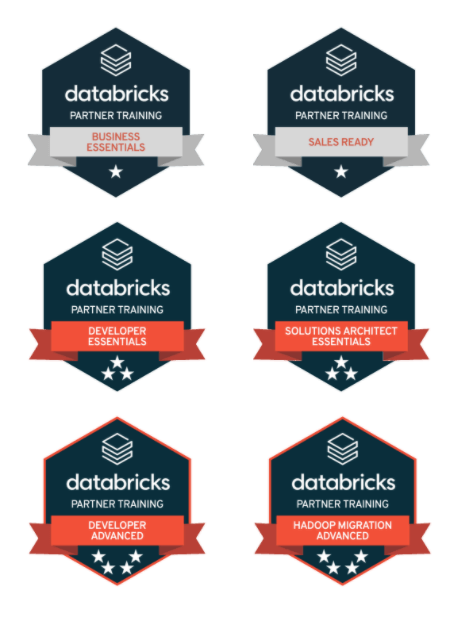 Demand Generation Kits
Databricks announced a new Hadoop Migration demand generation kit, the first in a series of kits for partners to build awareness and engage customers for a specific type of solution. These kits include all the marketing content needed to get started, and given the success of Hadoop migration programs to date we are excited to provide this first kit to partners to engage customers and maximize the opportunity.
Awards
Always a highlight for the Databricks partner community, we announced the following awards in recognition of special partner achievements.
Innovation Awards
The C&SI partner Innovation award went to Wejo, received by Paul Reynolds. Wejo is using the Databricks Unified Data Analytics platform to build a global Automotive Industry Data Marketplace.
The ISV partner Innovation award went to Fivetran, received by Logan Welley. Fivetran demonstrated excellent engineering work in support of the Lakehouse architecture and SQL Analytics. Read more from Fivetran on how they are doubling down on the Lakehouse architecture and SQL analytics with Databricks.
Rising Star
The C&SI partner Rising Star award went to New Signature, received by Tom Zglobicki. New Signature grew quickly and were recently acquired by Cognizant, a reflection on their success with Azure Databricks and positioning Databricks at the heart of a modern data platform.
The ISV partner Rising Star award went to Immuta, received by Chris Devaney. Immuta is critical to accelerating data governance for several customers around the world with their ability to provide advanced fine-grained access control and security features via native integration with Databricks. You can read Immuta's press release here.
Customer Impact Awards
The ISV partner Customer Impact award went to Tableau, received by Brian Matsubara. Tableau is a key partner for our work on the Lakehouse architecture and our recently announced SQL Analytics. We share a common vision to help our many joint customers gain valuable insight from massive volumes of data in the Lakehouse architecture.
The C&SI Northern Europe partner award for Customer Impact went to BJSS, received by Simon Dale. BJSS were selected for their business experience and digitally transforming Health and Pharma customers to deliver a modern cloud data architecture that prioritizes ROI.
The C&SI Central Europe partner award for Customer Impact went to Accenture, received by Nick Millman. Accenture was selected for their guidance to a key client on a complex multi-cloud solution.
The C&SI Southern Region partner award for Customer Impact Award went to OpenValue, for the second year in a row, received by Matthieu Reynier. OpenValue has made a consistent impact on a number of key accounts across France.
EMEA Partner of the Year
The EMEA Partner of the Year award went to TCS and was received by Ranjan Mishra. TCS has embraced our Strategic Partner Programme across multiple client successes.
Global Partner of the Year
Our Global Partner of the Year award went to Avanade, recognized in June at our global Summit, received by Alan Grogan, EMEA Data Modernisation Lead. Avanade is heavily engaged in building a Center of Excellence and a number of Joint Business Accelerators.
Partner Champions
This year we awarded special recognition to members of our Partner Champions group, the top technical evangelists in the community, which has grown leaps and bounds this year under the stewardship of Ryan Simpson. These six of the European Partner Champions were recognized for their excellent evangelism of the Databricks platform, through both customer implementations and community support.
Darren Fuller from Elastacloud for his Leadership and Guidance to the Azure UK Community
Ofer Habushi from Talend for championing technical alignment and education programs resulting in success at a number of client engagements
Eli Kling from Cognizant for his leadership and direction on standardising their Data Science and Data Engineering with Databricks
Pierre Troufflard from WanDisco for championing cost and risk reduction for Hadoop migrations
Simon Whiteley from Advancing Analytics for his renowned Video Series
Dael Willamson from Avanade for his constant presence and support across many of our large Azure Databricks clients
Thank you to the entire community of our 500+ partners for another great event!
If you are interested in learning more about becoming a partner, please visit the Databricks Partner page.
See all Company Blog posts