Winning With Data + AI: Meet the Databricks 30 Index
Companies that are disrupting entire industries, such as Uber and Airbnb, have a common driver in their competitive edge: data and AI. For these brands, big data analytics and machine learning are central to customer experiences, from predicting when your food will arrive to visualizing your next vacation. In today's fiercely competitive markets, incumbents are pitted against savvy data-based startups every single day. Companies that thrive in this era will follow Uber and Airbnb's lead and similarly incorporate data and artificial intelligence into the heart of their products and services.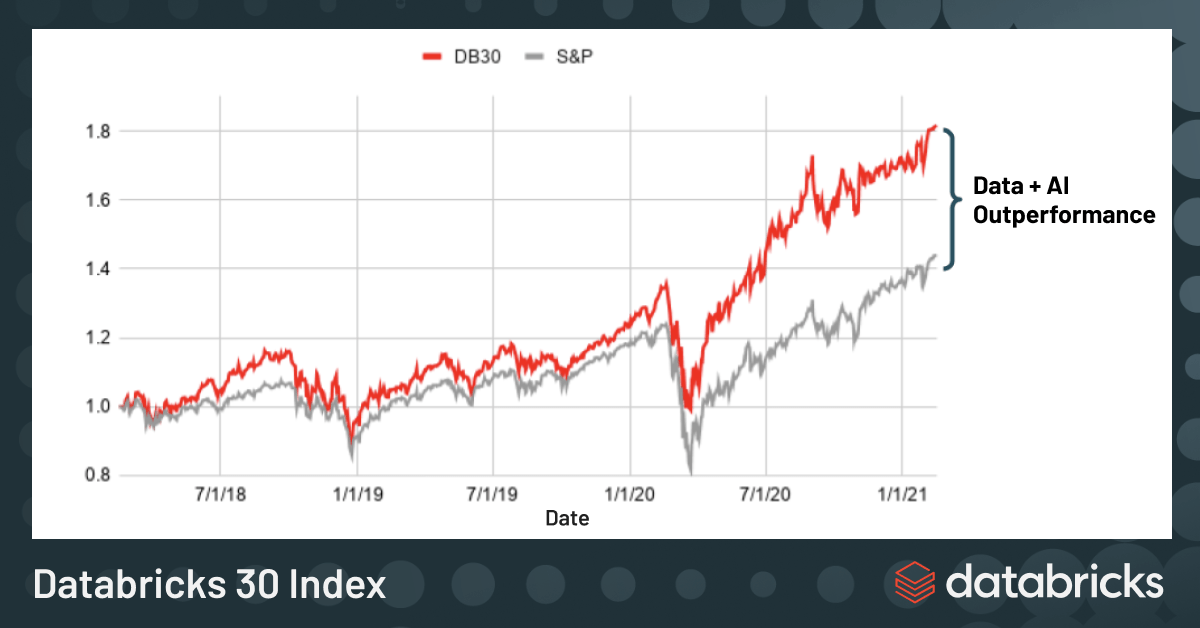 This isn't just conjecture. One only needs to look at the stock market for proof. Today, success in corporate America is more concentrated than any other period in modern history, with just a few select innovators, specifically the FAAMG stocks (Facebook, Amazon, Apple, Microsoft, and Google), accounting for more than 20% of the S&P 500 by market capitalization. In other words, winners are concentrated around companies where cloud, data and AI capabilities are central to operations.
However, success is not solely the domain of tech giants. In fact, our internal research shows that non-tech companies that also focus on cloud, data and AI win in the stock market as well.
A recent research report from Morgan Stanley, What's Technology Worth:
Introducing Data Era Stocks 2.0,* affirms our observation by analyzing "Data Era" stocks, a list of 38 non-tech US companies that create value through investments in technology. They found that centering investment in data and digitalization "allows businesses to gain insights, improve business outcomes, and drive productivity." A common thread in Morgan Stanley's analysis is that these companies are heavily investing in cloud, collaboration and data analytics. And "Data Era" companies substantially outperform their peers – via higher margins, lower volatility in stock prices and higher valuations. Oh, and these companies' stocks outperform both their peers and the S&P 500.
Why does this matter to all of us at Databricks? Cloud, data + AI and data team collaboration are foundational to the Databricks platform. We democratize access to the kinds of data platforms (and predictive and prescriptive capabilities) that only the AirBnBs and Ubers of the world could build for themselves. By leveraging Databricks, our customers across verticals and sizes are making the investments to enable data and AI solutions to automate and streamline business processes, inform decision-making and take a more central role in their operations.
That's why I'm thrilled to introduce the Databricks 30 Index. Inspired by Morgan Stanely's research on "Data Era" stocks, this index tracks marquee customers across our top five verticals plus partners. The Databricks 30 is an equal-weight price index composed of 5 marquee customers each across Retail/Consumer Products, Financial Services, Healthcare, Media/Entertainment, Manufacturing/Logistics, in addition to 5 strategic partners.
In other words, if the stock market went up by 50% over this time frame, the Databricks 30 Index would have gone up by 71% (outperformance of 21pp).
As of February 16th, 2021, our analysis shows companies in the Databricks 30 Index outperformed the S&P 500 by +21 percentage points (pp) over the last 3 years. In other words, if the stock market went up by 50% over this time frame, the Databricks 30 Index would have gone up by 71% (outperformance of 21pp). If we remove tech entirely from the Databricks 30, the Databricks 30 ex-Tech index actually outperforms the S&P 500 slightly even more, over the same time period: +23pp.
Similar to Morgan Stanley's analysis, we find that non-tech US companies that are investing in cloud, data analytics and collaboration do in fact win.
Questions about causality and correlation naturally arise. Do these companies win because of Databricks? Or do winners bet on Databricks? I believe the truth is somewhere in the middle.
That being said, I believe most readers would agree with these word associations: Cloud = Agility, Data = Resilience, AI = Competitive Advantage.
Databricks = Cloud + Data + AI.
Visit our customer page to learn more about some of the leading tech and non-tech companies that use Databricks as part of their winning strategy.
* Morgan Stanely Research, What's Technology Worth: Introducing Data Era Stocks 2.0, Oct. 1 2020.
See all Company Blog posts