Creating Growth and Advancement Opportunities: Introducing the Women in Tech Mentorship Program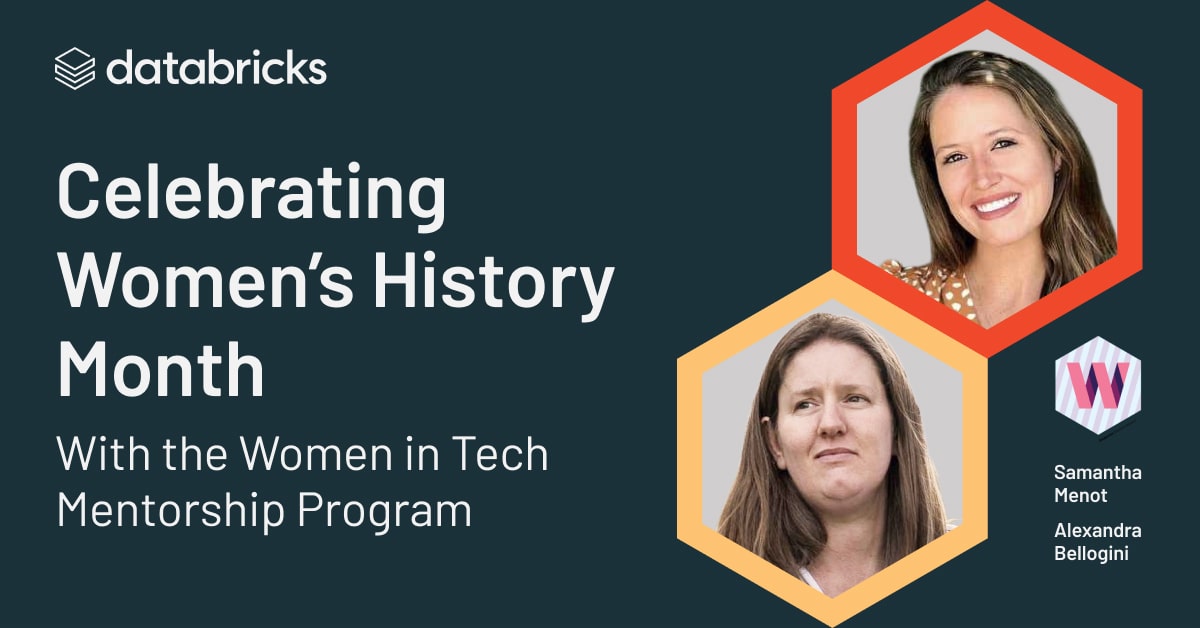 At Databricks, we recognize the importance of offering professional growth and advancement opportunities for all communities and are committed to fostering a work environment where every employee can contribute the best work of their careers.
This week, we're wrapping up our celebration of  Women's History Month. In alignment with our commitment to employee growth, we wanted to highlight our newly launched global Women in Tech Mentorship pilot program. We strongly believe that mentorship is a key piece to driving more career advancement, especially for women in technology and STEM fields such as computer science. With this growth mindset, as well as direct feedback from our employees, we're proud to launch this program.
The objective of the mentorship program is to support the professional development of women across the company while building a community and support network within all functions and geographies. The initiative is a 6-month long program consisting of two main components: monthly group sessions with the entire cohort and monthly individual mentoring sessions with an assigned role model.
To assess the value of the program, participants were asked to complete a pre-program survey to clarify their current understanding of the topics mentioned above. Over the course of the program, participants will be asked to complete a monthly survey and final questionnaire once the program has come to a close.
Learn more about our employee perspectives on mentorship in this conversation between a current program pairing: mentee Samantha Menot (Senior Customer Growth Program Manager) and mentor Alexandra Bellogini (Manager, Technical Solutions): 
What is the most valuable aspect of participating in a mentorship program at Databricks? 
Sam: For me, I  think it's being able to build relationships with people who we wouldn't normally connect with back in the office. It gives us great networking opportunities. That's definitely the number one reason why I decided to join the mentorship program.
Alex: I would agree with you Sam. The most valuable part of this program is having the opportunity to connect with others outside of our own team. I also love having the opportunity to mentor and being able to share my own experiences with you and watch you grow in your career.
Out of the topics we are covering during the program, such as personal branding and negotiating, which one are you most passionate about and why? 
Sam: I would definitely like to learn more about negotiating, as I have only really thought about negotiating a few times in my career. I am still learning how to go into a negotiation, what makes a strong negotiator and how to present and position yourself in a negotiation.
Alex: Negotiating is a big area I would like to learn more about also, but personal branding is an important one for me. It's great to have the opportunity to really stop and think about who I am now and what I want to be, as personal branding is something that shifts throughout your career.
What do you hope to learn from each other during this experience?
Sam: Based on the first couple of sessions that we've had, I'm looking forward to learning more about personal branding. I'm trying to figure out what my brand is right now and what I would like it to be. It's been helpful being able to have an honest conversation with [Alex], and to hear about the experiences you have had within your own career.
Alex: One of the biggest parts and for me as a mentor is to learn from you and the experiences you have had. I think it's important to hear about how you have dealt with certain situations in your career and to compare them to my own similar situations in order to understand what could have been done better. I'm also interested in hearing about your role, how you interact with others and the challenges you face, and what I can learn from that.
Our goal is for the program to serve as a valuable tool in providing guidance, advocacy and navigation through important career milestones. As the Women in Tech mentorship program continues to grow, we look forward to hearing about the continued positive impact it will have for both mentors and mentees across the company.
Interested in joining Databricks?
Visit our careers page to explore our global opportunities and to learn more about how you can join our Databricks community.
See all Company Blog posts