Congratulations to the 2021 Databricks Data Team Award Winners
During the Data + AI Summit (fka Spark + AI Summit), Databricks CEO Ali Ghodsi recognized four exceptional data teams for how they have used data, machine learning, and AI to solve some of the world's toughest problems.
The second annual Databricks Data Team Awards brought a diverse set of submissions, representing many industries, use cases, and geographies. Across the board, the finalists showcased how the Databricks Lakehouse Platform can help bring together the diverse talents of data engineers, data scientists and data analysts to focus their ideas, skills and energy toward accomplishing amazing things.
We are proud to recognize and celebrate this year's Data Team Award winners, H&M Group, John Deere, Scribd, and the US Department of Veterans Affairs. Hear how these organizations are using data in very different and unique ways to do incredible work.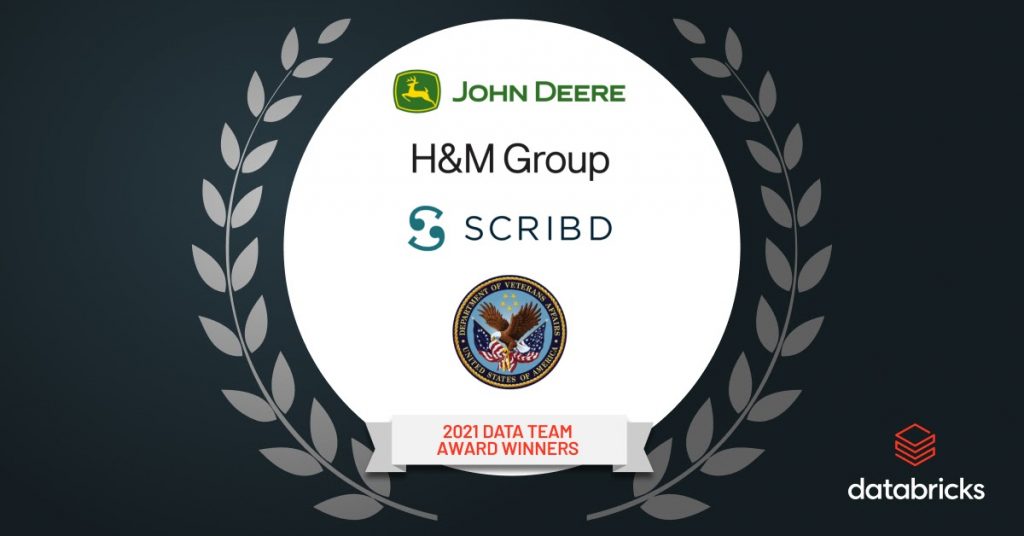 Data Team for Good Award: US Department of Veterans Affairs
The U.S. Department of Veterans Affairs (VA) is advancing its efforts to prevent veteran suicide through data and analytics. In 2020, Databricks, a native cloud service under Microsoft Azure, became FedRAMP High and available to VA. With the Databricks Lakehouse Platform, VA was able to enhance algorithms like the Medication Possession Ratio (MPR), shortening MPR computation by 88% and expanding the scope of data to improve the accuracy and efficiency of the algorithm. MPR is one of the factors that improve prediction of suicide risk and opioid overdose risk by evaluating a Veteran's medication regimen. With Databricks Spark, VA is able to quickly ingest and process over 6 million patient records (representing 130 VA Medical Centers), including 20 years of their medical history data and all medications on VA's national drug list. The U.S. Department of Veterans Affairs is the largest health system in the US and they are using data and analytics to serve Veterans and save the lives of those who have risked so much.
Accepting the award on behalf of the team at US Department of Veterans Affairs was Wanmei Ou, Ph.D., White House Presidential Innovation Fellow, Head of Rockies Data and Analytics Platform and Jodie Trafton, Ph.D., Director, Program Evaluation and Resource Center, VHA Office of Mental Health and Suicide Prevention.
Finalists: Artemis Health, Daimler, Samsara
Data Team Innovation Award: John Deere
John Deere is leveraging big data and AI to deliver 'smart' industrial solutions that are revolutionizing agriculture and construction, driving sustainability and ultimately helping to meet the world's increasing need for food, fuel, shelter and infrastructure. Their Enterprise Data Lake (EDL) built upon the Databricks Lakehouse Platform is at the core of this innovation, with petabytes of data and trillions of records being ingested into the EDL, giving data teams fast, reliable access to standardized data sets to innovate and deliver ML and analytics solutions ranging from traditional IT use cases to customer applications. From IoT sensor-enabled equipment driving proactive alerts that prevent failures, to precision agriculture that maximizes field output, to optimizing operations in the supply chain, finance and marketing, John Deere is providing advanced products, technology and services for customers who cultivate, harvest, transform, enrich, and build upon the land.
Accepting the award on behalf of the team at John Deere was Brian Roller, Senior Software Engineer.
Finalists: Atlassian, Virgin Hyperloop
Data Team OSS Award: Scribd
With over a million paid subscribers and 100 million monthly visitors, Scribd is on a mission to change the way the world reads. Through their monthly subscription, readers gain access to the best ebooks, audiobooks, magazines, podcasts, and much more. Scribd leverages data and analytics to uncover interesting ways to get people excited about reading. The data engineering team optimizes the Lakehouse architecture to ultimately deliver an engaging experience to their customers. Additionally, the team is contributing to multiple open source projects and they have a deep understanding of the Delta Lake OSS ecosystem.
Accepting the award on behalf of the team at Scribd was R Tyler Croy, Director Of Platform Engineering.
Finalists: Adobe, Healthgrades
Data Team Impact Award: H&M
The H&M group is a family of brands serving markets around the globe. Throughout its deep fashion heritage, dating back to 1947, H&M Group has been committed to making fashion available for everyone; now, they want to make sustainable fashion affordable and available for everyone. H&M Group has been making necessary investments in digitizing its supply chain, logistics, tech infrastructure and AI, with Databricks providing key data and analytics capabilities that enable the fast development and deployment of AI solutions to market. By harnessing the power of data and technology, H&M Group continues to lead the industry by making its operations more efficient and sustainable, while also remaining at the heart of fashion and lifestyle inspiration for its customers.
Accepting the award on behalf of the team at H&M was Errol Koolmeister, Head of AI Foundation.
Finalists: Asurion, GSK
Cheers to your success
Congratulations to the Data Team Award winners for their exceptional achievements! We will continually celebrate data teams for using data and AI to make a difference.
See all Company Blog posts