Getting to Know Databricks India
India is a vast country with extreme variations. A one-size-fits-all workplace does not do it justice. Although continued urbanization, transportation, and infrastructure are the foundation for connectedness, adaptability to these changes is key for successfully bringing teams together. When we first launched our India HQ in 2017, we were equally focused on building a culture and work environment that empowered the brightest minds from every region. Although our teams connect virtually these days due to COVID-19, we've continued to find new ways to foster our team culture.
Over the last five years, it's been incredible to see the growth and exceptional talent fostered within our India HQ. Our India team first started off with a small technical solutions group; since then, we have expanded to a full-fledged office composed of customer success, talent acquisition, data engineering, and solution engineering teams. Together, our data teams apply their technical experience to support 5,000+ global customers in solving some of their biggest challenges while continuing to attract the best talent to Databricks.
Creating a culture of togetherness
Bangalore has always been at the forefront of technology and modernization. It started as a testbed for outsourcing and backend services for global companies but quickly moved to be the center for startups, fintech and smartphone software development. Even with its rapid growth, the deep-rooted culture of India continued to shape the tech industry and many corporations' presence in Bangalore.
India is an incredible place. The embodiment of togetherness, its diverse culture with 22 major languages and a deep appreciation of its diversity are what drew me to move to India after being in the US for over three decades. The mantra that "the group is bigger than the individual" especially chimes well with me. But besides that, if you're someone who likes to be part of a brand with an uber-cool workspace, free chai and games, and to work with collaborative teams from all around the world -- the Databricks India office may just be the place for you.
We're continuing to add new innovations and activities for our employees; here are some of the biggest highlights so far:
Fostering togetherness with Chai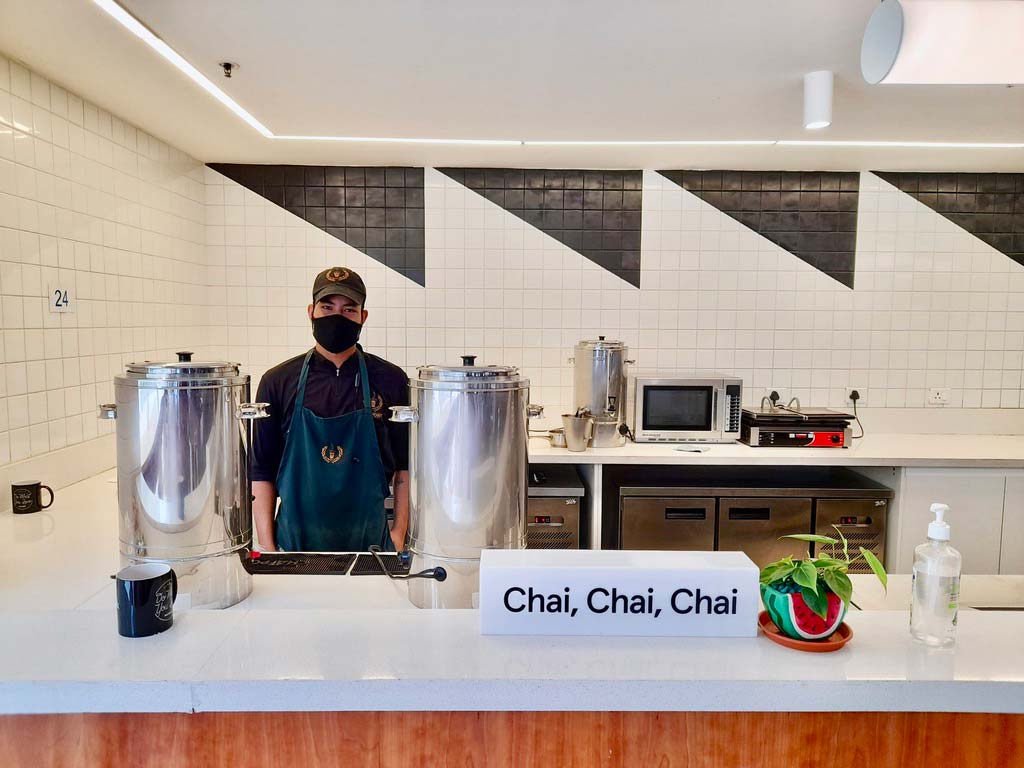 Chai is religion and life in India. At the Databricks Bangalore center, you will always be greeted by a smiling face and a masala chai round the clock. Some of the best ideas and conversations come over a steaming cup of chai! Even amidst the pandemic, we're finding ways to stay connected and build a culture of togetherness. That's why we are planning to launch virtual Chai Chat Fridays to help us learn more about each other and stay connected.
Workplace environment
Databricks believes that the best work happens when employees feel comfortable and aren't burnt out from heavy commutes. Cities like Bangalore are sprawling with people and commuting is tough with the heavy traffic. To help with that, we offer flexible working hours and also plan to have several WeWork office locations in Bangalore, which have centers in major locations throughout the city.
With our current office, we chose a place that has wide windows with lots of light and greenery -- a sentiment that reminds me of the principles of vastu, which means the interplay of nature acting through the five elements ( earth, water, fire, air and space) and four directions (east, west, north and south). When our teams are in the office, we often take our lunch down to the lobby to eat together and have a cup of chai. There are many food options around the office -- some highlights include Italian (with a taste of Indian spices) or traditional Indian food in the next building. The workplace entrance is decorated with ethnic bright colors, including a traditional palang (bench) to sip your chai. The ambiance of the center and the game room makes it a desirable place for innovative work.

Growing our team
At Databricks, we are hiring for roles across India -- ranging from sales, data engineering, customer support and more. We also believe in investing in the next generation of Databricks employees and providing meaningful opportunities to students who want to learn about Databricks and plan to join us in the future. Recently, we started planning for our first student trainee program in India.
In addition to having students apply directly, we hosted an informal virtual talk with a few members of our Women's Network ERG. This group is part of our broader Employee Resource Group (ERG) network at Databricks, where all employees are encouraged to connect and participate in. Noopur, Kavya, Annapurna and Manisha participated in this talk and shared stories about their day-to-day experience as solutions engineers. The purpose of this talk was to help students learn not only about the technical work here but also the culture and supportive environment as they start their careers. Later we learned that this panel was a big influence on why some of the students decided to join Databricks!
Thanks to the hard work of our teams, we are now excited to welcome our first cohort of student trainees -- some who have already started. We hope that this pilot is just the beginning of our continuous investment and development in the community of university students.
Offering support during the pandemic
In addition to growing our teams, we also want to ensure our existing employees are being supported throughout the ever-changing world circumstances. India saw an unprecedented increase in COVID-19 cases this year, which significantly impacted everyone in our office and beyond in multiple ways. The leadership at Databricks felt it was incredibly important to support our staff in any way possible during this time. Initiatives included offering vaccination drives, acknowledging employees who went above and beyond, and providing unlimited time off to take care of loved ones and building contingency plans.
Staying (virtually) connected
Throughout my career, I have discovered that what you do at work is only one component of success. Building relationships, collaboration and teamwork -- as cheesy as it may sound -- are equally important to driving company goals and fostering career growth. With this in mind, we experimented with virtual dinners, where we could learn more about each other as people, not just teammates. One of my favorite moments this year was the talent show (a special shout-out to Darshan, who can play guitar like no other). Now, we are ready to launch Fun Friday events to relax and unwind after a long work week.
As Databricks continues to solve the world's toughest data problems with innovative products, it is equally important to raise the bar on hiring and provide skills to engineers through internal development. We are all here to make a difference, and there is no better way to achieve that than by doing incredible work while developing close relationships over a cup of chai.
If you're interested in learning more, check out our Life in APJ
LinkedIn Page or view open roles on our careers page.
See all Company Blog posts