Mastering the Next Level: Leveraging Data and AI in the Gaming Sector
How do you take 10k events per second from 30M users to create a better gamer experience?
How can a small data team build more automated workflows to grow impact across all business units, from finance to game development  to marketing?
In a recent virtual roundtable, we heard from the data teams at industry innovators SEGA Europe and Kolibri Games about how they have transformed data engineering and data science to create better, more personalized gameplay and gamer experiences.
As gaming becomes increasingly sophisticated and consumer expectations soar, game developers are looking for more effective ways to optimize and personalize the gaming experience for their users, as well as new monetization opportunities for their their products. This can all be achieved by leveraging game analytics. Intelligence can be fed back directly into the game design and development process, to maximize innovation and ensure that new products and features meet the demands and aspirations of their players.
At SEGA Europe, player behavior and other key in-game metrics and KPIs are  collected from more than 30 million customers, with over 10,000 events being processed every second through its data pipeline. The sheer magnitude of this data, which comes from a multitude of different data sources, has required a complete transformation of how data is managed in the business. By implementing the Databricks Lakehouse Platform, SEGA can store data in one location that provides each data team with access to what they need in near real time. It has also facilitated more effective collaboration between data scientists, engineers and analysts, regardless of the language they are using. Furthermore, due to the encryption process, the data is fully GDPR-compliant.
How is the data employed? Key use cases include tracking the volume of users and geographic location, customer churn, game balancing, pirate versus legitimate usage, evaluation of new features, personalisation, and customised CRM campaigns with A/B testing. Data is also used to power community activities in real time, allowing SEGA to engage more closely with players, track player behaviour, and release new downloadable content, for example. Importantly, Databricks has accelerated the use of data science and machine learning at the company, ultimately driving faster, more efficient development of new games and features.
Kolibri Games is an innovative startup built on a data-driven culture, which has allowed it to secure a strong competitive advantage within a short time span. Part of this journey has involved a strong investment in data architecture. The cloud-based structure of the Databricks platform has enabled Kolibri's data teams to access and process data at the exact rate they need it, which has also helped them to save costs. New features have provided access to advanced technologies such as MLflow, Databricks SQL and Spark SQL – enabling a small team to achieve much more than previously considered possible. Databricks has also permitted more collaboration between teams, allowing users to work on notebooks together, and set up clusters with the same package, so everyone is operating in the same environment. It has also facilitated more co-development, standardized production language, and ensured scalability to the precise requirements of each user or team.
Large volumes of data are ingested each day, and teams are able to manage clusters and jobs directly within Databricks. A/B testing has been simplified and automated, allowing the teams to ensure that changes made to games always result in added value – for both the company and the players. Kolibri has also built an ML engine using MLflow to enable predictive modelling, which has become critical to product development. The next stage of its data strategy is to build a dynamic recommendation engine, which will help maximize enjoyment and heighten the experience for the brand's one million daily players. With ML technology, offers can be completely customized, enabling Kolibri to automatically recommend game types and personalized experiences to customers, for example.
Watch the Data and AI in the Gaming Sector Webcast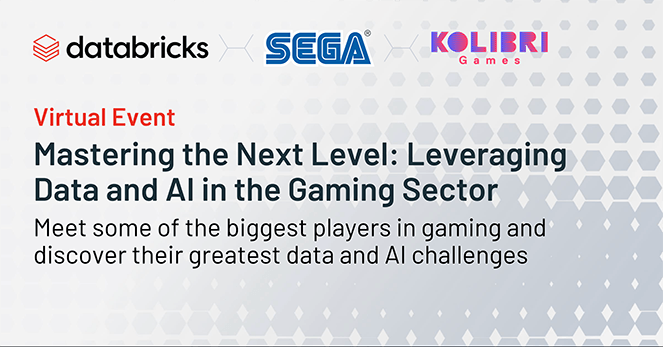 Guest speakers:
Felix Baker, Data Services Manager, SEGA Europe
Chris Ling, Director of Data Platform and Analytics, Kolibri Games
Host:
Steve Sobel, Media and Entertainment Industry Leader, Databricks
---
More gaming resources
See all Company Blog posts