Interning From a Distance
Summer 2021 brought another summer of virtual game nights, pizza parties and team-building events for Databricks interns. In addition to working on impactful projects that ranged from improving our customer user journey to scaling the Databricks authentication services, our interns were also able to build relationships with their peers and create their own community with the rest of Databricks through various events. Whether it was building camaraderie through Intern Olympics, forming an intern running club during Wellness Week, or cheering each other on through project presentations, our intern team members came together for another great virtual summer. Take a look at some highlights for our summer software engineering interns: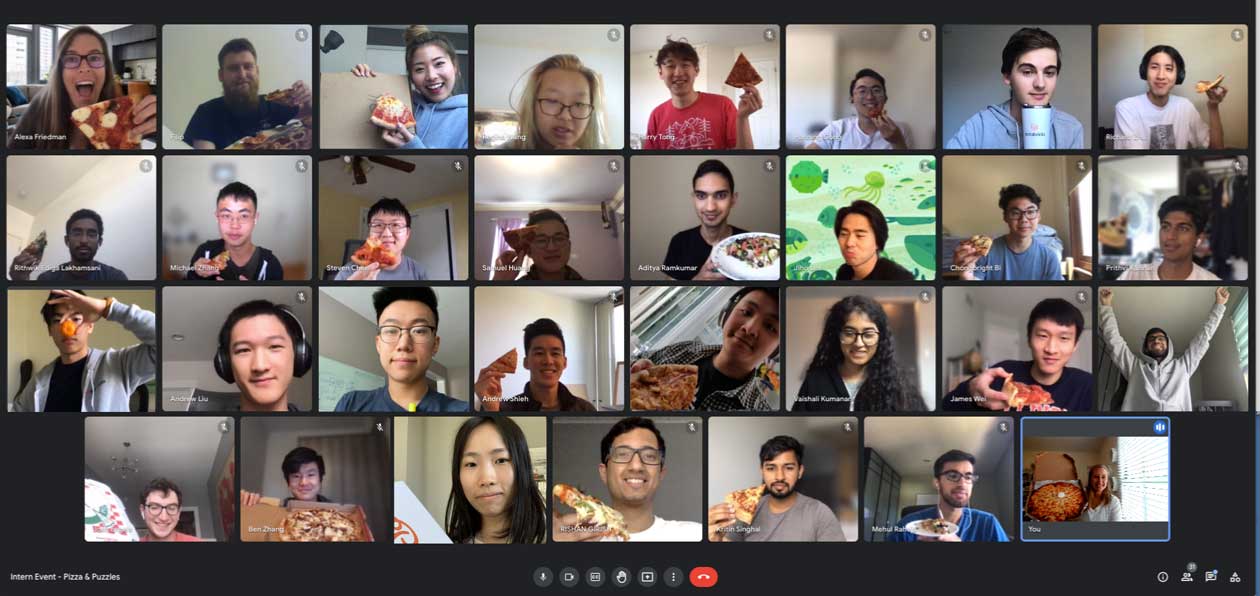 Pizza & Puzzle Night across the globe
Nothing brings people together like good food… especially when it's fresh pizza that's delivered right to your doorstep, no matter where you are! We invited our interns from around the world to order their own favorite type of pizza to accompany a Virtual Escape Room on a Friday afternoon, and our interns from California to Serbia, New York to Amsterdam enjoyed a fresh slice together.
"Pizza & Puzzle night was a very interesting event because I had the opportunity to meet other interns before my internship even started. Also, the pizza was great! It arrived [to me in Serbia] just in time, 10 minutes before the event. Besides pizza, of course, I enjoyed the puzzle game as well. That was the first time I played an online room escape game; it was pretty interesting since we weren't able to go to the real room escapes for a long time." - Filip Ćosović, Storage & IO Team @ AMS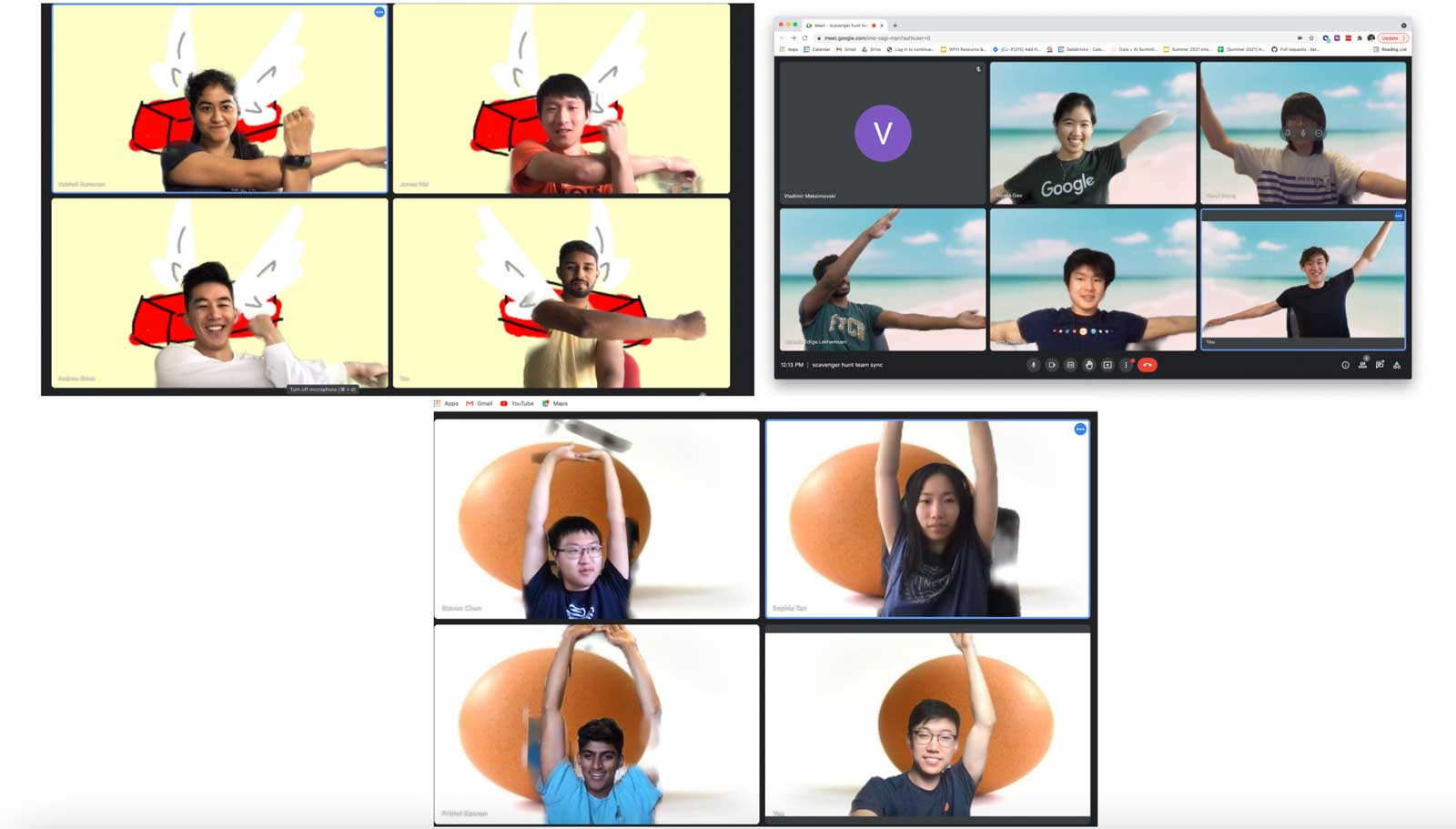 Virtual Intern Olympics
Collaboration is a big part of our culture at Databricks, and the Intern Olympics provided a perfect opportunity for our interns to not only build relationships but also collaborate as one team! Challenges included things like virtual movie night, group workouts, science experiments, and creating Databricks themed haikus. Congrats to our Yellow Team for winning the Gold!
"The Intern Olympics was a super fun way of bringing the intern class together! We had a bunch of super fun challenges to tackle with our teams, like cooking together over Google Meet. It was an awesome way of tackling disconnection in a remote work environment." - Ben Zhang, Data Gov Team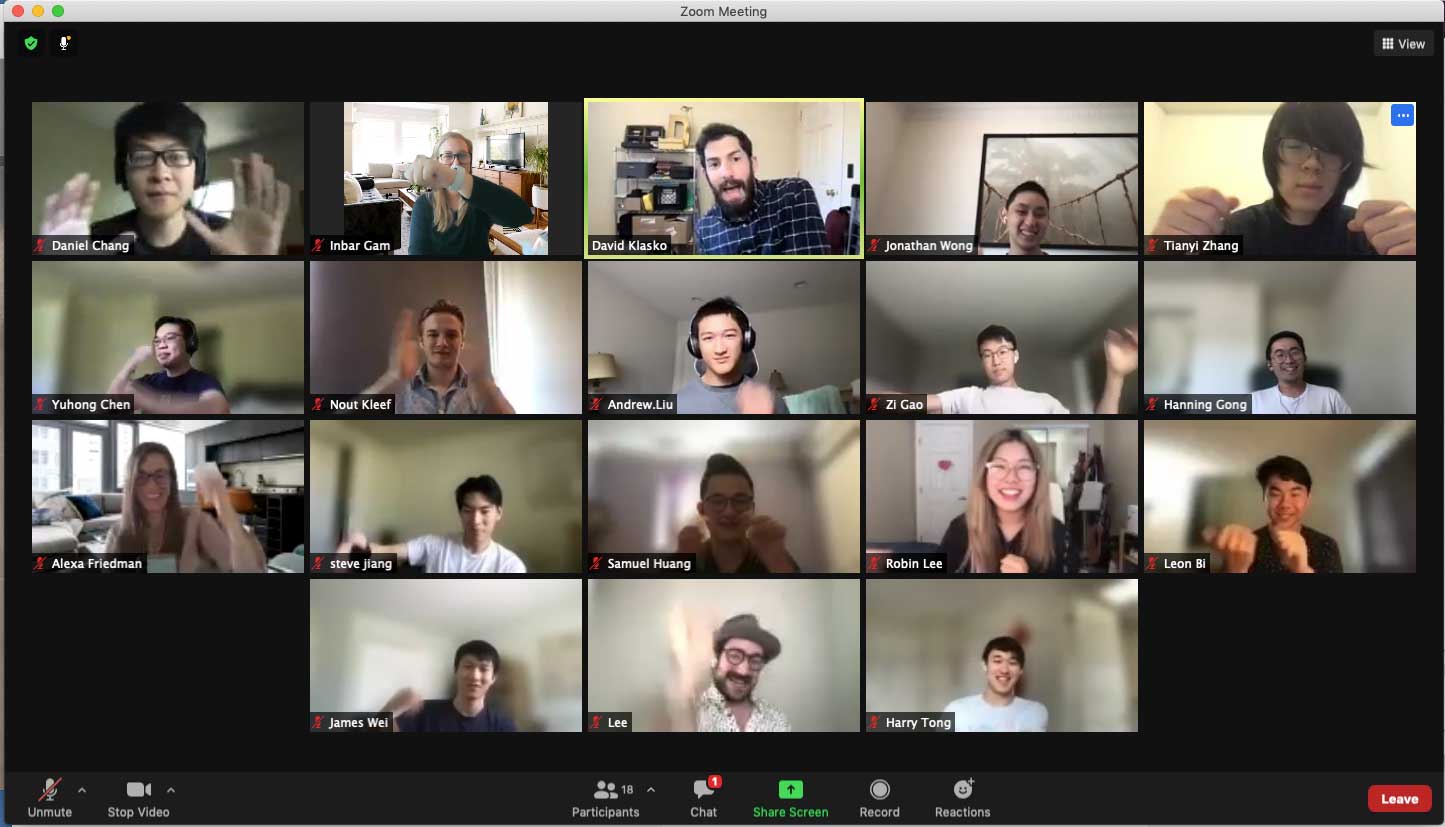 Team improv class
Our interns participated in an interactive, virtual improv session to build trust and engagement with each other. We used improv and acting exercises to learn how to communicate effectively, show support for one another, and improvise when the unexpected happens.
"One of my favorite intern events this summer was a virtual improv class hosted by Artly Working. It's typically harder to bond with co-workers in a virtual setting, but the spontaneity of the improv activities allowed for people to be more expressive and engaged. I feel like it really brought the intern class together and made people feel more relaxed and welcome to share their thoughts." - Zi Gao, Data Team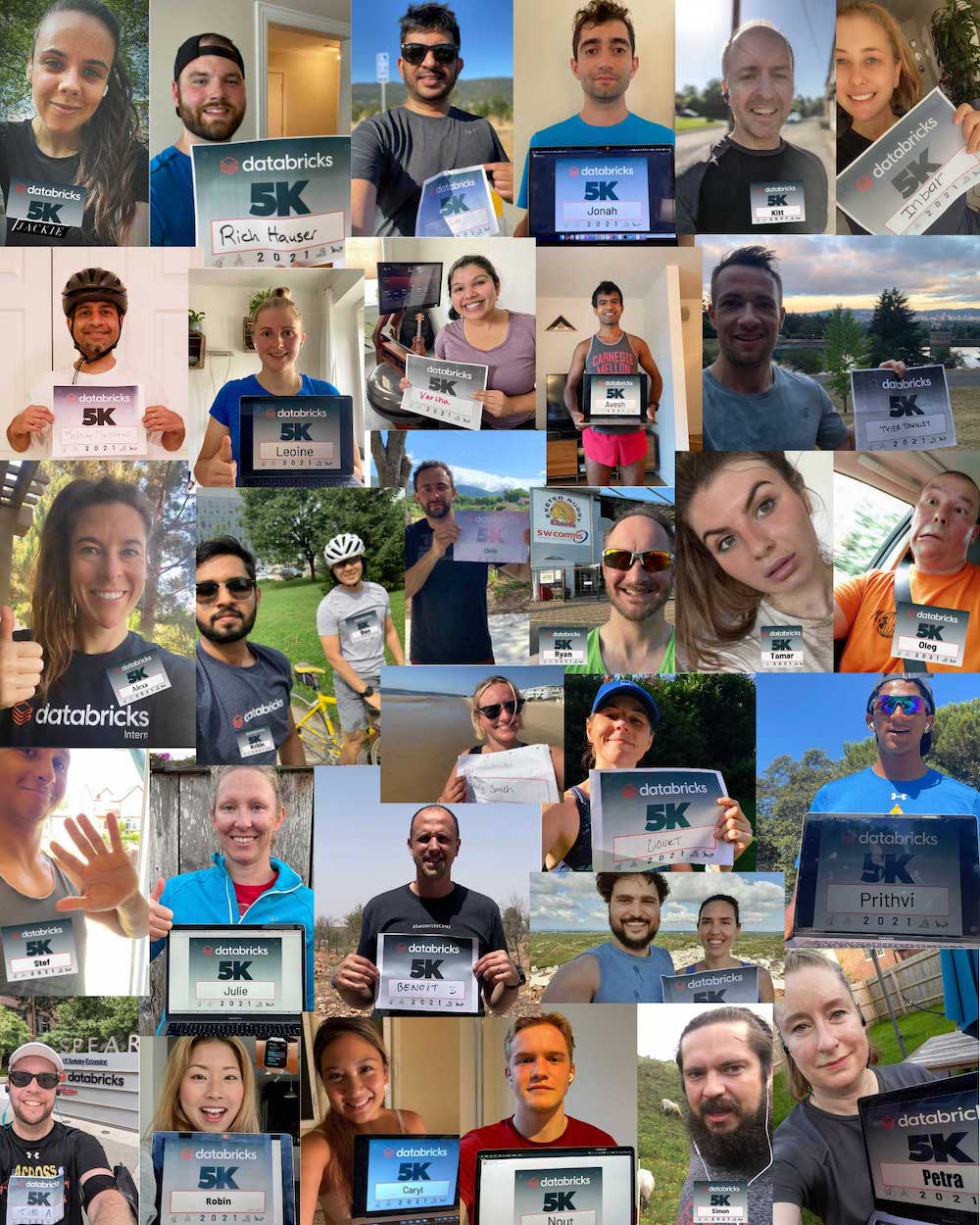 Wellness Week
Mental and physical health is essential to being your whole self at work -- that's why we hosted a Wellness Week for our interns! We kicked it off by inviting a fellow Brickster and trained mindfulness facilitator to lead a Mindfulness Workshop and the rest of the week consisted of a virtual volunteering activity, group stretching session and a company-wide 5k!
"The meditation sessions during our Wellness Week elevated my energy and pushed us to think deeper about our health and well-being! It was also extremely fun completing the 5K challenge with another intern, allowing me to connect with folks in person and build healthy relationships even during the pandemic." - Kritin Singhal, App Infra Team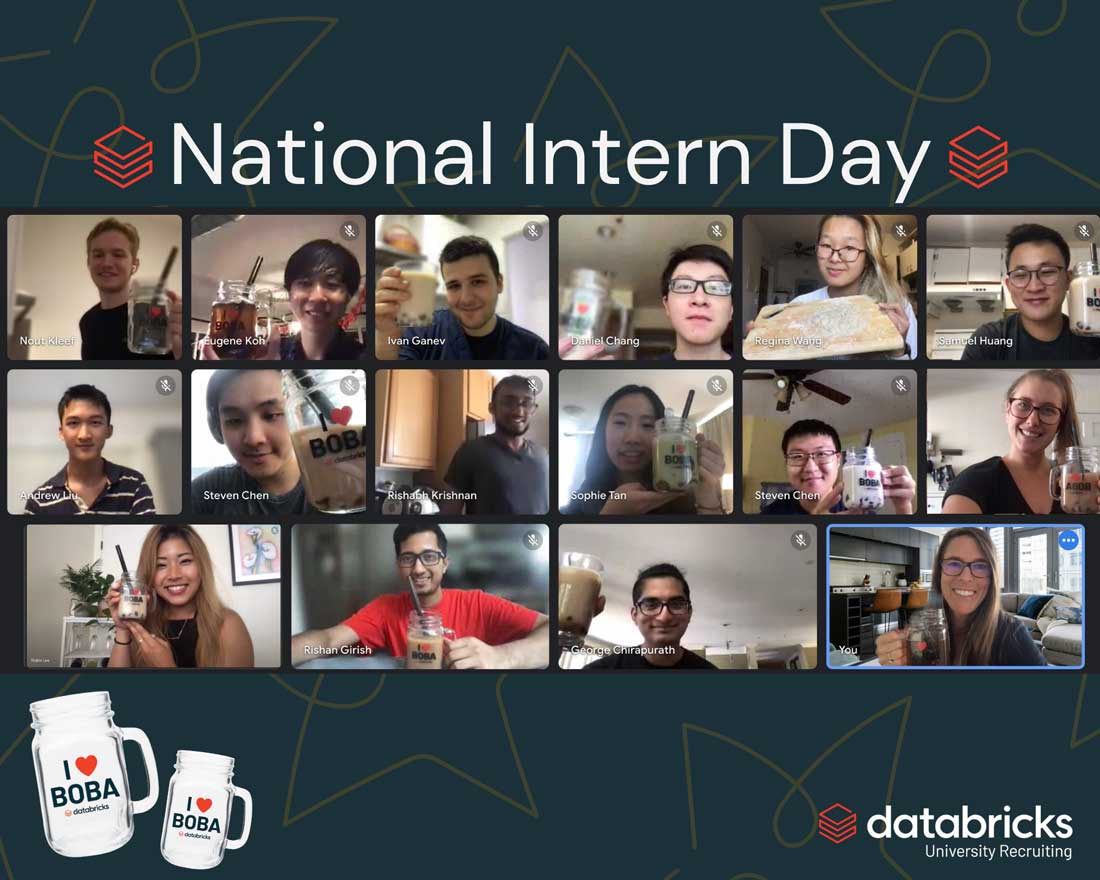 Celebrating National Intern Day with boba
On July 29th, we celebrated National Intern Day - a day designed to recognize and celebrate interns by hosting a virtual DIY Boba Party! Boba is a special tradition at Databricks, and we wanted to share it with  our interns, even while they were working from home. Every intern received a custom boba cup, boba straw, and ingredients for a virtual cooking class to make DIY boba!
"I enjoyed the recent Boba event for National Intern Day. We had a lot of fun making tapioca pearls from scratch -- from kneading sugared dough to shaping homemade pearls. Besides that, we got a sneak peek into the daily office life at Databricks with stories around Databricks' Boba traditions. It was also a great way to connect with interns across the globe during the remote internship. Thanks to the university team for planning this awesome event!" - Eugene Koh, BUI Team @ AMS
A huge thank you to our wonderful Summer 2021 intern class for their engagement and positive attitudes! You all made this summer the most memorable one ever, and we're beyond proud of all the work you contributed to Databricks -- see you soon!
Interested in joining us as an intern next year? Check out our University Recruiting page.
See all Company Blog posts