Databricks is thrilled to announce Partner Connect, a one-stop portal for customers to quickly discover a broad set of validated data, analytics, and AI tools and easily integrate them with their Databricks lakehouse across multiple cloud providers. Partner Connect makes it easy for customers to integrate validated data, analytics, and AI tools directly within their Databricks lakehouse. Additionally, Partner Connect transforms how technology partners integrate with Databricks by providing deep integrations that easily reach thousands of customers natively within the platform.
With this announcement, Databricks establishes a complete ecosystem that connects customers to native partner solutions that significantly extend the capabilities of lakehouse architecture. Initially, Databricks Partner Connect includes integrations with Fivetran, Microsoft Power BI, Tableau, Prophecy, Rivery, and Labelbox with Airbyte, Arcion, dbt Labs, and many more to come in the months ahead.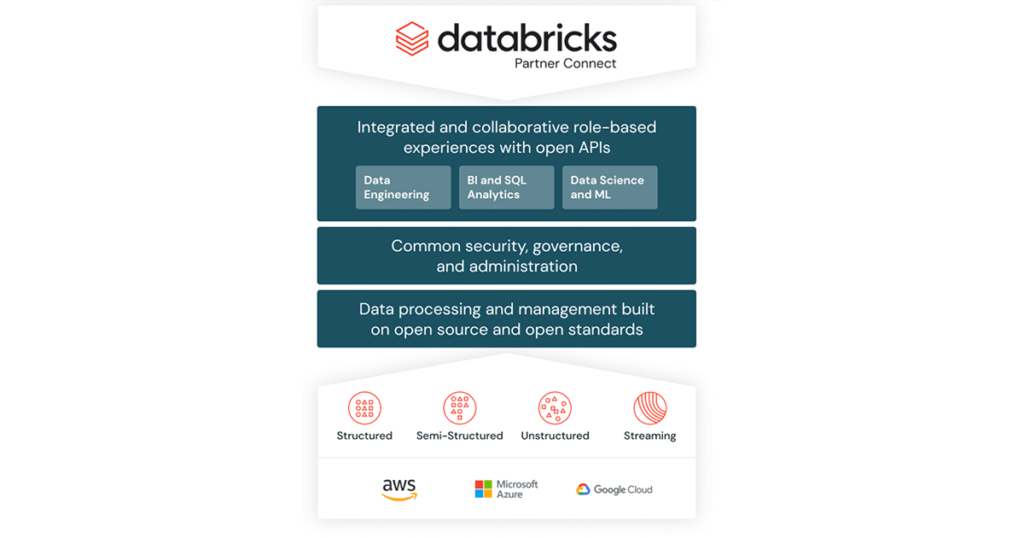 The need to unify the entire data ecosystem
Enterprises want to drive complexity out of their data infrastructure and adopt more open technologies to take better advantage of analytics and AI. Data lakehouse architecture has put thousands of customers on this path for their analytics and AI workloads. But, the data ecosystem is vast, and no one vendor can accomplish everything. Every enterprise has a multitude of tools and data sources that need to be connected, secured, and governed to allow every user within an organization to find, use, and share data-driven insights. Stitching everything together has historically been a burden on the customer and partners, making it very complicated and expensive to execute at any scale.
Partner Connect solves this challenge by making it easy for customers to integrate data, analytics, and AI tools directly within their Databricks lakehouse. In just a few clicks, Partner Connect will automatically configure resources such as clusters, tokens, and connection files for customers to connect with data ingestion, prep and transformation, and BI and ML tools.
Not only does Partner Connect allow customers to integrate the data tools they already use, but it also enables them to discover new, pre-validated solutions from Databricks partners that complement their expanding analytics needs.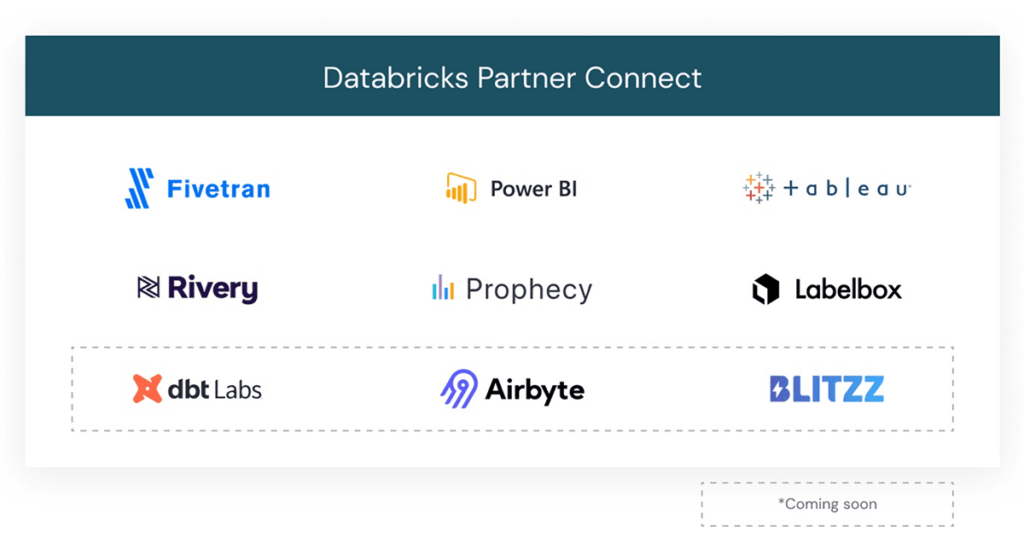 How does it work?
Partner Connect is designed with simplicity in mind, starting with easy access via the left navigation bar in Databricks. Let's take the example of ingestion. Partner Connect offers pre-built integrations with partners such as Fivetran and Rivery. Resources such as a cluster, SQL endpoints, security tokens are automatically created, and connection details are sent to Fivetran/Rivery to facilitate creating a trial account for customers.
Customers can finish signing up for a trial account on the partner's website or directly log in if they already used Partner Connect to create a trial account. Once they log in, they will see that Databricks is already configured as a destination in the partner portal and ready to be used.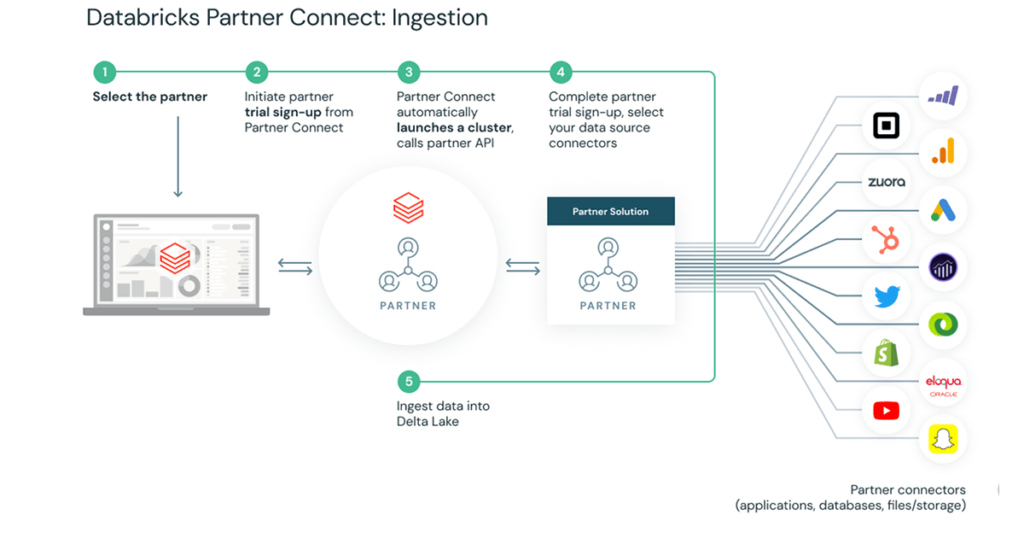 Ingestion partners such as Fivetran and Rivery unlock access to hundreds of data sources including custom connectors to enterprise-wide source systems such as databases and SaaS applications (e.g., Salesforce, NetSuite, SAP, Marketo, Facebook, Google Analytics, and many others) that would otherwise take months of engineering resources to bring this data in the lakehouse.
Let's take another example of BI integrations within Partner Connect. To connect Databricks SQL endpoints or interactive clusters, users can simply select Tableau or PowerBI and download the connection file. Once they click on this connection file, the BI solution is automatically launched, and Databricks is configured as a destination. These BI integrations in Partner Connect give a self-service way for data analysts to connect Databricks to their familiar BI solutions reducing their dependence on data engineers and admins. Organizations can leverage existing investments in BI tools so data analysts are using the same tools they have purchased and can continue to use them within Databricks to visualize data in their lakehouse.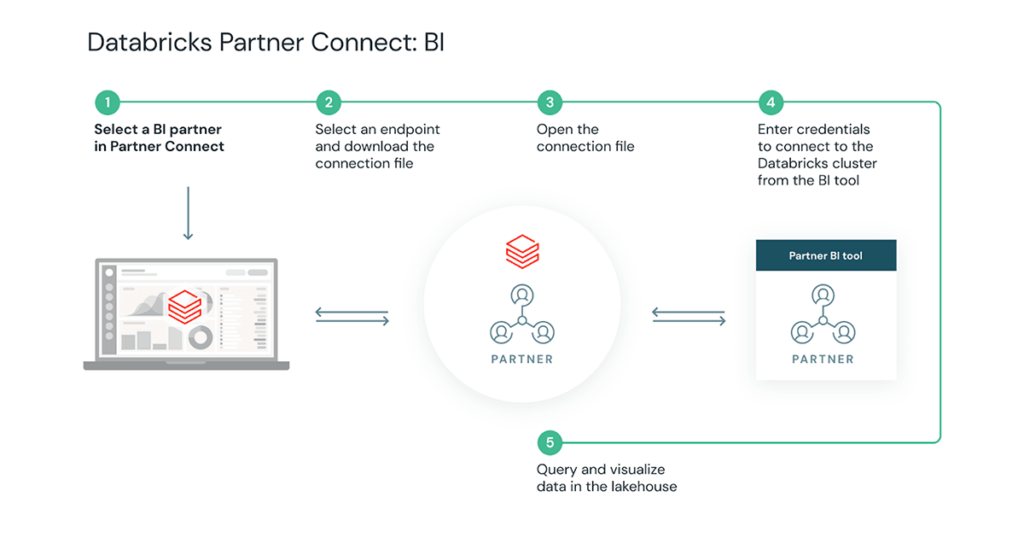 Databricks partners
The vision of the data lakehouse aims to serve all the ways a customer might want to derive value from data, that makes Databricks partners a critical part of every customer's lakehouse. By building and publishing innovative and tightly integrated solutions that customers can easily connect to their lakehouse, partners become instantly discoverable and accessible to customers.
Databricks partners who want to tap into the opportunity to reach new customers – and grow their existing customers – are developing deep, first-class integrations with Databricks using direct APIs and dedicated support. Partner Connect underscores Databricks' partner-first approach with an incentives program that drives business to partners and rewards Databricks sellers for delivering new and existing customer opportunities to grow the partner business. For more information, read our blog Build Your Business on Databricks with Partner Connect.
Getting started
Partner Connect is now available for Databricks customers at no additional cost. To learn more about using Partner Connect as a customer, click here.
If you are an analytics solution company and would like your product on Partner Connect, please visit the Partner Connect registration page.