Brickbuilder Solutions: Partner-developed industry solutions for the lakehouse
Today, Databricks is excited to introduce Brickbuilder Solutions, data and AI solutions expertly designed by leading consulting companies to address industry-specific business requirements.* Backed by their industry experience — and built on the Databricks Lakehouse Platform — businesses can be confident that they're getting solutions tailored for use cases within their organization. We specifically designed Brickbuilders Solutions to fit within any stage of our customers' journey; these solutions support iteration, cut costs and accelerate time to value.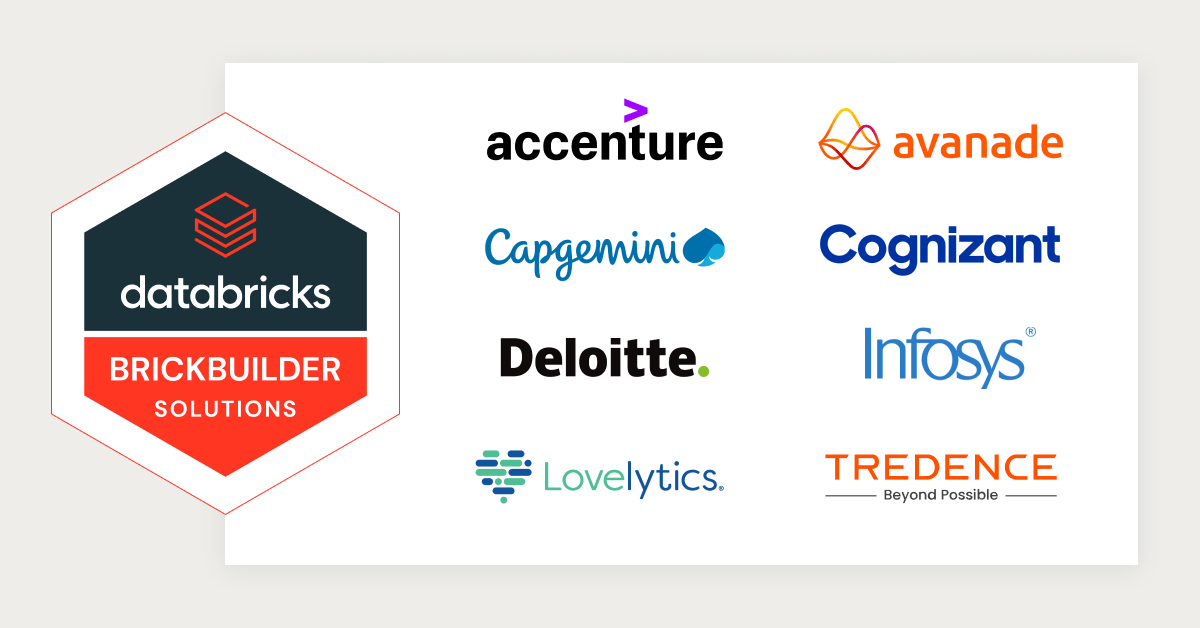 All Brickbuilder Solutions are validated by the Databricks industry and technical teams. These solutions help our joint customer in several ways:
Value acceleration: Databricks partners have extensive knowledge across industries to help businesses solve critical analytics challenges, reduce costs, enhance productivity and break into new revenue streams.
Technical validation: Databricks provides partners with the tools and education they need to be subject matter experts and works directly with them to create repeatable assets, reference architectures and technical integrations.
Global access: Combined, our global partners bring decades of industry experience and thousands of trained Databricks delivery experts that will help us deliver meaningful outcomes.

Brickbuilder Solutions span industries, including retail and consumer goods, communication, media and entertainment, financial services, and healthcare and life sciences. Looking ahead, we'll continue to double-down on industry initiatives with partners and expand into new platform migration solutions. Let's take a further look into our first set of Brickbuilder Solutions.
Retail and consumer goods
The global pandemic has accelerated trends in retail, in some instances by a decade. Both physical and e-commerce retailers have had to enhance the shopper experience via tactics like personalization that require completely transformed technology stacks.
As economies reopen, we've seen a new challenge driven by labor shortages and supply chain instabilities. Abnormally low inventory levels, combined with tight capacity and unseasonably high price growth, are driving continued challenges in warehouse availability. Retailers responded rapidly, but are now looking to drive toward more sustainable operations. This means an increased investment in data and AI and partnering with leading consulting firms.
These partners have developed solutions that allow retailers to gain AI-driven insights across the value chain and perform fine-grained analysis for all use cases.
| | | | |
| --- | --- | --- | --- |
| | | | |
| Unified View of Demand | Revenue Growth Management | Trellis | Retail Intelligence Cloud |
| Maximize accuracy, granularity and timeliness with an open, glass box approach to demand planning. | Rapidly perform analysis of invoice data, external market data, indices, news and web scraping data to explore retail patterns. | Solve complex challenges around demand forecasting, replenishment, procurement, pricing, and promotion services. | Digitize the data and analytics engineering process using retail domain ontology and autonomous engineering service to improve productivity. |
| | | | |
| Sancus: Data Quality Management | | | |
| Improve data quality by cleansing, deduping, harmonizing, enriching, and presenting data on an interactive dashboard with configurable data quality metrics. | | | |
Communications, media and entertainment
As traditional business models stagnate and decline, media companies need to move faster to keep up with fickle audiences enjoying near-limitless entertainment options.
They need to connect disparate data sources, apply intelligence and use data as a competitive advantage. From driving subscriber acquisition and predicting churn to making smarter production and content acquisition decisions, the Databricks Lakehouse Platform helps media companies understand their audience and content better than ever.
These partners have developed solutions that provide media and entertainment companies with a better understanding of their audience to make data-driven decisions for monetization and innovation.
| | |
| --- | --- |
| | |
| Video Quality of Experience | Sports Analytics |
| Pair fine-grained telemetry with AI and ML to identify and remediate video quality of experience issues in near real-time. | Rapidly understand and analyze player and game data in new ways to make on-field decisions, line-up changes, and optimize player performance. |
Financial services
How data is organized and collected is critical to creating highly reliable, flexible and accurate data models. This is particularly important when it comes to creating financial risk models for areas such as wealth management and investment banking. When data is organized and designed to flow within an independent pipeline, separate from massive dependencies and sequential tools, the time to run financial risk models and bring together vast amounts of data from internal and third party sources is significantly reduced.
These partners have developed solutions that provide financial services organizations with a governed approach to risk management and compliance, personalized products and services, and open data sharing and monetization.

Risk Management
Rapidly deploy data into value-at-risk models to keep up with emerging risks and threats while adopting a unified approach to data analytics.
Healthcare and life sciences
For healthcare and life sciences organizations seeking to deliver better patient outcomes, legacy technology is most often the rate-limiting factor. Rapid data growth is outpacing the scale of existing infrastructure while batch processing and disjointed analytic tools prevent real-time response to critical challenges (e.g. supply chain constraints, ICU capacity, etc). This has amplified the need for investment in real-time analytics and partnerships.
These partners have developed solutions that provide healthcare and life science organizations with the tools they need to gain a holistic view of the patient journey and rapidly ingest and process data to power analytics.

Health Data Interoperability
Automate the ingestion of streaming FHIR bundles into your lakehouse and standardize with OMOP for patient analytics at scale.
Get Started with Brickbuilder Solutions
This is just the beginning. We'll continue to collaborate with our consulting partner ecosystem to enable even more use cases across key industries.
Check out our full set of partner solutions on the Databricks Brickbuilder Solutions page.
Create Brickbuilder Solutions with Databricks
Brickbuilder Solutions is a key component of the Databricks Partner Program and recognizes partners with proven expertise in delivering industry-specific services and solutions to customers. With a heavy focus on customer success, Brickbuilder Solutions are created by innovators from our consulting partner community who have demonstrated a unique ability to offer differentiated lakehouse solutions in combination with their knowledge and expertise.
Partners who are interested in learning more about Brickbuilder Solutions are encouraged to attend Databricks Partner Kickoff on March 28th. Register for this event to see how Databricks is investing in solutions and services to drive industry use cases. You must be an official Databricks partner to register.
*We have collaborated with consulting and system integrator (C&SI) partners to develop industry and migration solutions to address data engineering, data science, machine learning and business analytics use cases.
See all Company Blog posts