What to Expect At Data + AI Summit: Open Source, Technical Keynotes and More!
Data + AI Summit, the world's largest data and AI conference, returns June 27-30 2022, and we're thrilled to say that this year, you can attend it in person in San Francisco (or online for FREE from anywhere in the world). Registration is now open, and we look forward to welcoming you. We have compiled a list of highlights below to get a sneak peek. Enjoy!
Lakehouse: Foundation of the modern data architecture
We are seeing a new era of data architecture being adopted by data practitioners. It's multicloud, multi-format, polyglot — not restrictive or siloed...and the foundation is the lakehouse.
Data + AI Summit is where data professionals come together to collaborate and discuss the modern data architecture and trends that addresses all data, analytics, and AI use cases. Through these sessions, we will learn about this new generation of Open Platforms that unifies Data Warehousing, Data Engineering and Artificial Intelligence.  Attendees will include practitioners,  partners and thought leaders from the open-source community, united by a common purpose: to build innovative data systems and solutions capable of solving the toughest data problems. Move your data beyond the complexity and compromise of silos, proprietary formats, vendor lock-in and disconnected data teams.
Who and What can you expect at Data + AI Summit 2022?
Data + AI Summit brings together nearly  100,000 data and AI experts, leaders and visionaries, and this year is no exception. Spanning four days, we have a packed agenda of technical sessions, keynote talks, training workshops and demos.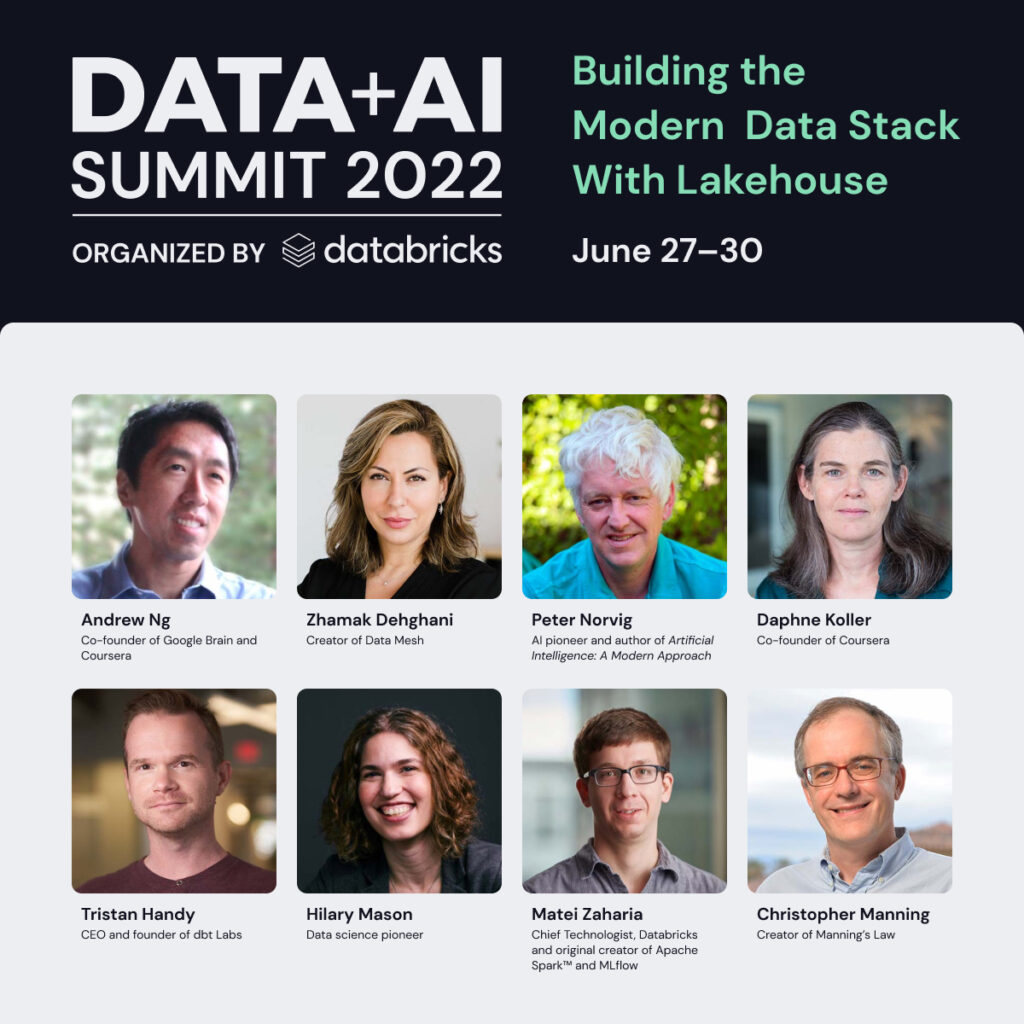 Visionary guest speakers include well-known personalities in the Data and AI space:
In addition, you'll hear from Databricks founders and executives, including Ali Ghodsi, Reynold Xin, and Matei Zaharia, on how the evolution of the modern cloud data stack has embraced open source and architectural simplification.
Also on the agenda is a series of dedicated industry forums and tracks featuring the most innovative brands across the biggest industries such as Healthcare, Retail, Financial Services, Public Sector, Manufacturing, and Entertainment. Stay tuned for deeper dives into these industry-specific tracks.
Level up your knowledge of open-source technologies
Leading experts will present an extensive program of highly technical content – plus a full slate of free and paid hands-on training workshops covering all things Lakehouse - from the Databricks Lakehouse Platform to Apache Spark™ programming to managing ML models.
Breakout sessions will cover open-source technologies and topics such as:
Best practices and use cases for Apache Spark™, Delta Lake, MLflow, PyTorch, TensorFlow, dbt™ and more
Data engineering for scale, including streaming architectures
Advanced SQL analytics and BI using data warehouses and data lakes
Data science, including the Python ecosystem
Machine learning and deep learning applications, MLOps
You'll also have the opportunity to get certified with new certification bundles that include one or two-day courses with an exam. See the full training schedule here, and book to secure your place. Bonus: This year, we also have great networking events planned, including a Developer lounge, Contributor Meetup and University Alliance Meetup. Don't delay, as places fill up fast!
Join the global data community – sign up today
If you haven't already signed up for Data + AI Summit, register to join the global data community. You can find the full agenda here. See you there!
See all Company Blog posts