Data + AI Summit 2022, the global event for the data community, takes place in San Francisco and virtually in just a few days, June 27-30! This year's Summit is truly a "can't miss" event – with 240+ technical sessions, keynotes, Meetups and more, whether you attend in person at Moscone South, San Francisco, or join us virtually, for free.
(Psst: It's not too late to register! Get all the details here).
Data + AI Summit, formerly known as Spark + AI Summit, will bring together tens of thousands of data practitioners, leaders and visionaries from more than 160 countries to explore the latest in Lakehouse, open source, AI/ML and more. Attendees can also participate in conference training and brand new certification courses.
With Summit only a few days away, here's a rundown of what you need to know:
Our theme: Destination Lakehouse
Today's technology decisions are at the intersection of data and AI. There is a growing demand for new approaches to analytics in the cloud that embrace open, simple methods and architectures. The rise of the data lakehouse paradigm means every organization now has a new destination for data. This year's Destination Lakehouse theme highlights the building blocks of the modern data stack and focuses on product innovations that enable data stewards to mobilize data assets quickly for better, more informed decisions.
Choose your experience
Choose how you want to explore Data + AI Summit. The event returns to San Francisco for the first time in three years, and data enthusiasts can still tune in virtually by registering for the free, immersive online experience. No matter how you join, get ready for 4 days of technical deep dives, keynotes from data leaders and visionaries, socializing with peers, and more.
We have an incredible lineup of keynotes from industry thought leaders, such as Databricks Co-founders Ali Ghodsi, Matei Zaharia and Reynold Xin, as well as keynotes from visionaries like Tarika Barrett, CEO of Girls Who Code, Peter Norvig, a pioneer in AI and best-selling textbook author,  Zhamak Dehghani, the creator of Data Mesh, Tristan Handy, CEO and Co-founder of dbt Labs, and many others.
Here's a rundown of what to expect:
Get the most from your on-site experience
The in-person Summit experience takes place in San Francisco! The best way to navigate the event is to download the official Data + AI Summit mobile app for iOS and Android — just visit the Apple App Store or Google Play Store, search "Data + AI Summit," and install it on your device. Use your registration credentials to sign in.
Designed to help you get the best from the event, the app lets you explore the full lineup of keynotes, technical sessions, training and networking opportunities. Be sure to switch on real-time notifications so you don't miss a session or event.
Build your agenda
Easily build your agenda via our conference app for the in-person event. Our agenda is jam-packed with rich technical content, product deep dives, luminary keynotes and more. Simply go to Agenda under the Agenda tab, and click ❤️ next to the session you want to add. You can also add each session to your personal calendar. Make sure to take the time to play with the agenda filters by track and topic, and explore the speakers' pages to build your viewing experience straight from home.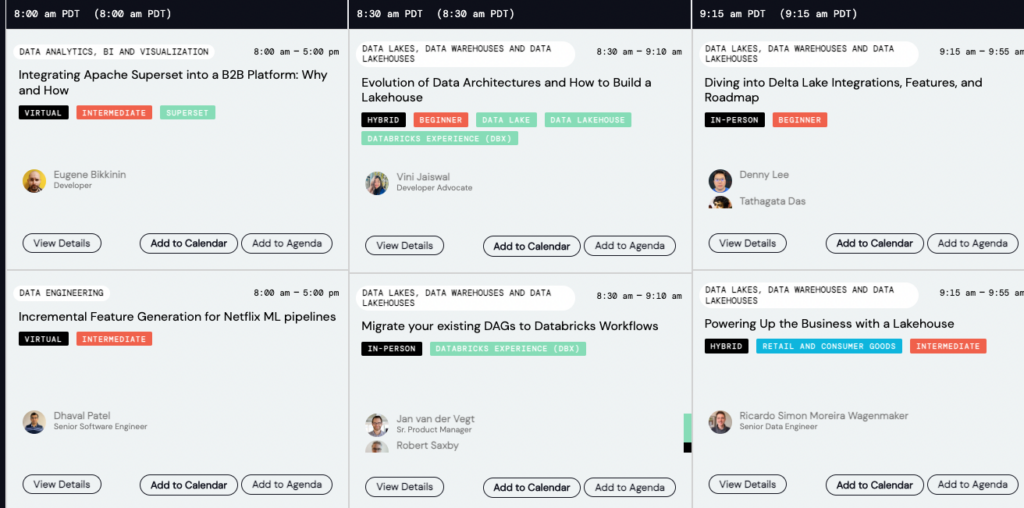 Get the most from your virtual experience
Our virtual event platform launches Friday, June 24 for all virtual attendees; the platform will also be available for in-person attendees after the event. After July 1, you will be able to access all breakouts and keynotes on the platform for two weeks until July 15. From there, you can still access content on-demand through our Summit website.
Your one-stop-shop dashboard
As you enter the virtual conference, you will be welcomed by your personal dashboard — a home for everything you need to know about Summit. The dashboard presents the most useful links to navigate the program agenda, featured sessions, and interactive attendee experience. Make sure to keep an eye on your inbox for notifications, so you don't miss any program updates.
But it's not just to keep you organized! This platform will also feature a variety of fun activities, such as a photo booth and "Summit Quest" game to earn prizes, as well as networking opportunities with other attendees, job boards and more.
The virtual event offers both live stream keynotes, training, and breakout sessions, as well as additional content from the in-person event that will be made available on-demand within 24 hours after the session time. Live-streamed sessions will appear in the "Agenda" and you can access all other sessions from the On Demand library.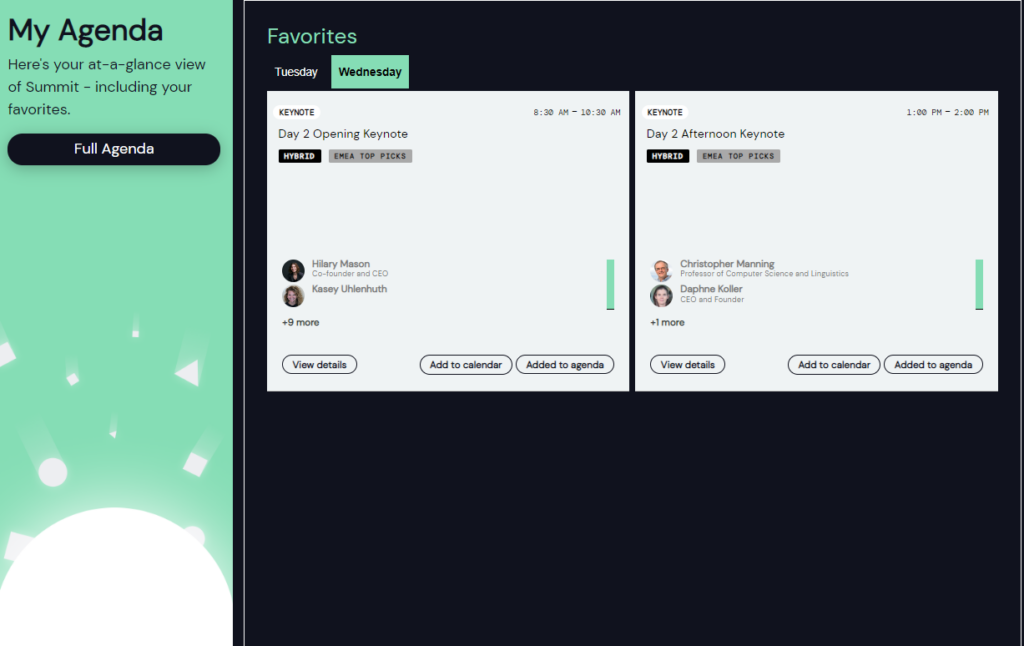 Build your agenda
Easily build and update your daily agenda via the dashboard. To add sessions to your personalized agenda, go to the agenda tab and select Full Agenda, and then click on the ❤️ next to the session you want to add. You can also add each session to your personal calendar. All live-streamed sessions from San Francisco can be found on the Full Agenda page of the platform. Don't forget to also check out the On-Demand Library for hundreds more sessions that will be made available throughout the week! We encourage all attendees to take advantage of the filters to find the content most relevant to them.
Networking & community opportunities for in-person attendees
Data + AI Summit is just as much about the community as it is the technology. That's why we have a variety of Meetups, networking opportunities and other community-focused events planned for both on-site and virtual attendees.
From after-hour parties to open source-focused Meetups, we've got a lot planned for folks in San Francisco.
Dev Hub + Expo
We welcome you to our Dev Hub + Expo, where you can interact one-on-one with data professionals and explore the latest technologies. Visit the Databricks Booth to dive into open source technologies such as  Delta Lake, Apache Spark™, PyTorch and MLflow (and of course learn all about Lakehouse). We're also excited to host a variety of sponsors, who are tech innovators in the Data + AI Community. Visit their sponsor booths in person or check out their virtual booths online.
At the Dev Hub + Expo, you will be able to connect with 80+ tech innovators, participate in a variety of Summit-related games, listen to our Databrew podcast, and network with your peers. Our in-person event will feature some extra perks for attendees, such as the developer lounge, industry lounges, Community Cove and Opening Night Reception.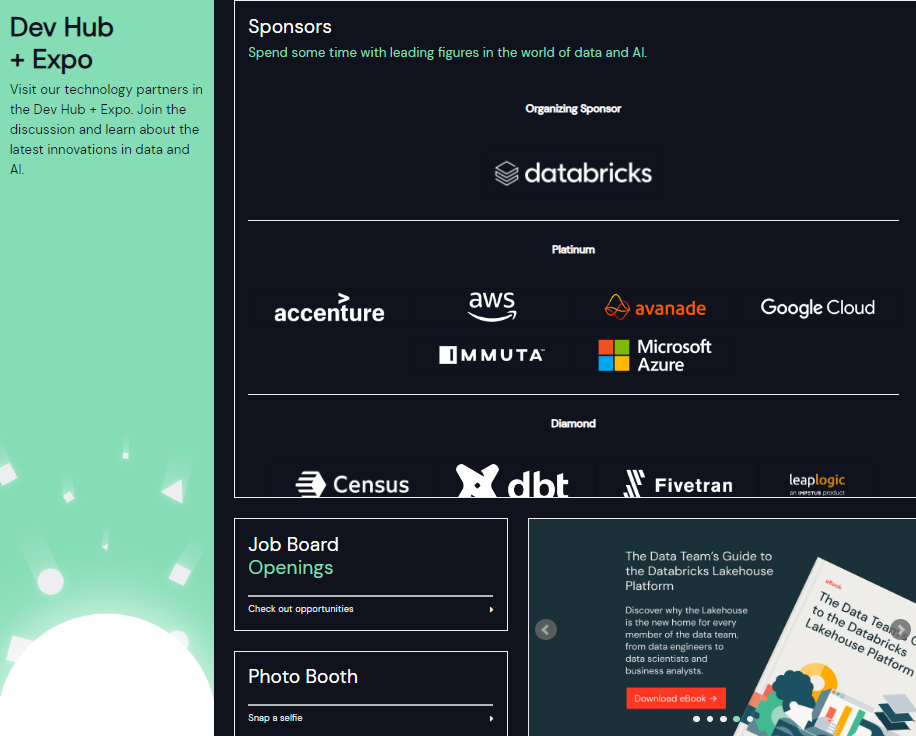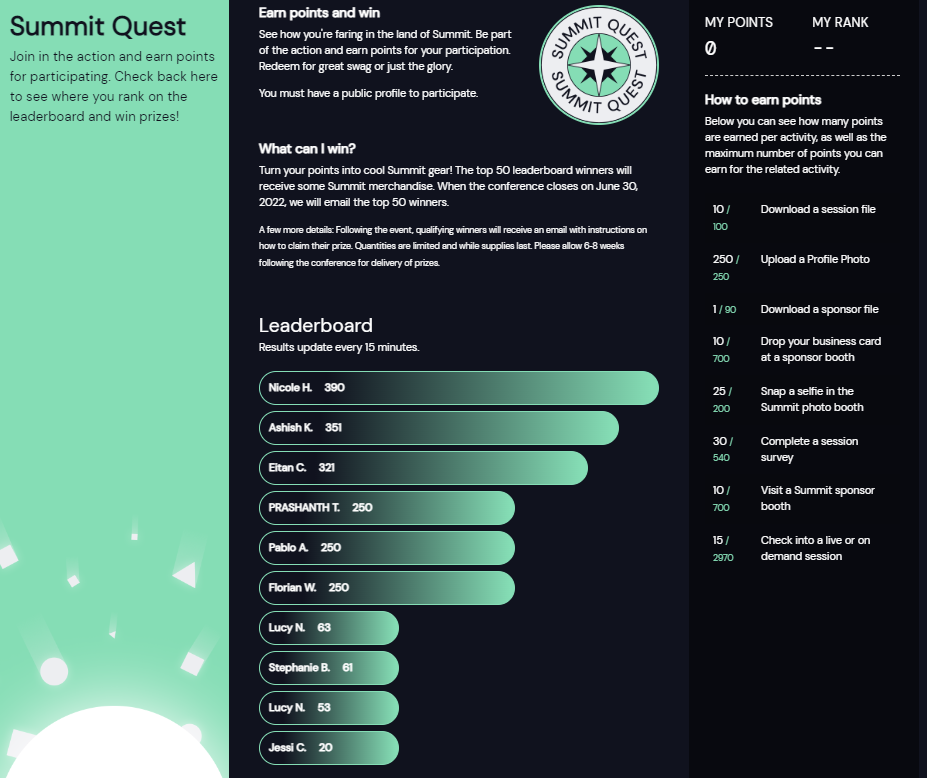 Community Meetups & Events 
In-person attendees will have access to our Meetups at Moscone Center, San Francisco. These special events are free to attend on a first-come, first-served basis. Here's a glimpse at the schedule:
June 27:  Meetup: The War in Ukraine: Challenges in Documenting War Crimes and Russian False Flags
June 29: Delta Lake birthday party – meet and greet with contributors and committers
We're also excited to host 6 Ask Me Anything (AMAs across a variety of topics. Leaders in the space (contributors, data engineers, developers and more) will share everything you need to know in these rapid-fire Q&As with some of the biggest names in the industry, including Matei Zaharia (Co-founder & Chief Technologist at Databricks; Original creator of Apache Spark and MLflow) and Reynold Xin (Co-founder & Chief Architect at Databricks; top contributor to Apache Spark). AMA topics include Apache Spark, Delta Lake, MLOps, Pandas API Streaming, Lakehouse best practices…and more.
Bring on the fun!
It has been a while since we have all come together in person – and we are making the most of it! Our attendees in San Francisco will have many opportunities to connect, and it all starts off with "flaring" your badge to connect with like-minded people.
Throughout the conference, we will also have a Summit Quest (a gamified way to participate in Summit and win prizes), specialized networking events, two fun-filled evening parties, including our opening night reception at the Dev Hub + Expo and our Datatorium Summit party at the Exploratorium: enjoy Food, drinks, DJ, interactive exhibits and The Spazmatics
Women in Data + AI 
Please join us for a panel discussion to hear from female leaders joining us from ThoughtSpot, Google and VMware. Following the discussion, there will be an interactive Q&A session with the speakers. These leaders in Data and AI will also provide actionable items for how to get involved with organizations supporting the education of women in tech and how to support and mentor in your local community.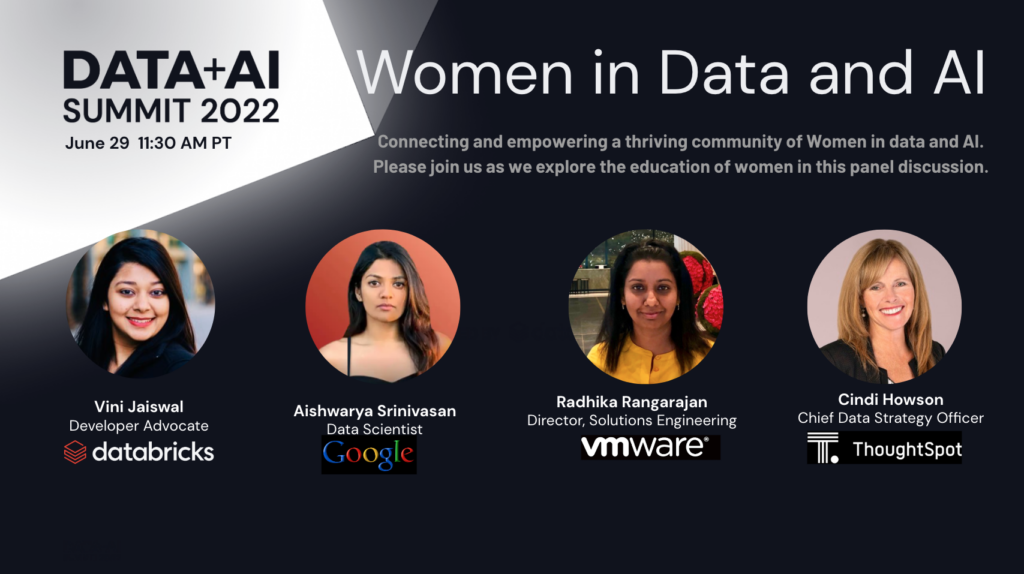 Networking & community opportunities for virtual attendees
Our goal is to make Data + AI Summit 2022 our best conference for all attendees, which is why we have a lot planned for attendees joining us remotely, too! Here's how you can engage with peers and have fun (without even having to change out of your pajamas).
Job Board
Browse the latest job opportunities in the world of data and AI. Check out the job board at the Dev Hub + Expo to learn more.
Win prizes with Summit Quest 
Collect points throughout the conference by checking into sessions, visiting sponsors and completing surveys. The top 50 spots on the leaderboard will win Summit merchandise and other cool gifts!
Databricks Experience (DBX)
DBX is a curated set of content and sessions, where you will learn more about the amazing innovation happening at Databricks. Designed to help you make the most of your time at Summit, DBX offers quick access to the subjects most relevant to your role. Some key features of DBX include:
Product deep dives covering the Databricks Lakehouse Platform with sessions on Delta Lake, Unity Catalog, Databricks SQL, Delta Live Tables, MLflow and more.
Training and certification on everything Databricks, from Apache Spark programming to building ETL pipelines to managing machine learning models.
News on upcoming Databricks products, features and innovations.
Whether you join us from San Francisco or from your couch, our goal is to bring people together to learn and connect in a virtual environment. There is so much more that we can share, but now it's your turn to discover what Data + AI Summit has to offer. If you haven't yet registered, it's not too late. As always, the virtual pass is completely free. Join us for all the action at Data + AI Summit — we look forward to seeing you there!
To get even more details on what to expect, view our Know Before You Go decks for each participation experience – in person or virtual.