Simplify data movement for the modern data stack
Bring your data into the Databricks Lakehouse Platform with Fivetran's simple, secure and scalable data integration solution
Read the report: "Building a modern data stack of the future"
Why Databricks and Fivetran?
Create automated, zero-maintenance data pipelines in minutes
With Fivetran's 200+ built-in connectors to common SaaS applications, your engineers can spend less time building and more time doing. No need to spend hours fixing broken pipelines caused by API or schema changes.
Fast, secure, high-volume data replication
Fivetran's low-impact log-based change data capture (CDC) makes it easy to replicate on-premises and cloud databases in real time for fast, continuous data delivery in the lakehouse. Fresher data drives better business decisions.
Simplify data management for all your data, analytics and AI use cases
Bring your data into the Databricks Lakehouse Platform with Fivetran, unifying all data types and workloads in one place, with one common security and governance approach.
Watch Fivetran integrate Salesforce data into Databricks
See how easy it is to create zero-maintenance data pipelines into a lakehouse.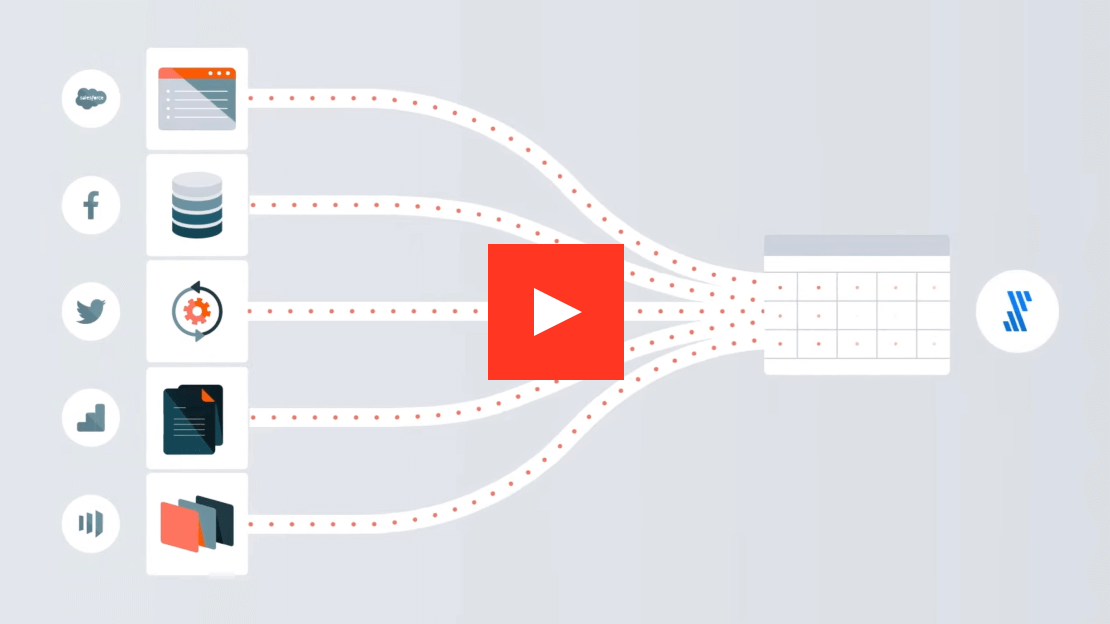 Get started in just a few clicks
Databricks Partner Connect
Click the Fivetran tile in Databricks Partner Connect to start your free Fivetran trial. Databricks integration resources, such as a cluster, SQL endpoint and security tokens, are automatically created, and the connection details are sent to Fivetran.
Fivetran connector to Databricks
Once you are in Fivetran, choose the data source from the 200+ available connectors. The Databricks Partner Connect workflow has already prepared the Databricks connection as the destination for your data replication.
View documentation
Example use cases
Sales and customer success analytics
Easily combine, report and analyze data from SaaS data sources, such as Salesforce, Zendesk/Freshdesk, CRM, helpdesk, and issue trackers for sales pipeline analysis, revenue forecasting and customer health analysis.
Marketing analytics
Integrate data from across the marketing stack, such as Marketo, Google ads, Google analytics, Facebook/Instagram ads, Optimizely and Hubspot to optimize spend and ROI, improve targeted customer acquisition marketing and customer journey analysis to achieve predictable business outcomes.
Finance analytics
Enable finance teams to create insights using data from hundreds of apps, such as NetSuite, Stripe, Zuora, Anaplan and Google Play for integrated financial planning and budgeting, forecasting and modeling, and more.
"With Databricks, Fivetran and dbt, we can use data and AI in ways that help us reach the right customers with our clients' marketing campaigns. That means we can deliver better results for their investment."
— Brandon Beidel, Director of Product Management, Data Platform, Red Ventures
"The combination of Databricks and Fivetran has enabled us to build a robust and modern data pipeline in a very short amount of time. Fivetran had all the right connectors and integrations we needed."
— Justin Wille, Director of Insights and Analytics, Kreg Tool
"With Databricks and Fivetran, we will be able to significantly improve marketing insights in the future. From a technical standpoint, the two tools interact harmoniously together and the integration feels very native."
— Jan-Niklas Mühlenbrock, Team Lead, Business Intelligence & ERP at Paul Hewitt