Why Databricks + Privacera?
Data security and compliance
Simplified workflows for GDPR and CCPA with automated data discovery and centralized access control, powered by an Apache Ranger architecture.
AI-powered catalog for sensitive data
Automated scanning of sensitive data in Databricks and Delta Lake to create a catalog of classified data and associated metadata.
Fine-grained access control
Fine-grained policy management to control data access by row, column, tags, roles and more on a single user interface.
Watch a demo video of Privacera on Databricks
Secure your sensitive data with fine-grained access control in Databricks using Privacera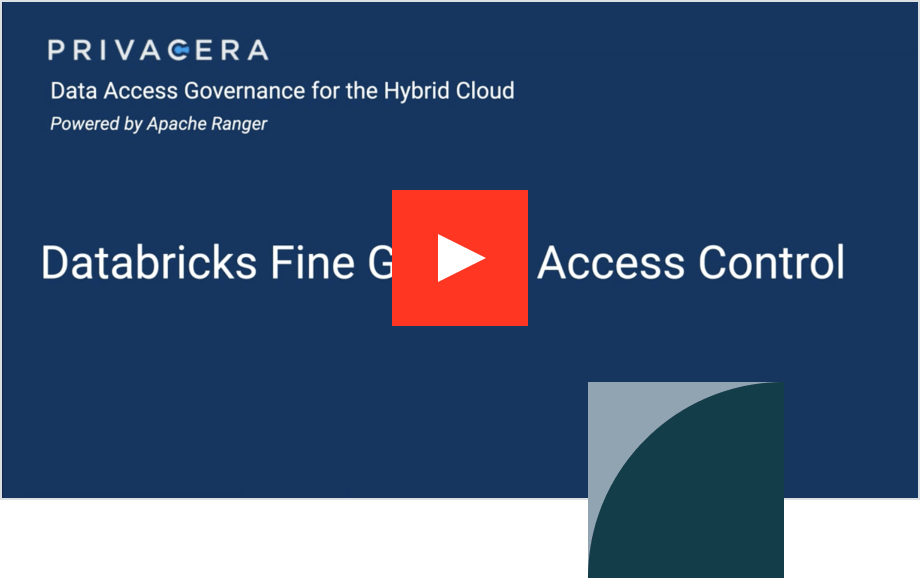 Centralized visibility and control of data sharing
A single pane of glass for complete visibility and policy management of data in Databricks, enabled by automated data discovery and access control.
Policy-driven access controls
Simplified policy creation and management to protect file load and Spark SQL queries with centralized, fine-grained access control across Databricks clusters.
High-performance native plug-in
Integrated natively in Databricks, Privacera's plug-in is powered by an Apache Ranger-based architecture proven to work with millions of petabytes of data.
Industry use cases
Compliance for Hadoop migration
Ensure data compliance when migrating from Hadoop to Databricks by extending Apache Ranger–based access control.
Governance for CCPA and GDPR
Automate compliance workflows to streamline compliance management, reducing millions of rules to a few comprehensive policies.
Centralized data access policies
Secure data sharing accelerates onboarding of new data and new users in seconds instead of weeks.