Why we are investing 100 million euros in our European Development Center
A few days ago, we announced an investment of 100 million euros in our European Development Center in Amsterdam. I want to take a moment to describe why this is a pivotal moment for Databricks and why Amsterdam is a cornerstone of our growth strategy.
Solving the Hardest Data Problems at Scale
Our Unified Data Analytics Platform helps customers solve some of the hardest problems on the planet, from genomics research to credit card fraud detection. The Netherlands provides us with access to a large pool of talent that is uniquely suited to our needs. The Netherlands is home to world-class universities such as the Vrije Universiteit Amsterdam, Delft University of Technology, and many others. We have built close partnerships with local universities and research centers, helping translate cutting-edge research into product. For example, Databricks partners with Centrum Wiskunde & Informatica (CWI), one of the world leaders in distributed systems and database research.
Our employees and partners benefit from the excellent infrastructure that powers the competitive Dutch economy. For example, most of our employees in Netherlands skip the car commute and take a quick train or bike ride to work because of the superb public transport and bike-friendly infrastructure.
It's no secret that relocating to the Netherlands and getting settled is very easy. The Dutch provide a "fast track" for knowledge workers, with streamlined entry and onboarding procedures. IN Amsterdam, for example, provides a one-stop shop for registration, immigration and much more. Many employees who relocate to the Netherlands are eligible for the 30% Ruling, which provides a significant tax incentive for up to five years.
Databricks European Development Center
Lastly, we are thrilled by the accomplishments of the European Development Center. At Databricks, we have built the European Development Center as a fully operational site from the start, with local leadership in key functions such as engineering, product management, HR and customer success. As a result, the EDC has shipped key features in almost every aspect of our Unified Data Analytics Platform.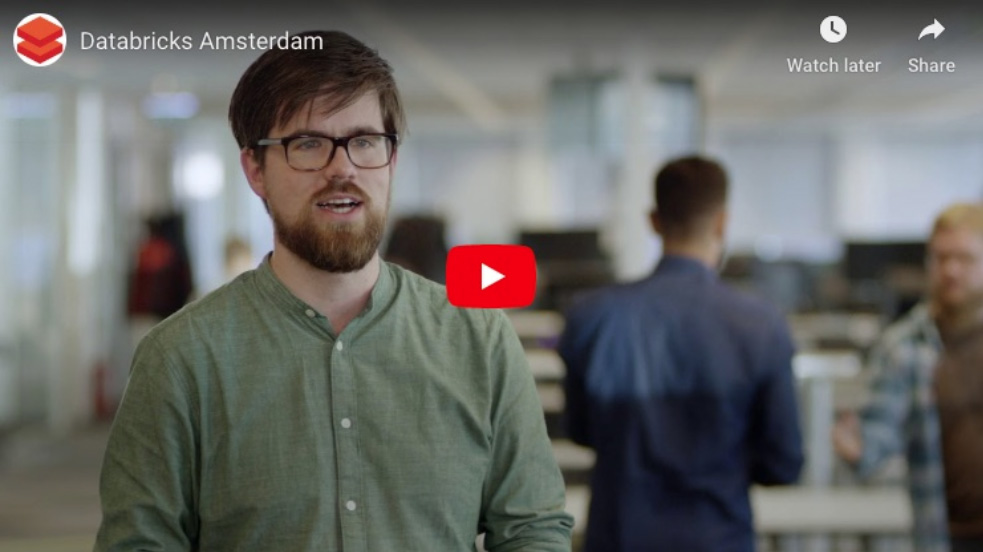 The future is bright for the Databricks European Development Center. If you are interested in learning about opportunities in beautiful Amsterdam, message me directly or visit our Careers Site.
Related Resources