Announcing Hackathon for Social Good
Data Teams Unite!
We're excited to announce our first-ever virtual and global hackathon, where you'll form data teams to help tackle climate change, the COVID-19 pandemic or issues unique to your local community.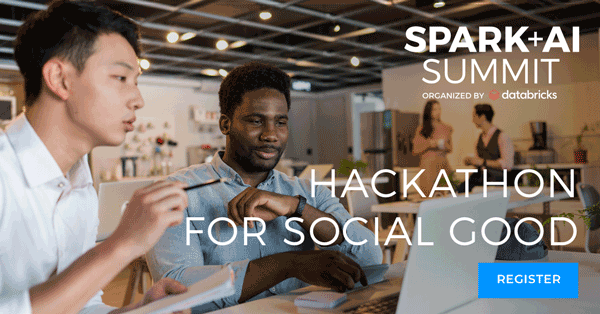 Your challenge
Apply your ideas and data skills to help address real-world problems.
To participate in the hackathon, follow these steps:
Register a data team (up to four participants) on the Hackathon for Social Good website.
Build an application or create a compelling notebook of your analysis that allows end users to better understand data related to these issues. Your application or notebook should use data analysis, data science or machine learning technologies featured in the Spark + AI Summit.
Submit your project, along with a video screencast describing the potential social good impact.
Unite for a cause
By participating in the Hackathon for Social Good, your team's good work will go toward a noble cause. In addition to helping us understand the data around these issues, the three winning teams will be invited to direct a donation to a charity of their choice, with a combined value of $35,000. Winning projects will also be announced in the Spark + AI Summit keynote on June 24 and recognized during special Summit events.
The grand-prize-winning team will award a charity with a $20,000 donation, receive free training and VIP passes to the June 22–26 Spark + AI Summit as well as complimentary passes to a future Spark + AI Summit.
Bring your best ideas to the biggest issues
When planning your hackathon project, we encourage you to focus on one of these three issues:
Provide greater insights into the COVID-19 pandemic: Various COVID-19 data sets are now available on Databricks, Kaggle and GitHub. Use these sets — and other public sources — to surface insight into correlations, causes or potential solutions.
Reduce the impact of climate change: Write an application or perform an analysis on the causes of or solutions to climate change.
Drive social change in your community: What challenges do you see where you live and work? Check out a local city data set and inspire change close to home.
For details, including suggested data sets and complete submission and participation requirements, please visit the Hackathon for Social Good website.
Here's what you need to know about timing:
Submissions:                April 22–June 12
Judging:                          June 15–19
Winners announced: June 24
If you have questions or comments, reach us at [email protected].
We can't wait to see your projects.
See all Company Blog posts