Improved Tableau Databricks Connector With Azure AD Authentication Support
With the release of Tableau 2021.1, we have added new functionality to the Tableau Databricks Connector that simplifies security administration and streamlines the connection experience for end users. The updated connector lets Tableau users connect to Azure Databricks with a couple of clicks, using Azure Active Directory (Azure AD) credentials and SSO for Tableau Online users. This integration enables organizations to scale the management of users for Tableau and Databricks by making it seamless with your existing tools and processes.
For more information on our partnership with Tableau, visit www.databricks.com/tableau.
The native Tableau Databricks Connector in combination with the recently launched SQL Analytics service provides Tableau and Databricks customers with a first-class experience for performing business intelligence (BI) workloads directly on their Delta Lake. SQL Analytics allows customers to operate a lakehouse architecture on multiple clouds that provides data warehousing performance at data lake economics.
The Tableau Databricks Connector comes with the following improvements:
Support for Azure AD and SSO when connecting to Azure Databricks
Users can use their Azure AD credentials to connect from Tableau to Azure Databricks. Tableau Online users can access shared reports using SSO, using their own Azure AD credentials when accessing data in Databricks directly. Administrators no longer need to generate Personal Access Tokens for users for authentication.
Simple Connection Configuration to all clouds
The updated Tableau Databricks Connector allows the connection to be configured with a couple of clicks. Users select Databricks from the Tableau Connect menu, enter the Databricks-specific connection details and authentication method (Azure AD for Azure Databricks, Personal Access Tokens or Username / Password). After signing in, users are ready to query their data!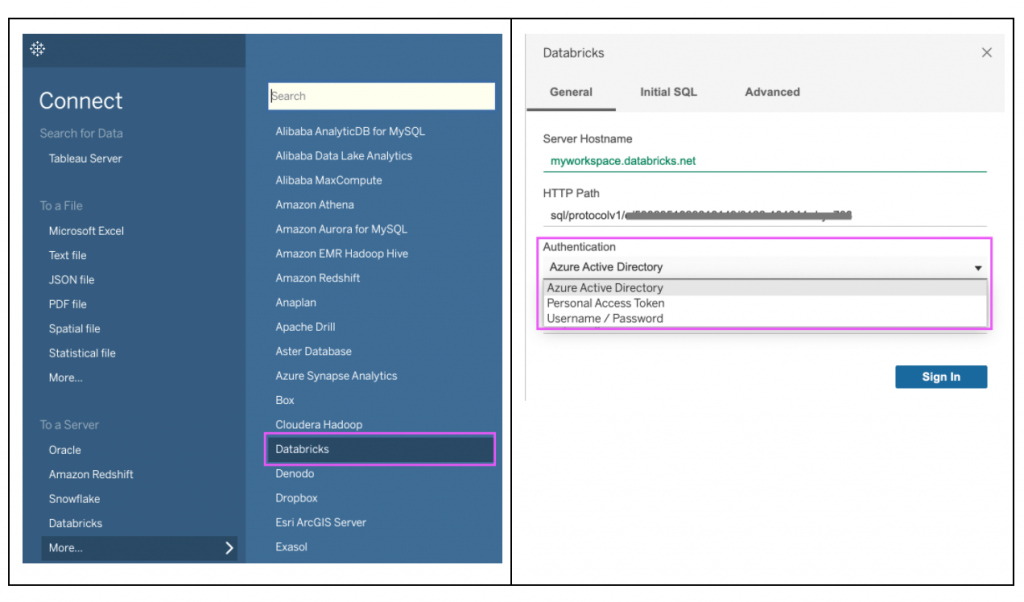 Faster results via Databricks ODBC on all clouds
The Databricks ODBC driver embedded in Tableau Online has been optimized with reduced query latency, increased result transfer speed based on Apache ArrowTM serialization and improved metadata retrieval performance. For Tableau Desktop and Server, the driver needs to be manually updated (download the latest version here). Advanced ODBC configurations can be set directly in the Advanced tab of the connection dialog.
Update Now!
If you're using an older version of Tableau, update now to take advantage of these improvements.  Tableau Desktop and Server 2021.1 and the latest version of Tableau Online provide a much better experience on Databricks.
Get the updated Databricks ODBC Driver.
See all Partners posts