Join us at Data + AI Summit Europe - Finally Big Data, Analytics and AI converge
Data + AI Summit Europe will take place 17-19 November and is now open for registration!  Formerly known as the Spark + AI Summit, this free and virtual event is expanded to bring together the world's leading experts on data analysis, data engineering, data science, machine learning and artificial intelligence (AI) to explore the convergence of big data, analytics, and AI.  Whether you're in Europe or want to realign your body clock to European time zones, we really hope you will join us for three days of keynotes, sessions, demos, AMAs and meetups!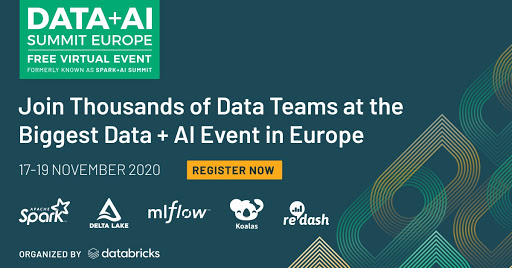 Expanded Topics and Community
Over the last 10 years, data analysts, data scientists and others have joined the Spark community and are working in teams solving complex data challenges. Born out of this community are key open source technologies such as Delta Lake, MLflow, Redash and Koalas – all of which are growing rapidly. We've widened the conference programme to cover all these technologies and many others – including Spark – in more depth, and have adapted the name to be more inclusive of the communities starting to form around them.
As data scientists, data engineers, data analysts, developers, chief data officers, industry experts, researchers and ML practitioners, you are invited to attend the Summit and learn from the world's leading experts on topics such as:
AI use cases and opportunities being created by this tech in leading industries
Best practices and use cases for Apache Spark™, Delta Lake, MLflow
Data engineering, including simplifying and scaling streaming architectures
Lakehouse architectural pattern and empowering data lakes with data warehousing concepts
SQL analytics and business intelligence (BI)
Data science, including the growing influence of the Python ecosystem
Machine learning and deep learning applications
Productionising machine learning (MLOps)
Research on large-scale data analytics and ML
What about Spark?
Spark represents the cornerstone of the Data + AI Summit community. Over the last 10 years, Apache Spark™ has quickly become the open standard for large-scale big data processing. It is widely adopted, and is supported by an active global community to which we remain deeply committed. Data + AI Summit Europe will continue to be the home for the Spark community to gather, share ideas and accelerate the development and adoption of Spark. We invite you to learn from the leading Spark experts in our new Apache Spark track, and will also continue to include Spark content, speakers and activities throughout the event, just as we always have.
Virtual Can Be Awesome!
During the June event, we were excited to see the community push the boundaries of virtual events -- with many opportunities for attendees to interact with each other, as well as the speakers and other experts.  While many of you came for the keynotes and sessions, we also held very popular AMAs, MLflow Yoga taught by a Databricks founder, DJ performances and networking through "birds of a feather" networking rooms and attendee direct messaging.
Because the event is virtual, you have the opportunity to watch all content available on demand as soon as it airs.  Whether you're in Berlin, Amsterdam, London, New York, Tokyo or Mumbai, we encourage you to register and watch both the live sessions and on-demand content.
See all Company Blog posts